Island of White Gold – Adaaran Select Hudhuranfushi
When you think of this tiny island, your mind will conjure up images of pristine beaches, reef-ringed atolls and luxurious bungalows over crystal blue lagoons, observe fish through glass floors and jump into the sea from your private deck. All these images make Maldives a dreamy destination for many travellers. This picturesque island is on the "bucket list" of every traveller, even if you are a budget traveller.
Travelling to Maldives is a dream come true for many travellers. Even though when you try to decide where to stay in Maldives, the options can be daunting. There are so many amazing dreams come true options when selecting a resort. Adaaran Select Hudhuranfushi is one of best luxury resorts in Maldives you can select for your dreamy vacation with a delightful charm and leisure atmosphere.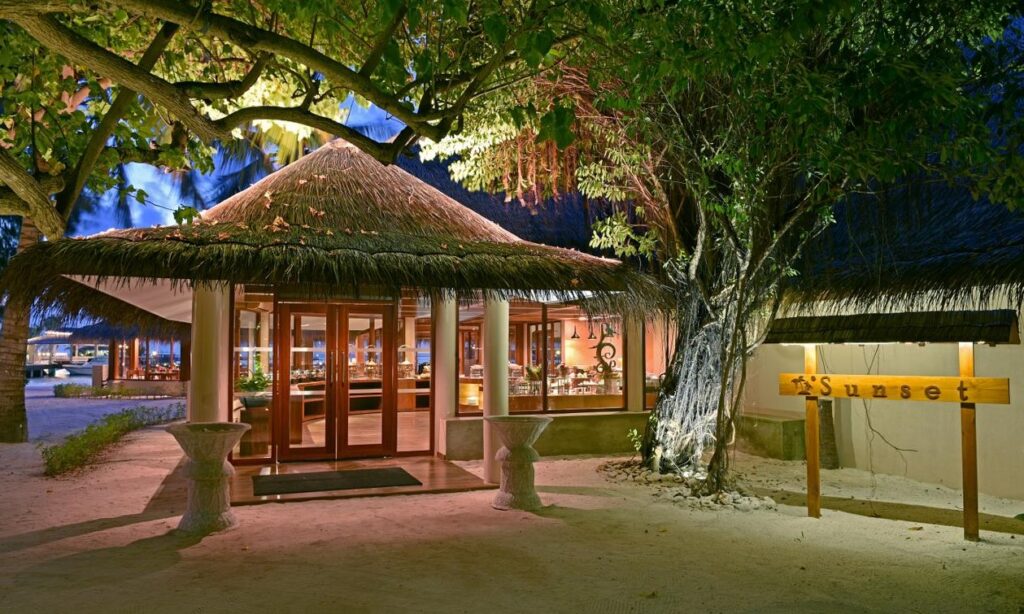 Hudhuranfushi also known as "Island of White Gold" in local language, is situated in North Male' Atoll, where you can reach the resort within 30 minutes of sweet speedboat ride. 'Island of White Gold', once you step foot on the beaches you will understand why. Hudhuranfushi is an exotic paradise packed full of age-old swaying coconut trees with postcard ready coastlines that are hemmed with pristine soft sandy beaches on its north, east and west edges. This peaceful island boasts with lush green plants and a beautiful turquoise lagoon with crystal clear water, surrounded by coral reefs teeming with colourful tropical fish, is a perfect all-weather getaway for fun, romance, relax and do nothing or do lots. This exotic island truly lives up to its name, by spreading its wings over 83 acres of lush tropical beach property where it has enough space for a soccer field, 165 villas which includes Beach Villas, Family Beach Villas and Overwater Ocean Villas, an impressive range of amenities and staff quarters for more than 400 full-time workers.
Adaaran Select Hudhuranfushi grants to pamper its guests in style by offering a combination of an array of modern conveniences and facilities amidst a wondrous natural panorama. This magical resort promises guests the holiday of a lifetime, irrespective of their age or inclination. When you read this, you might probable think this amazing exotic island is so luxurious that is absolutely unreachable for a normal person, and your dream of visiting this paradise island is only a dream that will never come true, a place you will probably never visit in this life. Did I guess it right? Well, be happy, this will put a big smile on your face as it is not completely true. There is always an affordable luxurious option for every traveller at Hudhuranfushi. If your budget allows, this will be a perfect beautiful environ pristine tropical paradise for you to spend your vacation.
Adaaran Hudhuranfushi offers two distinct styled elegant accommodation, Beach Villas and Ocean Villas. Both accommodation facilities are equipped with the latest facilities merged with furnishing and design that exudes a colourful yet elegant ambience for perfect blend of fun and relaxation. These modern villas are spotlessly clean and comfortable with thatched roofs and nicely furnished interiors.
Beach Villas
Beach Villa is a suitable accommodation type which a budget traveller can afford for. 127 Beach Villas which are located along the outline of the atoll with prime beach front are spacious, light and airy. The air-conditioned rooms are furnished with elegant yet contemporary decoration which goes by tropical theme and tiled floors. Placing itself on the leafy outer edge of the island offers convenient access to the stunning beach, beckoning sea along with easy reach to the island resort facility. In these villas you can step out of your front door, on to your sun deck and walk straight out towards the golden beach.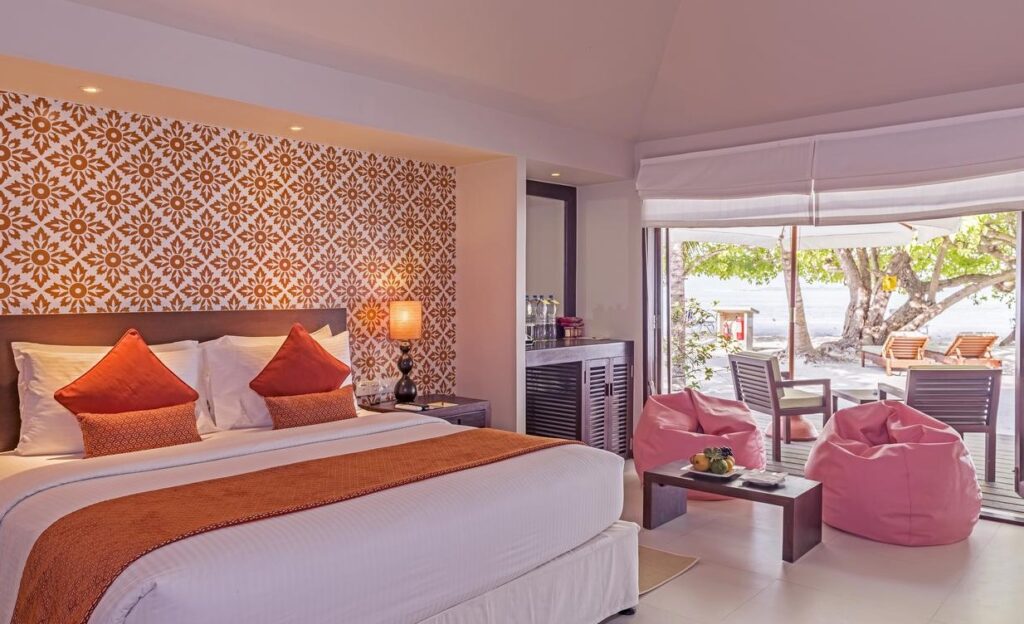 The view from the villa is breath takingly stunning. The wooden sun decking in front of the villa consists with a table and couple of chairs, plus two sun loungers. The room features with a king size down comforter bed covered with white linen sheets and colourful bedliner, wardrobe, minibar, safety deposit box and LCD television with satellite channels. Other amenities include desk, free WIFI facility and telephone. Additionally, room is included complimentary bottles of water and coffee/tea makers. A nightly turndown service is provided and housekeeping is offered on a daily basis. Amenities available on request include an iron/ironing board. In the open-air bathroom, you can enjoy a private outdoor shower under the open sky. Bathroom include slippers, designer toiletries, complementary toiletries and a hairdryer. This spacious Beach Villa accommodation's interior design complement the amber hues of breath-taking purple sunsets that greet you at dusk will no doubt be the highlight of an ideal day in paradise.
Adaaran Select Hudhuranfushi is an ideal and very popular resort for a family holiday in the Maldives. The Family Beach Villas feature a two-room set up with one double room and one twin room joined together with an interconnected door. There are two separate open-air bathrooms and two sun decks out the front. This provides a perfect set up for parents with children or larger families who want a quality family vacation in the Maldives.
Beach Villas are perfect for couples, small families, or can be occupied twin share or triple share between mates. These villas are spacious and most are just a few steps away from the water. The accommodation includes all-inclusive meals and drinks.
Ocean Villas
The prestige distinct thatched roof Ocean Villas are laying along the dark wooden causeway which are cast away from the North of the main island. Although Ocean Villas are situated away from the main island, service, food and drink are never far away as the villas are served by their own exclusive over-water reception and over-water Breeze restaurant and bar. Ocean Villa offers a truly Maldivian experience as you can perch directly over graceful azure Indian Ocean with the staircase leading to the crystal blue water, so you can take a refreshing swim straight from your room.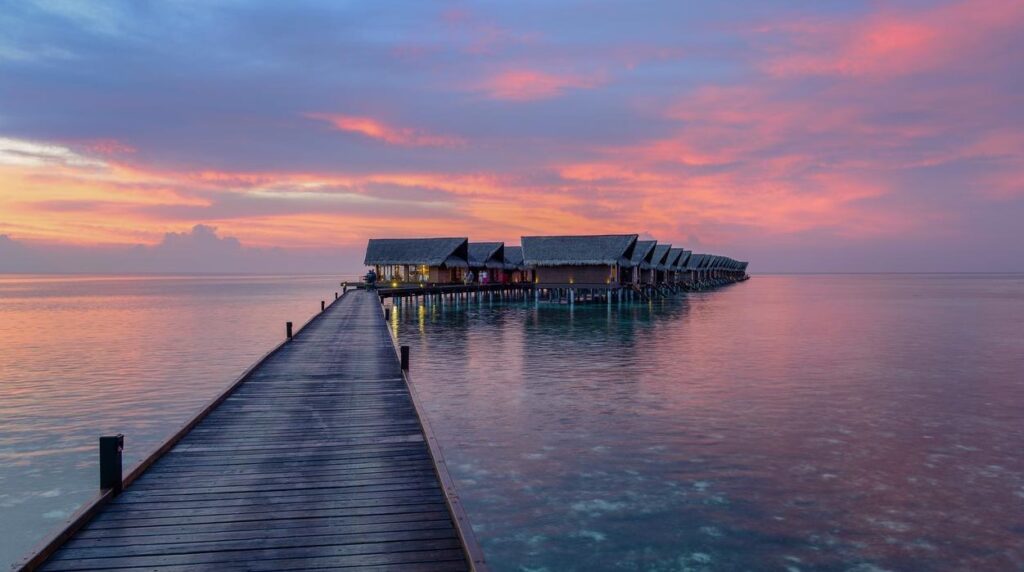 Featuring wooden exteriors with modernised interiors, each retreat is complimented by bright colours and contemporary design. The spacious Ocean Villa hosts exclusive facilities include private sun deck with your own staircase which leads straight to the lagoon. You can enjoy a dip, snorkel, and enjoy the cool sea breeze alongside of uninterrupted ocean view at your private patio. The luxury contemporary deco with teak wooden floor, all the villas are well equipped with usual amenities that you can expect from a top resort; air-conditioned room with comfy king size four poster bed, a mini bar, wardrobe and a huge bathroom with sea view bathtub. There is a private dining area on the sun deck where you can enjoy a romantic dinner under the twinkle stars.
Lohis Rooms
Lohis Rooms are oceanfront beach villas that are located close to the surf-break with convenient access to the hotel facilities. These accommodation facilities are the best place for surfers which is one-minute walk from your bed to the surf break. Even though these rooms lack beach front view, they are equipped with variety of modern amenities; one double bed or two single beds with TV, mini bar, wardrobe, well-appointed bathroom and a small relaxation deck. This room type is ideal for a couple or two surfing mates. Lohis Rooms are the newest rooms at the resort which offer spacious accommodation and top choice for most surfers, just to surf, eat and sleep.
When you are at Adaaran Select Hudhuranfushi, you will be able to start your day with a breakfast buffet and enjoy ethnic dishes, international cuisine or light snacks in a variety of restaurants and cafes. Adaaran Select Huduranfushi boasts a multi-faceted dining experience at its Maldives Hotel Restaurants with spectacular views accompanying almost every meal. Choose from a range of fresh sea food and create a meal to your liking while you enjoy the ever-changing views of the Indian Ocean.
There are ample dining options with onsite restaurants, including Banyan Restaurant, Sunset Restaurant, and Lohis Wave.
Banyan Restaurant
Overlooking the garden, this buffet style restaurant serves international cuisines and serves breakfast, lunch and dinner. The food is solid overall, with a wide variety ranging from traditional Maldivian to western cuisines, fish curries to Italian pastas to accommodate the palate of the global traveller. Be amazed at eye catching performances that take place at the action kitchen. Watch closely as the flames dance around the wok to create a mouth-watering presentation.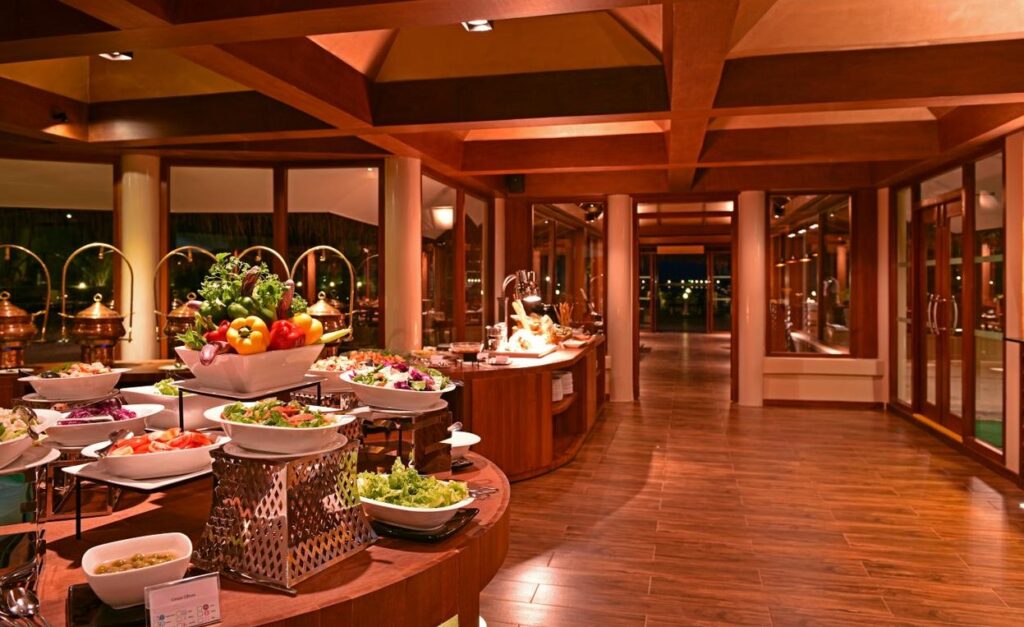 A splendid selection of wines and other beverages are available at the Banyan Restaurant to complement the meals offered. Sample the fresh local produce and the scintillating variety of seafood offered at the restaurant. Enjoy buffet in Maldives and discover an explosion of natural tastes by trying out some of the finest tropical fruits you have tasted.
Sunset Restaurant
With its ocean view, this beachfront fine-dining restaurant specialised in international cuisines and serves breakfast, lunch and dinner. Sunset restaurant is the main restaurant for ocean villa guests, which serves all-inclusive buffet food for lunch and dinner. A la carte dishes are available for additional cost. All-inclusive a la carte breakfasts and snacks are also served at a small overwater restaurant called Breeze. During the day, Sunset Restaurant is the perfect choice to enjoy a beer or a drink watching the sunset. In the evening, it serves elegant à la carte dinners, being the ideal place for a special dinner under the stars. Indulge in a candle lit dinner or celebrate and sip a glass of wine and relax to the soothing sounds of the ocean at the Sunset Bar and Restaurant, the resort's signature cafe.
Lohis Wave
Behold the captivating views of the horizon as you sample the tantalizing beverage list served at the Lohis Bar. Lohis bar is a semi-open location from which you can enjoy spectacular views of the horizon. Sheltered by coconut leaves, and the fine white sand under your feet will remind you the paradise that you are living in while sipping a refreshing drink that will offer you the attentive bartender. At sunset, perfect location to sit in comfortable wooden chairs, you can grace by the breath-taking sunsets synonymous with Maldives travel.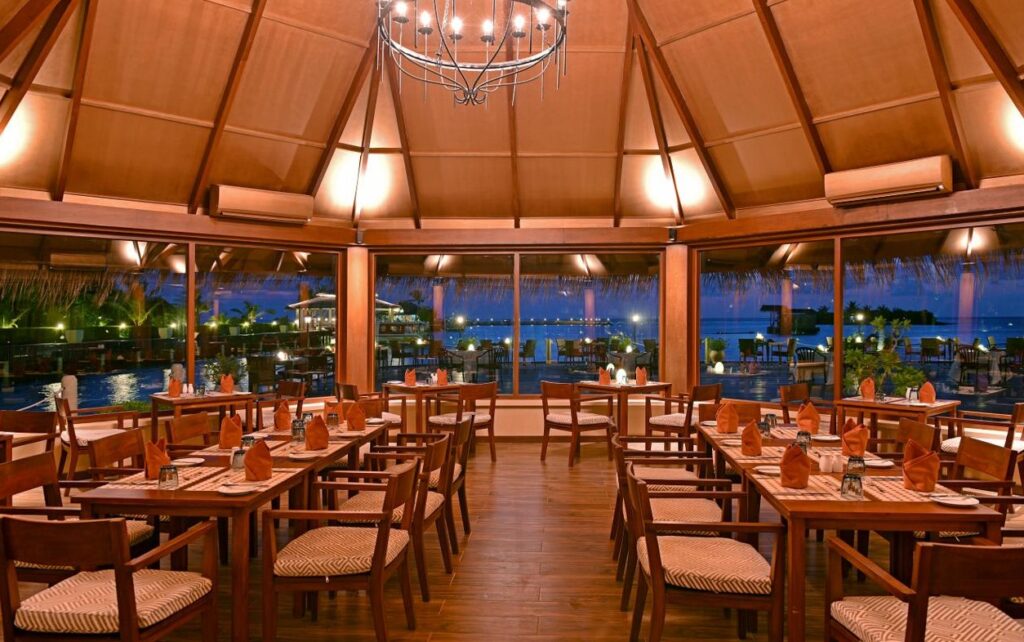 Setting the tone for a quiet drink, the Lohis Bar at Adaaran Select Hudhuranfushi is one of the Best Hotel Bars in Maldives, which is a finest place for a drink with your loved one. Let time slow down as you share a priceless moment with that special someone with an amazing backdrop of a dazzling sunset.
Hiyala Bar, where you can enjoy a refreshing cocktail by the pool with fresh air. Taste the enchanting taste of our rich drinks list and fall in love with the island's panoramic surroundings.
Beach Bar, is placed on the island's vast western beach which offers the ultimate sunset experience. From here, with the Indian Ocean stretching out in front of you, watching the sun and its evening glow slowly sink below the horizon line inspires guests to take the time to ponder the astonishing workings of the universe.
At Adaaran Select Hudhuranfushi there is a playground and children's pool available for kids, while adults can take advantage of a spa that offers everything from couples' massages to facials. Chavana Spa at the resort in nestled in a lush, quite area on the island, serving as a private sanctuary for individuals and couples to enjoy treatments together.
Indulge in a variety of relaxing and detoxifying treatments provided by Chavana Spa at Adaaran Select Hudhuranfushi. With spa services ranging from aromatherapy massages to face and body treatments, the Spa also features a real boutique. Let the practices of traditional therapeutic methods, naturally purify both body and mind to formulate a purifying spa experience enhanced by the relaxing atmosphere of the lush surroundings. Enjoy a myriad of cleansing and rejuvenating treatments offered by Chavana Spa at Adaaran Select Hudhuranfushi. With spa services ranges from traditional aromatherapy massages to result-driven Elemis face and body treatments, using dynamic with medical grade formulas that offer scientific solutions to every skin, body and lifestyle concern; a perfect way to complete a perfect getaway.
The spa features four double room with outdoor shower and bath, 3 outdoor Bale, Manicure and Pedicure and retail boutique which offers a range of retail products and spa gifts. With the healing touch of our experienced Balinese therapist, let the practice of traditional therapeutic methods naturally purify both body and mind and experience an incomparable sense of tranquillity.

Adaaran Select Hudhuranfushi will exceed your holiday expectations as you can find the comfort in the lap of unwavering luxury and exceptional facilities amongst the paradise islands of Maldives. Offering unrestricted access to the immaculate beaches encircling the island, Adaaran Select Hudhuranfushi offers the guests the opportunity to explore Maldives in its entirety. While several excursions are offered to the guest, Island Hopping is among the most preferred forms of unravelling the mysteries that is Maldives. Such excursions can be scheduled upon request.
Snorkelling and Scuba Diving in the hotel reef and neighbouring dive sites at Hudhuranfushi will open your eyes to the tiers of multi coloured corals, schools of small mesmerizing coral fish together with graceful stingrays that elegantly glide through the water and sleek sharks that prowl the seabed. The resort's house reef is well worth exploring, friendly baby black-tip reef sharks swim around the lagoon are captivating to watch.
The turquoise blue lagoon and snowy white beach makes it just perfect for anyone seeking fun and excitement with a choice of any water sport such as the PADI certificate dive school, big game fishing charters, volleyball, windsurfing, catamarans, soccer field, badminton, tennis, volleyball and other daily organised events.
The fishing enthusiast will be delighted with the chance to indulge in night fishing in the Maldives. A tranquil fishing experience with the backdrop of the tropical sunset will never be forgotten.
Adaaran Select Hudhuranfushi is renowned as one of the best surfing holiday resort in Maldives. The epic Lohis surf break breaks just off the resort, it's a super consistent wave that picks up plenty of swell and you're very likely to score quality waves between March and October. The resort allows a maximum of 45 surfers per day to improve the surfing experience as they will be spreading around Lohis as well as other North Male' surf spots, making it a very manageable number and the break uncrowded. With a perfect left breaking down one side of the island and six other world class waves just a boat ride away, Hudhuranfushi is an ideal surf resort. Other surf breaks that you can access from Hudhuranfushi resort are Ninjas, Sultans, Honkeys, Jails, Cokes, Chickens and more. Due to the nature of the waves in the Maldives all surfers should be of at least intermediate level of surfing ability, be capable swimmers, and of suitable fitness for an active holiday. For non-surfers the big off shore waves provide an enchanting scene to kick back and watch as they curl and roll in to the reef.
Yoga, another unforgettable experience guests can have during their stay at Adaaran Select Hudhuranfushi. Yoga classes at Hudhuranfushi are offered twice a day at the Lohis Surf Deck, overlooking the surf break; a morning vinyasa inspired class and a sunset hatha flow. Classes include creative sequencing ensuring yoga-bliss for even the most seasoned practitioner. All hotel guests are welcome to join these sessions which are suitable for all levels of yoga experience. Honeymoon yoga and private sessions are also available daily and advanced bookings recommended.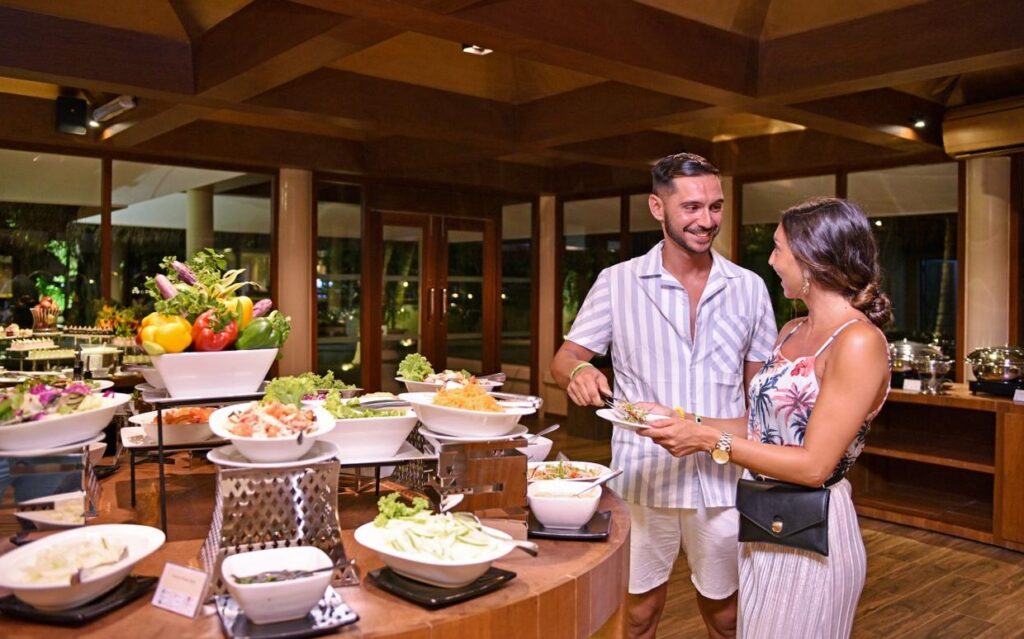 Physiotherapy services are also available and offer guests with an injury the ability to receive expert assessment, diagnosis and treatment. Common conditions seen include back and neck pain, headaches, and shoulder/hip/knee and ankle sprains. For those who sustain their injury whilst on holiday, travel insurance rebates may apply. Surfers receiving physiotherapy are guaranteed to get more out of their sessions in the water.
The white-sand clean beaches at Hudhuranfushi are picture perfect, with crystal clear water where the temperature is perfectly cool enough to feel refreshing, yet warm enough to slip into without a chill. White plastic lounge chairs are provided and guests can order drinks from two beach bars or from Lohi's Bar (on the rocky southern end of the island). You will fall in love with the light hearted swings that are positioned directly above the clear waters of the lagoon north of the island, it makes for a relaxing experience and a magical photograph.
At the resort you can find multiple gift shops sell paintings, souvenirs, and jewellery, where you can find your perfect gift to take back when you are leaving this paradise like island resort. For emergencies there is a tiny medical clinic also available at the resort.
Open in 2006, Adaaran Select Hudhuranfushi is one of the larger resort islands in Maldives. The island's coastline offers a bit of everything. Snorkelers can take advantage of a nice coral reef just off the beach; a placid blue lagoon is perfect for swimming; three beach bars provide ample opportunity for drinking; and the south end of the island has one of the best surf breaks in the Maldives (excluding uninhabited islands). In fact, Hudhuranfushi is one of the only destinations where guests can surf on consistently good waves, just a few feet from their guest rooms.
Adaaran Select Hudhuranfushi is a fantastic 4-star island resort with a peaceful, down to earth and relaxed atmosphere. It's a great choice for those who are looking for a solid all-round option that consistently delivers fantastic Maldives holidays, honeymoons and vacations. Relax in the resort, snorkel, go dolphin-spotting or island hopping, whatever you decide, there are plenty of options available to fill your time on this magical isle.