Get hype in Jacuzzi Water Villa at Meeru Island Resort
What will be your reaction after checking few resorts in Maldives? Wow, Amazing, Cool… well almost all the resorts in Maldives are picturesque and delightful eye candy with their superb beaches, amazing weather, turquoise waters overlooked by soaring high palm trees, amazing snorkelling and iconic accommodation facilities. At some point you might think that all these sights are Photoshoped, but it is not. Maldives resort islands are uniform in their own natural perfection, where you will get deluded as they all just look like as they have been created with the use of photo perfection application.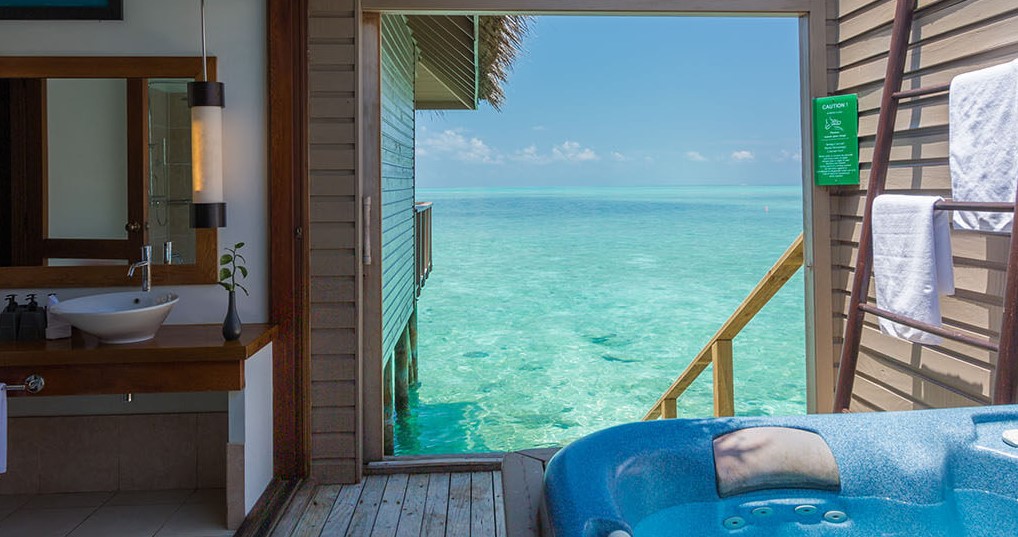 Maldives is a dream bucket-list destination for so many travellers around the world, and many travellers visit here for once-in-a-lifetime getaway. If you are looking to spend your vacation with your family or friends at an all-inclusive resort, or to searching for a honeymoon destination, then there are around 120 resorts to choose from which will cater to whatever choices that you are looking for. There is always something for everyone in Maldives, from small intimate retreats to large resorts with over 400 rooms that features wide variety of accommodation options and facilities. From budget to extremely average to the best of everything, accommodation is the absolutely key to spend a glamorous vacation that you expect for.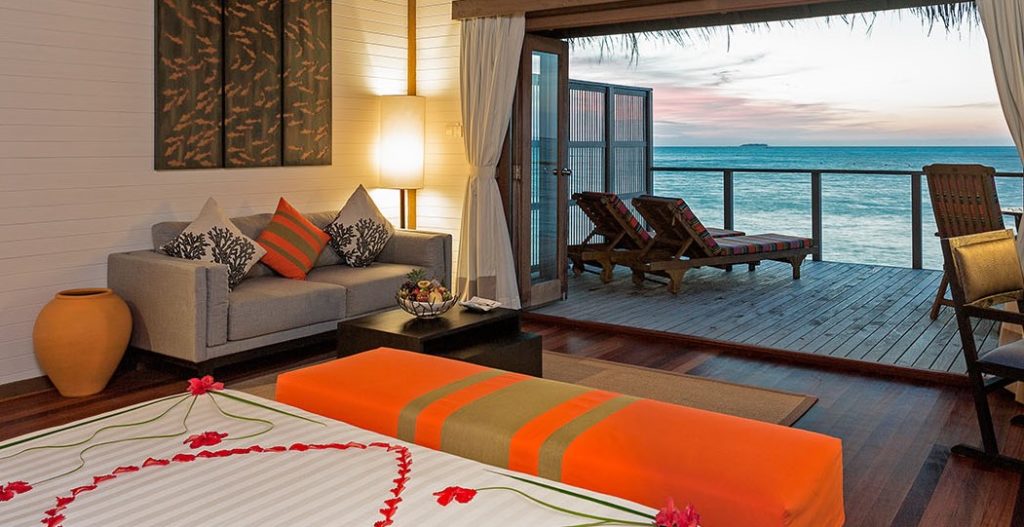 Overall, there are two types of rooms available on any resort in Maldives; those are beach bungalows and water bungalows. They are also referred to as villas or suites. Beach bungalows are land rooms with the beach view whereas water bungalows are erected on stilts over the blue lagoon. If you asses closely, you will realise that the best room to spend your vacation is water villa, which gives you a sense of being at one with the exotic beauty of the Indian Ocean. You are close with infinite beauty of deep blue sea in comfort by enjoying tranquillity. When you select water villa as your accommodation option, you will able to enjoy your privacy as the water villas are detached from other parts of the island. It is a shame if you select a beach front bungalow as your accommodation during your stay at a resort in Maldives and not go the whole hog by splashing out on an overwater villa. You will not get to enjoy the luxury, beauty and peacefulness every day at a water villa in any other country like in Maldives.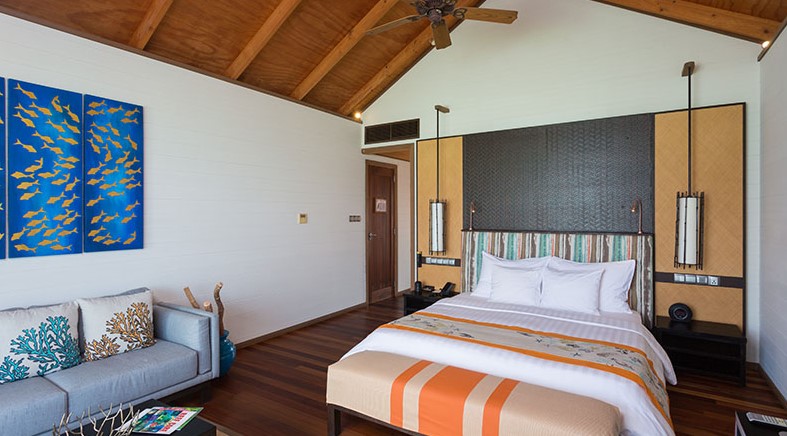 Talking about water villas, one of the best water villas you can choose out of all the resorts in Maldives is Jacuzzi Water Villa at Meeru Island Resort & Spa. Traditional huts on stilts with private decks and romantic whirlpools under the stars, your heart will skip a beat.
Meeru Island Resort & Spa is a four-star resort with 286 rooms split into separate zones for families and adults. You can reach this 1,200-metre-long island conveniently within 55-minute speedboat ride from Male' International Airport. Out of 286 rooms, the Garden rooms are the most basic and budget accommodation situated away from the beach with indoor bathroom and a small sundeck. The Beach Villas are wooden bungalows with colourful décor with open area bathrooms along with wooden sundeck out in the back with sun loungers. Other type of accommodation is Jacuzzi Beach Villas, situated right in front of the beach area while the Water Front Villas are right at the water's edge. These villas are among the most luxurious, spacious accommodation with stairs from the sun deck directly into the Indian Ocean, which you can get at Meeru Island Resort & Spa. Jacuzzi Water Villas are for adults-only. These villas are designed for honeymooners and for couples to enjoy their vacation period to the fullest.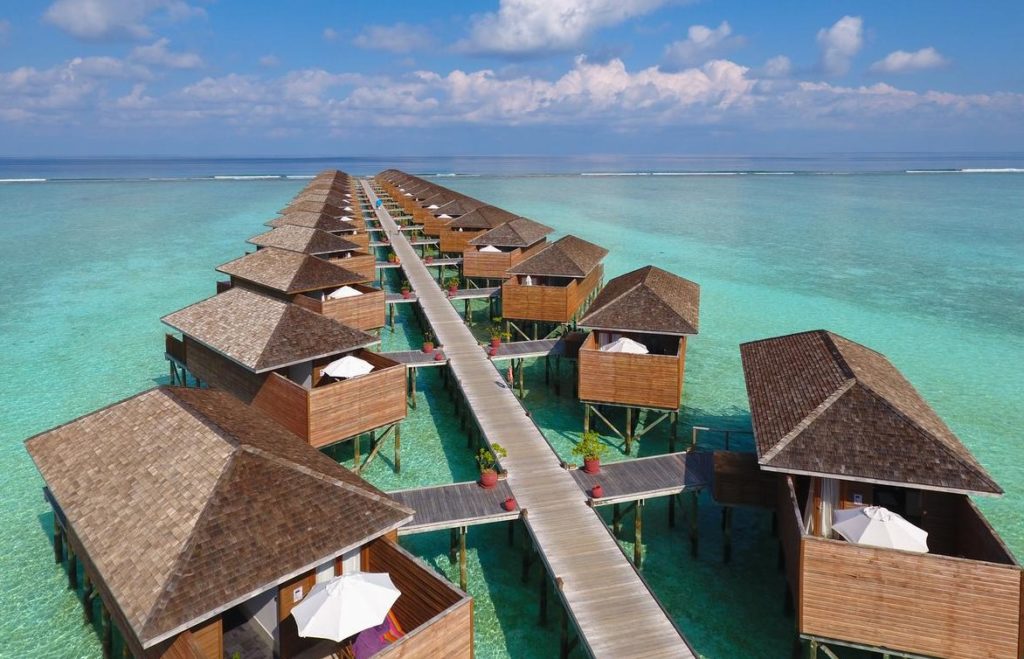 Meeru Island Resort's jacuzzi water villas will guarantee you a luxurious and romantic atmosphere during your stay in this paradise like island. A large partly roofed wooden deck with a staircase leading down to the ocean gives you a private slice of utopia. The turquoise lagoon is a perfect sanctuary for honeymoon or for a romantic getaway with your partner. The Jacuzzi water villas are located over the water and detached from other parts of the resort. A short walk from the reception area, these villas consist their own private wooden jetty which leads to this secluded hideaway which features a larger bedroom, wooden floor, espresso machine, a spacious bathroom, a private walled-in outdoor area featuring a Jacuzzi for two, a wooden sundeck with chaise lounges.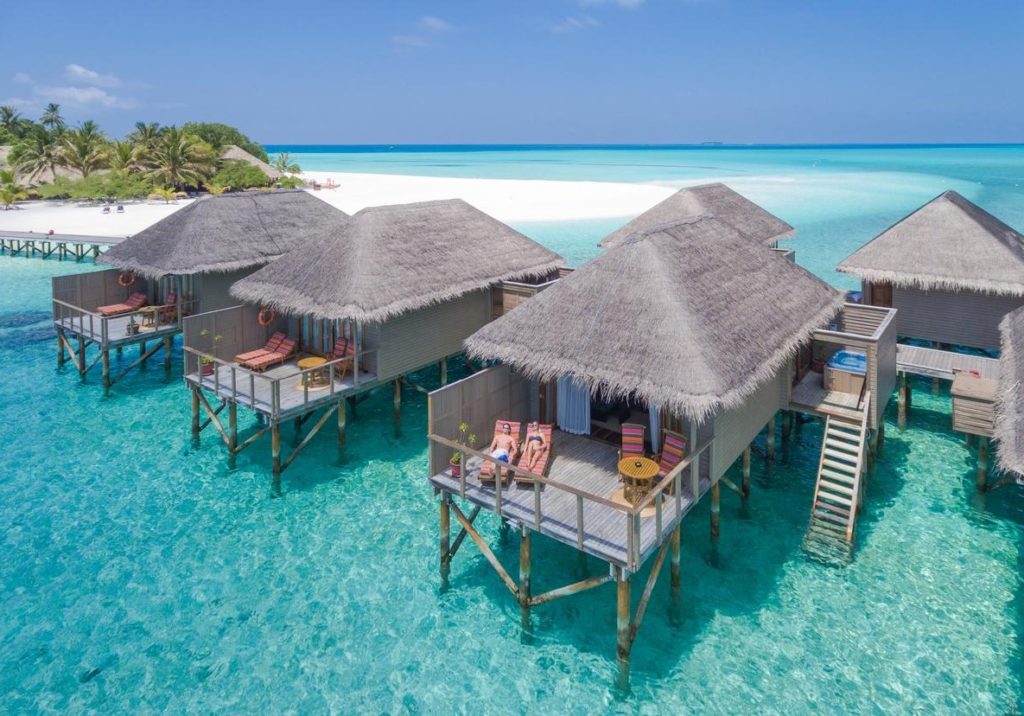 Jacuzzi Water Villas are located at the centre of the north edge of the island. The villas are outstretched towards the blue ocean like tiny little turtles walking to the sea. When you check the photos before your arrival, you might think that the water villas are in its right size with small room space, but once you actually stand in front of the villa you will realise how large it actually is. One might think that "water villa" is just a fancy name for a hotel room, but just like its name the villas are fancier and far larger than a typical room at a city hotel. The villa size is almost 1,000 square feet, where you will feel that the villa is a holiday home rather that a room. But the villa is not so fancy or posh yet simple. Jacuzzi Water Villa is clean with its contemporary décor, wooden floor (through its tiny gaps turquoise water is visible) where you can hear the water splashing sound beneath your feet, which gives you the feeling that you are living in a bubble within the sea. The king-size bed with its white bedding and the dark red runners makes you to snuggle and tuck-in with your partner, a framed painted fish on a canvas and vaulted wood ceiling invites you to enjoy the tranquillity within the villa. Everything is in its perfect condition.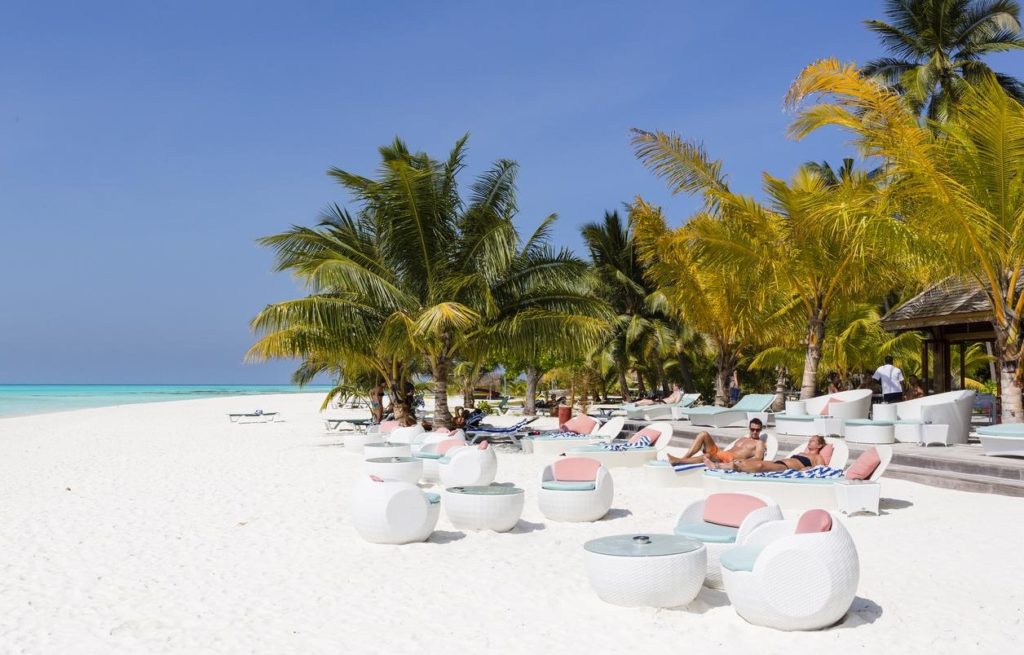 In front of each Jacuzzi Water Villa there is a water filled clay pot with a wooden spoon. This helps you to wash away sands from your feet before you enter to the villa. As you spend half of your time enjoying swimming and sunbathing, you will have wet, sandy feet most of the time; so why do you need any plush carpets, a pot of water will do the job. These villas are fairly simple and easy to keep dry and clean.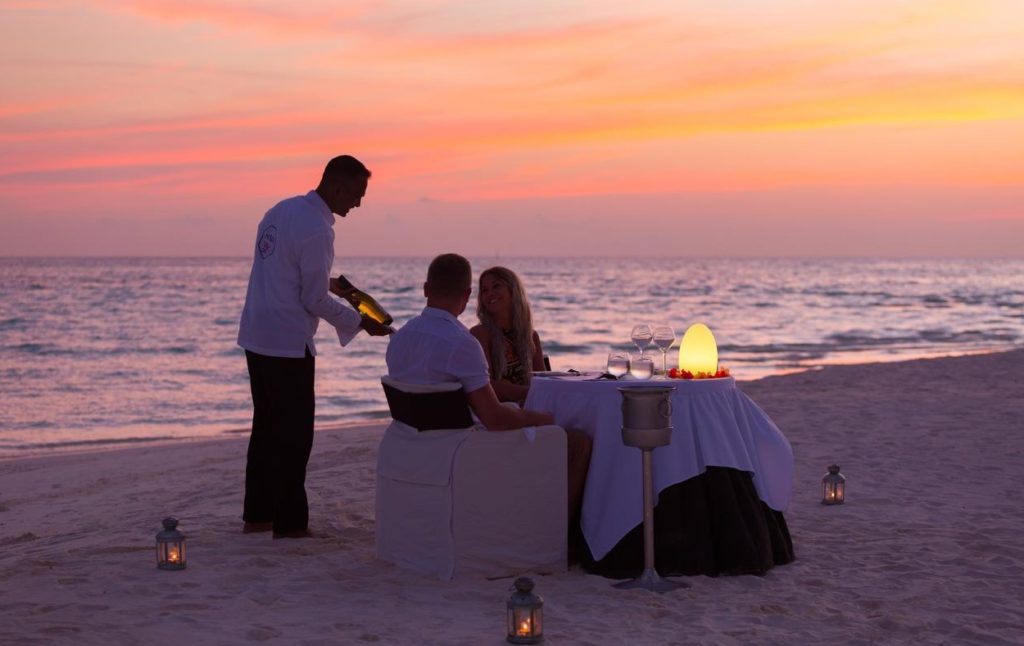 The bedroom, living room, kitchenette and wardrobe areas are airconditioned. The bedroom and the living room share the same space where you can view the vast blue ocean and the wooden deck area where the staircase leads to the blue lagoon. Kitchenette and wardrobe area are separated from the bedroom & living room with the help of a wooden wall. Next to the kitchenette there is a door which leads you to the huge bathroom and shower area. There is also a large outdoor deck in the back that has walls made out of wood all around without a roof. This is where the two person Jacuzzi is located, as well as extra sun lounges.
Jacuzzi which is placed on a wooden deck is the most luxurious experience a couple can get, just relaxing in the jacuzzi at night with a glass of champagne and star gazing the dark night skies, it is the best life time experience you can get. The open-air bathroom and the jacuzzi area are walled for privacy where you are not overlooked by the other villas.
Since all the guests at Meeru Island Resort & Spa are on full-board or all-inclusive meal plans, the kitchenette area in the Jacuzzi Water Villa only consists just a minibar and a sink. There will be an espresso machine just for you in the kitchenette area with capsules to make your own coffee. Tea bags are also available with a little electric kettle. If you are on all-inclusive plan, then you can enjoy the beers and little booze bottles in the minibar each day as you wish. But the bar area at Meeru Island Resort & Spa is just at the end of your pier, where you do not need to go far to get a proper beer, a wine or a cocktail.
The partially open-air modernly designed bathroom consists with rain shower, double sinks, hair dryer, bath accessories and a large mirror. You can find two bathrobes inside the wardrobe.
The room has a cable TV, even though nobody comes to Maldives to watch TV. There are a handful of English channels and local channels, plus there is an in-house channel which gives you a tour of the island. There is another helpful channel that shows the departure details of each room.
Jacuzzi Water Villa has its own WIFI connection as well. There is one WIFI router for each villa, rather than having one WIFI router for each group of villas. The WIFI connection is bit slow, but it is fast enough to send or read your mails and some web browsing. Still if you need a faster connection, then you can always dial the front office. The faster internet connection is not free and it is not cheap either. Though the free WIFI connection is slow, it is a miracle to get any kind of internet connection at all on this remote island, as per say in a room that is 200 meters offshore. In that sense it is a great benefit.
Jacuzzi Watr Villas are created as sunrise water villas and sunset water villas, catering to both early birds and sundowner enthusiasts. Half of the Jacuzzi Water Villas which are at the Northern end of Meeru Island Resort & Spa are facing the Western horizon that provide guests with a dramatic chiffon-pink sunset that unfold each evening. You can experience the exceptional sight with a glass of wine at the specious wooden front deck while resting on a comfortable sun lounger.
The other half of Jacuzzi Water Villas are facing towards Eastern sea, where you can wake up to the amazingly gorgeous sunrise whilst listening to the rhythm of the lapping waves. When the first ray of sun knocks on the glass partition on your bedroom in the front deck touching your feet, it will urge you to step out of the bed and run toward the deck area to get a perfect click of the sun rise which is emerging from the blue ocean.
The private front sun deck consists with sun loungers and an umbrella where you can rest your eyes on the sparkling sea while sipping on a glass of champagne and take delight in having a balmy lagoon on your doorstep. The view is stunning from the sun deck and you can view lots of sea life. The stairs on the deck that leads directly to the blue lagoon which is not that deep is perfect for snorkelling. Beneath the Jacuzzi Water Villa is beautiful where plenty of fish to keep you company while snorkelling. You will get overwhelmed by all the fish life and colourful corals. If you snorkel bit further towards the sea, you will get lucky to witness stingrays, different types of sharks, turtles and many other fish. As the Jacuzzi Water Villas are situated bit further and detached from rest of the island, you need to walk back and forth to explore the rest of the island, to have your meal and to enjoy other activities in the island. Likewise, every time when you walk back and forth from your room, you get to see more sea life. Also, you can sit on the sun deck at night time and tune down to the relax mode by looking in to the water watching all the fish. Underneath of the villa has flood lights which illuminate the water at night, by providing your own aquarium right under your feet.
The Jacuzzi Water Villas are also consisting with IDD telephone facility, personal safe to keep your belongings safer, a cushioned sofa with a coffee table to sit and enjoy reading a book or to watch TV and a ceiling fan.              
Water Villa at Meeru Island Resort & Spa is similar to Jacuzzi Water Villa, though the room size is smaller and without a Jacuzzi facility. Water Villa will give you an amazing beach and water view from your bed.
Jacuzzi Beach Villas is also equal to Jacuzzi Water Villa, except for the location. These villas are spread in a random pattern all over the beach area in the island. Beach Villas are also similar to Jacuzzi Beach Villa without a jacuzzi on its private deck. Both Jacuzzi Beach Villa and Beach Villa look like a little beach house, where you will get to enjoy a small private beach out front as each villa is separated nicely.
Garden Villas will make you feel as you are in a normal city hotel room as the rooms are attached on both sides in a U-shaped pattern near the south shore of the island. Even though compare to the other accommodation options, Garden Villa room rate is cheaper where anyone can afford to stay in.
Even though Jacuzzi Water Villa is bit costly compare to other rooms, it is worthwhile to spend few days at an amazing accommodation as it will be once-in-a-lifetime experience. It will worth every penny. The novelty of staying out over the water is an amazing experience where you will live up to its hype.
Situated on stilts over the turquoise water of the lagoon, with a private Jacuzzi and a sundeck will provide you a luxury alternative for your dreamy vacation in paradise Maldives.
Meeru Island Resort & Spa is one of the largest island resorts situated in Maldives, with highest number of guest rooms. The island has been created in a way to enjoy calm, serene and totally unhurried environment. These qualities clearly make Meeru Island Resort & Spa a popular romantic destination for honeymooners and for other romantic trips.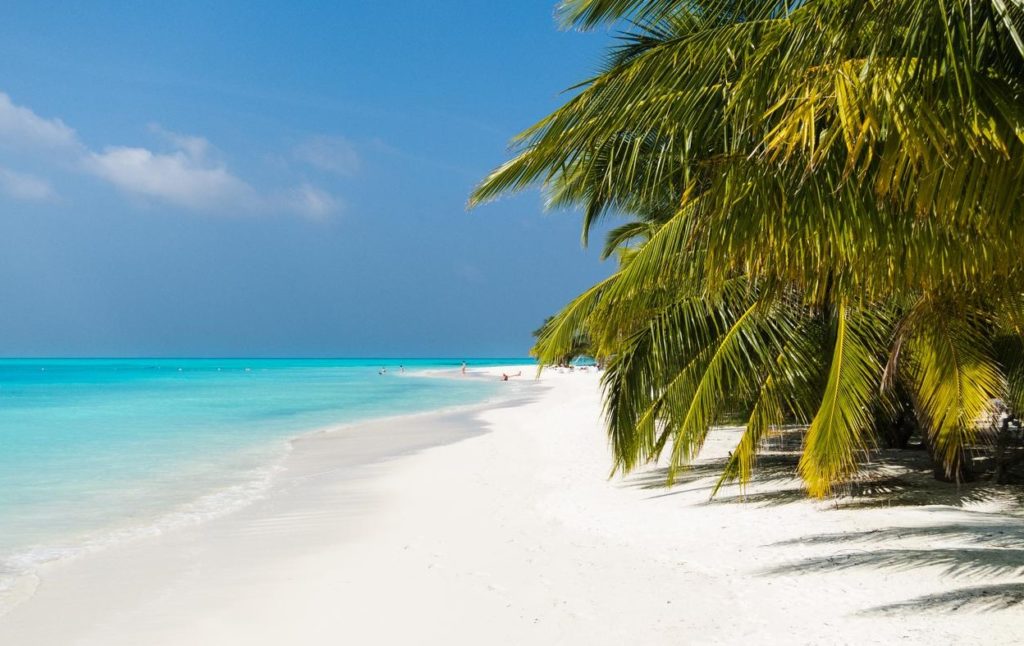 When you stay at Meeru Island Resort & Spa either on all-inclusive or full-board plans, the breakfast, lunch and dinner are served at the same restaurant during your entire stay. Food is served on buffet style and there are variety of dishes from various cuisines. There is soup, salad, vegetables, few hot main courses, a pasta bar, a taco bar, a sandwich bar, many Indian and other Asian dishes and more things that you cannot even remember.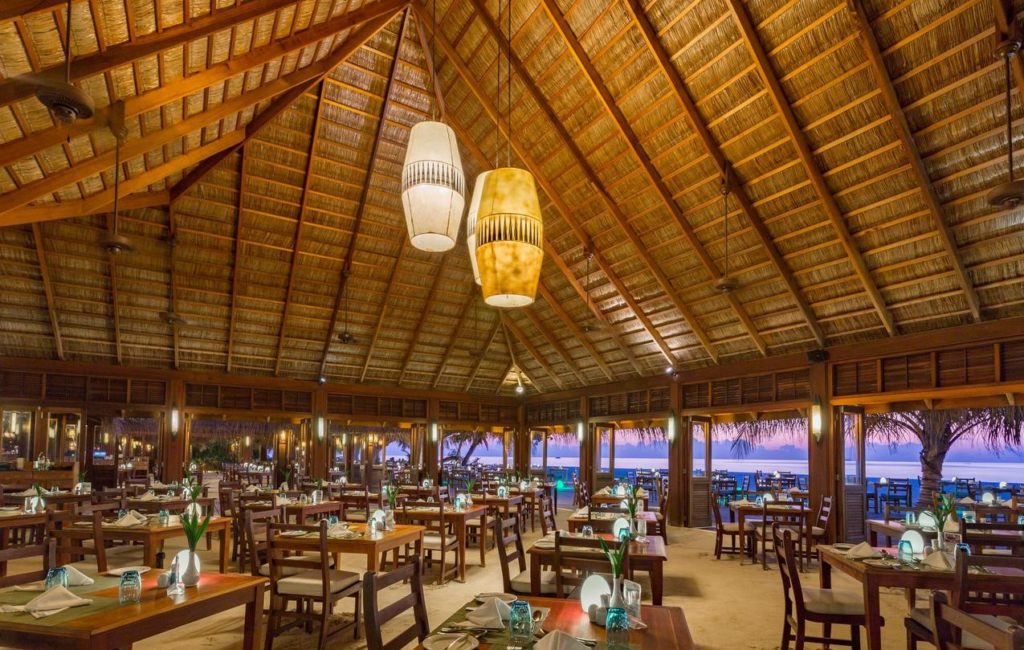 If you wish to change the course of your dining pattern, you can always reserve Hot Rock bar for an additional price. It serves meat and seafood which are cooked over hot rocks. Asian Wok is the other romantic restaurant located in an overwater pavilion on the far side of the island with low lighting and well-spaced tables. Situated in an amazing location, Asian Wok restaurant has a glass sections in the floor beneath the bar where you can enjoy the sea life swimming around below your feet. Both restaurants require reservation beforehand. For more casual cuisine, Meeru Café is right next to the family pool which serves sandwiches, pastries, ice cream, coffee and tea.
There are two fresh water pools in the island; one large but peaceful infinity pool for adults overlooking the Honeymoon Suites in the distance on the sunrise side of the island and one large family friendly pool that sits closer to the resort with a kid's pool on one side. As the bar is side of the pool, all day there is a celebratory air around. The bars at Meeru Resort & Spa have an amazing mocktails and cocktails and a decent snack menu to enjoy.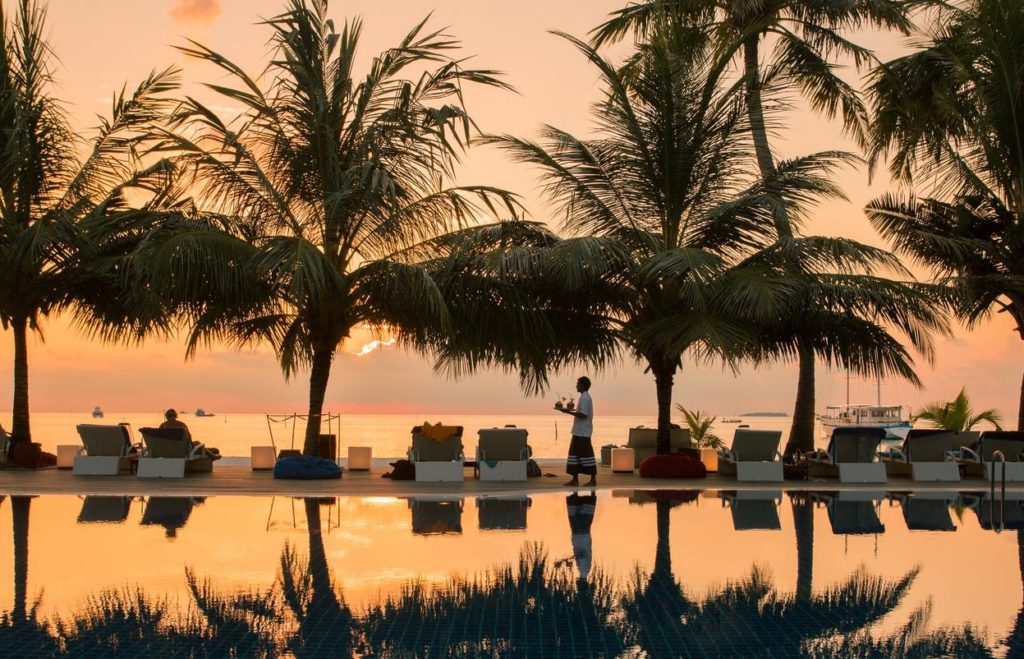 There are six different bars and lounges at Meeru Island, which are open till midnight. And there is one 24-hour bar for those who like to drink on their own schedule. Each bar is different, with several on the sunset side and several on the sunrise coast of the island.
Meeru Island's dive centre is run by Euro-Divers with three classrooms as well as multilingual course materials and instructors. Diving is always done off-site, via boat, as the house reef is past the lagoon and can't be easily reached by swimming. The lagoon is good for basic snorkelling and diver training, but the house reef is worth the boat trip to see a wider variety of fish and coral. A water sports centre offers windsurfing, catamarans, kayaking, and glass-bottom boats for rent. Land activities include tennis, badminton, beach volleyball, a fitness centre, driving range, putting green, and 9-hole short golf course (great for learning). A football field is located near where staff members live and there are occasional Staff versus Guests football games.
Some of the excursion activities you can do while you are in the island are dolphin cruise, sunset cruise, Male' sightseeing, Island Hoping, Love Boat Day-sail, Photo Flight, Robinson Crusoe Island, Submarine Sightseeing and many more.
There are two spas on the island; one that is inland next to the tennis courts and one that is over water in the adults' section. The over water spa is set above the water with five treatment rooms in wood décor and there are glass floors in the treatment rooms, allowing you to watch the sea life pass by whilst being pampered from head to toe. The land spa has four treatment rooms but there are no water views.
Meeru Island Resort & Spa has another superb feature, a colourful Kids Activity room where they have a nice collection of board games, blocks, crafts and colouring. There is a mini slide, washroom and a caretaker as well. There is a huge whale skeleton to set your eyes on and a little museum to get an idea about Maldives indigenous life style.
The staff is excellent and well organised. They are very polite and the customer service is reasonably quick and efficient.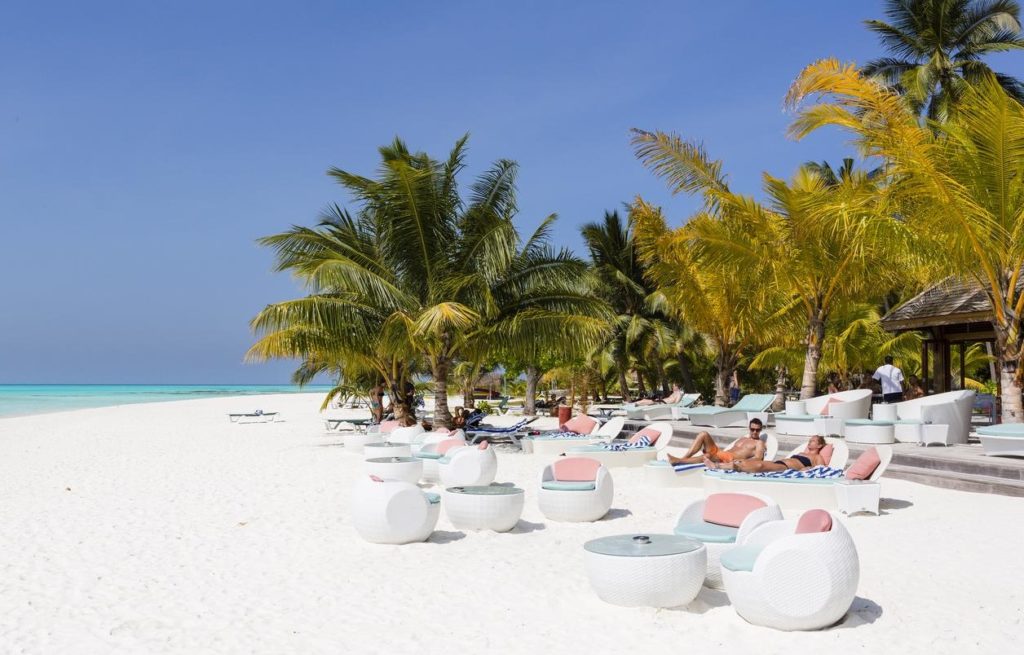 If you select Meeru Island Resort & Spa you will not get bored easily during your stay. With such an array of different facilities and excursions, great food and pleasant staff, Meeru Island Resort & Spa is great value for money. If chilling with a dose of water adventure is your definition of a holiday, then Meeru Island Resort & Spa will not disappoint you at all.