Amaya Resorts Maldives Kuda Rah for Whale Sharks
Welcome to Amaya Resorts & Spa Kuda Rah in Maldives, a tropical gem amidst the serene aquamarine waters of the Indian Ocean, with breezy palms and pristine white sands. Maldives, the planet's most exclusive holiday destination literally is a 'postcard destination', with its picturesque scenery, crystal-clear warm water and teeming with a myriad of marine life, footprint-free white sandy beaches shaded by swaying tropical coconut palms strung like pearl necklaces onto dreamy atolls and seemingly afloat on the turquoise ocean. This ultimate tropical paradise is a getaway for honeymooners, sun worshipers, discerning travellers, scuba divers and celebrities.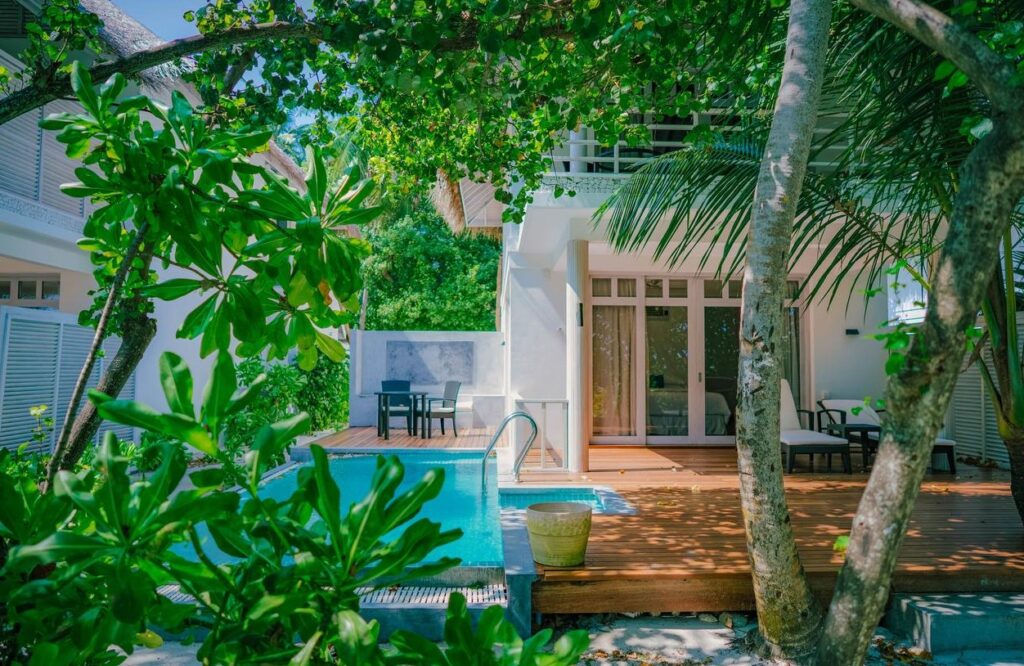 Whether you want to celebrate the start of a new chapter of your life or simply seek to unwind and relax while exploring an incredible underwater world, then Amaya Resorts & Spa Kuda Rah is the best option to choose from.
This stunning 5-star all-inclusive resort is nestling in the heart of the South Ari Atoll in Maldives by offering its guests the finest relaxation and luxury with utmost privacy. You have two options to get in to the island; Domestic flight will take around 30 minutes from Male' International Airport to Maamigili Domestic Airport, followed by a 15 to 20-minute speedboat ride to reach the resort. Seaplane is the next option, which will give you around 25-minute scenic -photo flight to one of the platforms nearby Amaya Kuda Rah, from where you will be transferred by boat within 10 to 15 minutes to reach the resort. Do not worry, transfer arrangements are part of your holiday package based on your desired option. Once you arrive at Velana International Airport, you will be met by a representative of Amaya Kuda Rah, assigned to handle your transfers in Maldives.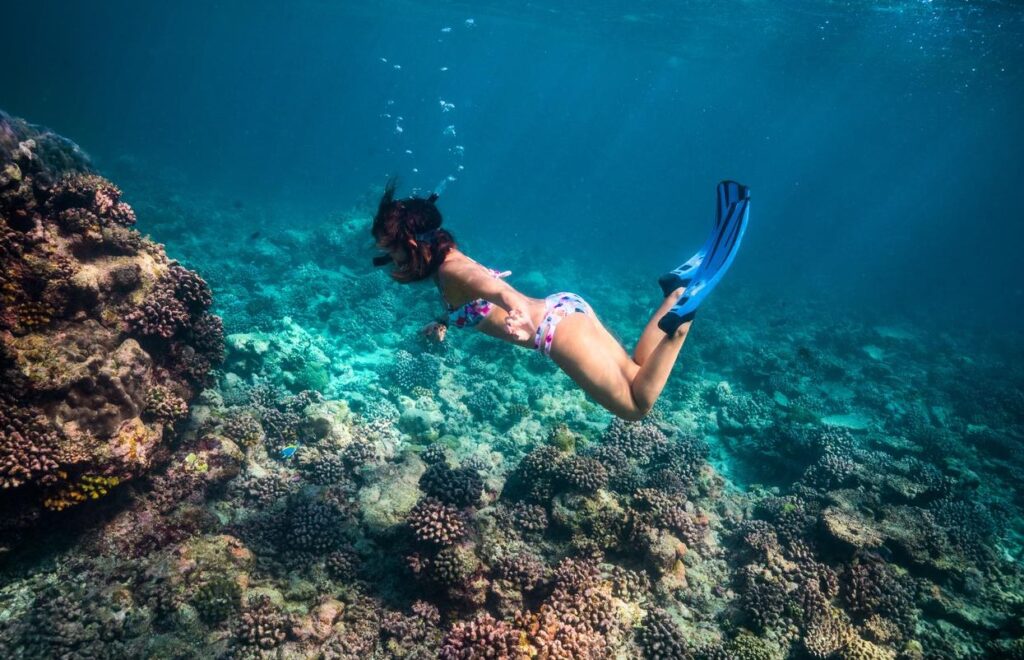 This slice of paradise is located just minutes away from famous diving site of Kuda Rah Thila, home to grey reef sharks, Napoleon fish and sea turtles. The Southern Ari Atoll will guarantee the sightings of whale shark and manta ray by making Amaya Kuda Rah a spectacular destination for divers and snorkelers. You will be able to experience a warm welcome upon your arrival to the island with a bottle of sparkling wine and a basket of fruits in the room. Tucked away in this island of Kuda Rah which will become your island home in Maldives with its luxury accommodation facilities. The resort's spacious villas and suites are perfect for either a romantic escape or a memorable family getaway, which are designed to offer you sublime delight throughout your stay. The accommodation includes Beach Villas, Water Villas, Family Duplex Villas, Beach Suites and Presidential Suite.
Beach Villas
Typically, Beach Villa is a luxury stay in a property facing your own private beach front, offering a breath-taking, uninterrupted view of the lagoon. With teak interiors stylishly decorated villa complete with plush yet minimalist, warm and cosy furnishing; Beach Villa is perfect for two people stay, however if you are planning to visit the resort with your family, then you can upgrade yourself to Family Duplex Villa. Beach Villa at Amaya Kud Rah features a range of modern amenities; Air-Conditioned room with king size bed ideal for two people, a minibar, iron board and hair dryer, free WIFI facility, TV with satellite channels and Bluetooth speaker to enjoy your own playlist. Bath facility at Beach Villa provides a separate shower facility, a swimming pool and a huge bathtub. This is one of a kind experiences which you need to explore when you are at Amaya Kud Rah. Though the pool is small at Beach Villa, you will be able to enjoy the privacy of your own pool behind the villa. There is a free lounge area to bask under the warmth of the sun, chill and enjoy your stay.
Family Duplex Beach Villas
These villas are two storied, with a big private plunge swimming pool in front with expansive views that stretch out over the sea. Living-room on the first floor with a king size bed and bedroom on the second floor with extra-large king size bed. Bathroom is huge with a jacuzzi tub. There is a separate shower and toilet facility at the first floor. Family Duplex Beach Villa also features an outdoor rear garden, outdoor rain shower and beach front sun deck where you can connect with the sounds of nature. The spacious villa comes with modern fixtures; minibar, flat-screen television with satellite channels, DVD player, WIFI access, in room safe, and cloth ironing facility.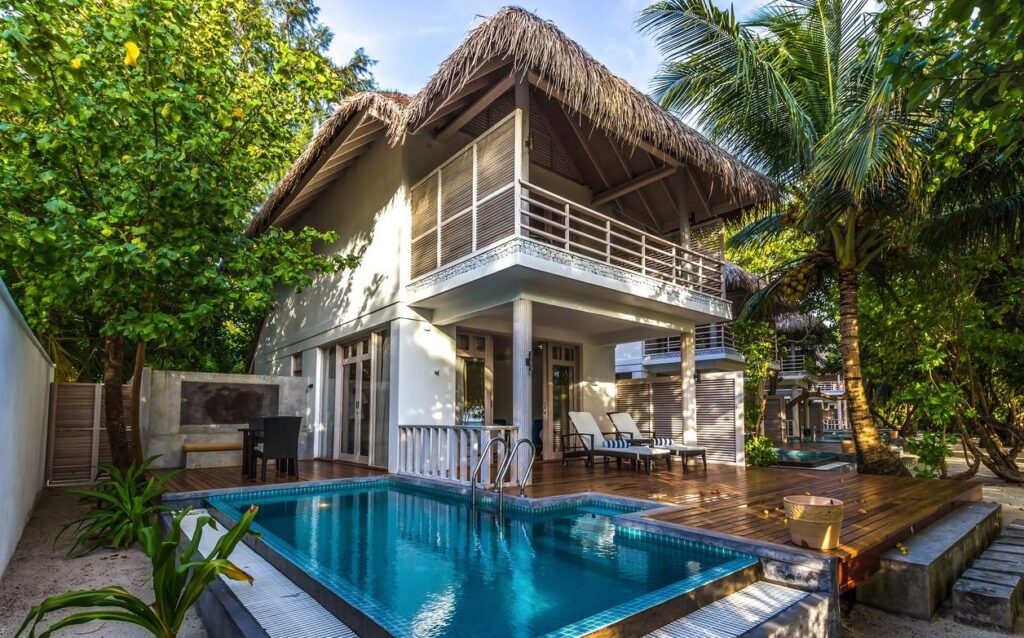 Water Villas
Your holiday on this paradise island begins here! With its terrace extend over the azure waters of the lagoon, Water Villa brings a new meaning to exclusive lagoon accommodation. Water Villa with infinity pool is an enchanting romantic haven with exclusivity and privacy it is the perfect Maldives honeymoon hideaway. Standing on stilts above the shimmering Indian Ocean, with a wooden floored living room, a sundeck with infinity-edge pool and a ladder for direct access to the ocean, this villa choice has endless opportunities for spotting marine life and enjoying the beauty and vastness of the ocean. This mesmerising luxury stay is perfect for a couple, unfortunately there is no family upgrade for Water Villa as it is situated above the ocean. The air-conditioned room offers a king size bed, minibar, ironing facility, hair dryer, safe, WIFI facility, TV with satellite channels. The room provides ample opportunities for relaxation while floor-to-ceiling windows let you wake up to stunning views. Located on the island's eastern tip, the Water Villas are the perfect spot to witness the famous Maldives sunrise. The bathroom includes separate shower facility with a jacuzzi bathtub. Water Villa also provides an in-villa dining, where you can enjoy scrumptious dining under the dark clear sky with a cluster of stars.
Beach Suite
Experience a stay at one of the best Maldives suites with private pool, at secluded and spacious waterfront hideaways of Amaya Kuda Rah's Beach Suites, located at the end of a perfect stretch of sand. The resort's Beach Suites offer a spacious heaven complete with contemporary fixtures, where you will indulge in blissful relaxation. The Beach Suite combines modern elements of design with stylish splashes of colours to create exquisite beauty. Nestled in the shade of lush gardens, Beach Suites have direct access to the beach and are extremely spacious and private, making them ideal for couples or families with little kids. The suites have floor-to ceiling French doors that open up on to their own private wide terrace with oversized plunge pool that gaze out to the horizon and the bedroom has a living area and an outdoor bathroom opens up to the skies. The amenities in the suite include king-size bed, safe, wardrobe, rainfall shower, minibar, tea & coffee making facility, LCD TV with satellite channels and audio hook-up.
Presidential Suite
Step out and indulge in the natural beauty of Maldives in the luxurious Presidential Suite. The Presidential Suite is the epitome of luxury and space, with just a few steps away from the crystal-clear water, positioned over the azure lagoon between water villas. The suite offers complete privacy and unparalleled view of the Indian Ocean. It features tastefully decorated bedrooms with private wooden sundeck with plush daybeds, a private pool to cosy up, swim-up platforms and take a few steps down into the vast lagoon plus chaise lounges for private sunbathing. Presidential Suite is decked up with all the modern amenities you will require, king size bed, mini bar, tea & coffee making facility, IDD telephone, WIFI connection and partially open-air bathroom consist with oversized jacuzzi, rain shower, sun lounges and bathroom amenities. This luxurious suite optimises an idyllic overwater living consist with its own veranda enclosed within a private deck with views towards the lagoon and the vast Indian Ocean.
Dining at Amaya Kuda Rah resort is an awesome experience, where guests can enjoy in-villa dining or venture out to any of the island's various dining venues. The resort's restaurants serve a delectable variety of international and authentic local cuisines that includes Sri Lankan and Middle Eastern specialities.
Sea Spray
Sea Spray is the main buffet restaurant where you can enjoy an exquisitely yet light tropical breakfast, lunch and dinner in wide selection of international and local cuisines while overlooking romantic sun sparkling crystal clear water. Enjoy an aromatic mas huni, a traditional Maldivian breakfast, freshly caught seafood and local tropical fruits at Sea Spray restaurant. This buffet restaurant let you relax and replenish at any time of the day with fascinating views of the ocean and tropical atmosphere where you can enjoy the real pleasure of holiday here in Maldives. Open throughout the day, its café offers you, satisfying snacks, sandwiches, salads and more.
Half Lime
This international themed restaurant offers you spectacular exotic taste around Asia. Incorporating flavours from throughout the region the gourmand varies from Middle East, Sri Lanka, India and Thailand. Half Lime also gives you the delightful new experience of tasting shisha. Open only for evening dining, you will be served in your private gazebos or in our casual lounge area. The Half Lime grill also offers succulent seafood and the very best international cuisine. At this fantastic restaurant of Asian specialties, you can catch a movie night every week and local night once a week complete with Maldivian cultural show.
Glow Bar
Overlooking the swimming pool by listening to the calming sound of palm trees in the wind and the crashing sound of waves in the sea, Glow bar is the perfect place to sit back and enjoy delicious variety of cocktails, mocktails, wines, champagnes, spirits and snacks. A la carte dining is also available throughout the day. This is the island's perfect spot to witness Maldives famous sunset. On certain nights, you will be entertained with a live band or you may sing your heart out during the karaoke nights.
The guests who wish to rest after a fun filled day of activities, there is the option of in-villa-dining where your food serve right in to your very own room. You can enjoy a revitalizing breakfast or even a delicious lunch right in the comfort and privacy of your very own villa. Further Amaya Kuda Rah always cater to their guests' gastronomical satisfaction, as the resort ready to arrange special Romantic Sunset Dinners and Beach Dinners or BBQ's for special occasions whenever you want, wherever you desire, bet it at your villa, on the secluded stretch beach, sand bar, your luxury boat or on a traditional Dhoni. No matter what time of day, no matter what you are craving, this paradise resort's restaurants, cafés and grills cater only to satisfy your taste buds.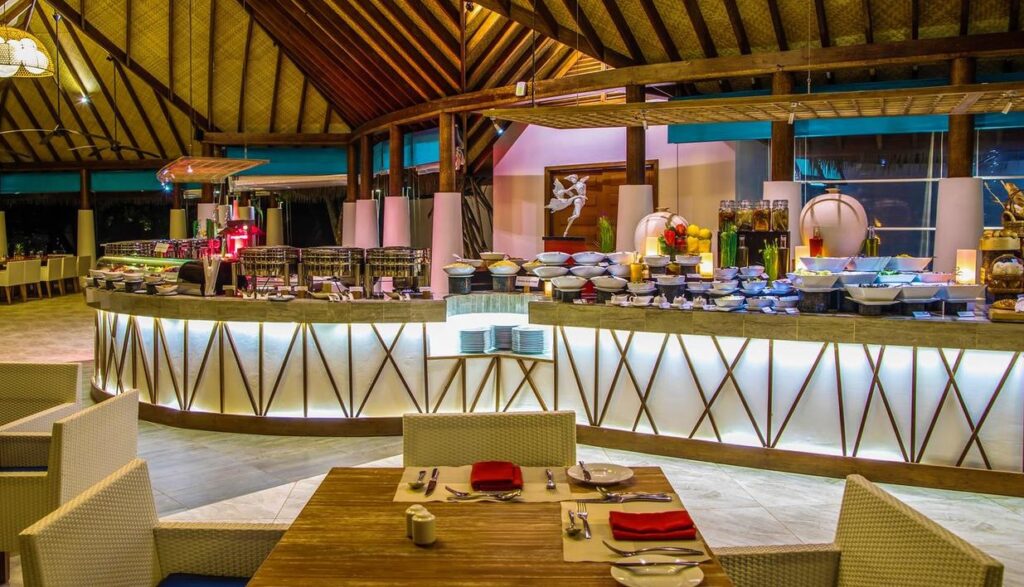 The pristine white beach, exotic landscape, international themed restaurants to fill your exotic taste buds, all these will not complete your vacations without experiencing signature spa treatment at Amaya Kuda Rah. The spa treatments at Amaya Spa by Mandara is not just relaxation and de-stressing, but about maintaining your health, about pampering your skin, about making time for yourself. The luxurious Amaya Spa secluded in an open-air courtyard, comprises a total three treatment rooms with steam, bath & shower, retail boutique and a manicure-pedicure area. Highly trained massage therapists use natural products such as spices and pure essential oils and beauty treatments to bathe your senses and lull you in to a state of relaxed bliss. As a part of their signature treatments, the spa menu incorporates with Sri Lankan healing rituals using wrap and scrubs combined with stress releasing Balinese, Mandara or warm stone massages.
Moreover, Amaya Kud Rah resort offers a variety of experience for its guests; you can unleash your adventurous spirit and connect with nature as you partake in a range of exhilarating excursions that are bound to create everlasting memories. Things to do range from exploring and rebuilding the colourful reef garden to diving into the depths of the Indian Ocean or watching the beauty of a Maldivian sunset during a fishing cruise.
Explore through spectacular dive sites such as Kuda Rah Thila where you can observe the enchanting beauty of many beautiful aquatic creatures of the deep, such as grey reef sharks, Napoleon fish as well as sea turtles. Maldives is the only place in the world with a year-round population of whale sharks. The dive centre's team know the best spots to find them. If it's your lucky day, then you might get up-close these majestic creatures, which will definitely be one of the most amazing experiences in your lifetime.
Further Water Sports Centre offers the wide range of aqua activities such a jet ski, kayak, canoe, banana boat and fun tube with family and friends. There is a fitness centre on site, where fitness enthusiast can work out.
Excursions include sunset fishing for a fresh catch that can be expertly prepared by one of the resort chefs for an evening meal. In addition to a relaxing champagne cruise, daytime outings can include whale shark snorkelling or watching dolphins play in their natural environment. On land entertainment includes three course menu cooking classes with a professional chef. Private movie viewings under the stars will be arranged complete with drinks and snacks.
There is a kids play area at the resort featuring a range of indoor and outdoor activities, from coconut painting to a beach treasure hunt, creative crafts and games to ensure the little guests enjoy their time while their parents indulge in luxury comforts.
Amaya Kuda Rah was recognized as the Best Boutique Resort in Maldives, at the 25th Annual World Travel Awards, Grand Finale Gala Ceremony 2018 at the historic Pátio da Galé in Portugal. Previously known as J Resort Kuda Rah, now popular as Amaya Kuda Rah is now a part of the chain of resorts under Amaya Resorts and Spas, Sri Lanka.
If you are looking for a romantic escape, a relaxing vacation with access to a world-class spa, or a family vacation, this is the place. Bring your loved ones and surround yourself with natural beauty and modern conveniences while enjoying the world-renowned Amaya Kuda Rah's care that will leave you feeling relaxed and rejuvenated.