Beach Houses and Ocean Houses at The Nautilus Maldives
In the heart of a biosphere reserve, the immensely exclusive and private resort of The Nautilus Maldives features seventeen luxurious and alluring beach and ocean houses. Each of them are generously spaced and designed to portray elegance at it's finest. These residences give a whole new meaning to luxury tropical destination with their ultra-private setting and unique bohemian suite-style approach. Equipped with every luxury the modern world has to offer and situated to make the best of the picturesque scenery that Maldives has to offer, these suites really look like they were pulled right out from a tropical holidaymaker's pipe-dream.
Ocean House with Private Pool
These houses were built just for the holidaymakers who want the classic experience of the stilted house overlooking a lovely lagoon and enjoy pure opulence. However, at The Nautilus, this concept was taken to heart and executed in an exemplary fashion. Whilst making the most of the raw beauty of pure tropical heaven, these overwater villas in the middle of a lagoon also have an elegant, distinguished design that creates a dreamy, timeless atmosphere. There are nine of these chic, stilted houses attached to the jetty that extends into the languid lagoon that come with their own private butler service.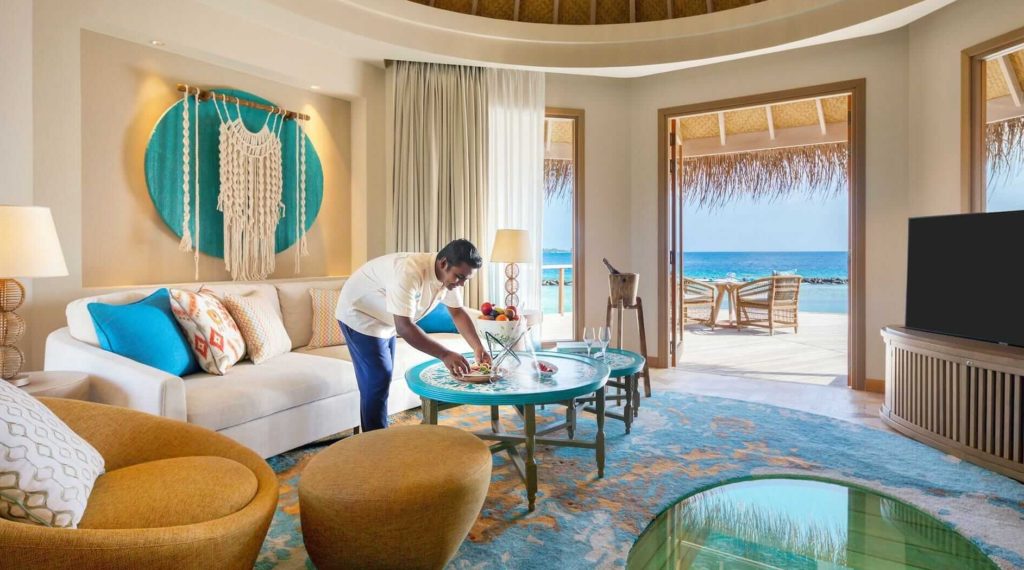 From the outside, the suite looks like multiple interconnected village huts with the classic thatch roof and wooden screens and walls along with a large wooden deck. There's an extensive sundeck that reaches out into the lagoon with steps that lead you directly into the azure, dreamy waters of the Indian Ocean as well as a private, large infinity pool. Both the sundeck and pool have a unique curved design that complement each other and are very eye-catching. There's lots of lounging options the sundeck, with a porch swing and sunbeds with a large umbrella for shade and wooden screens for exclusive privacy.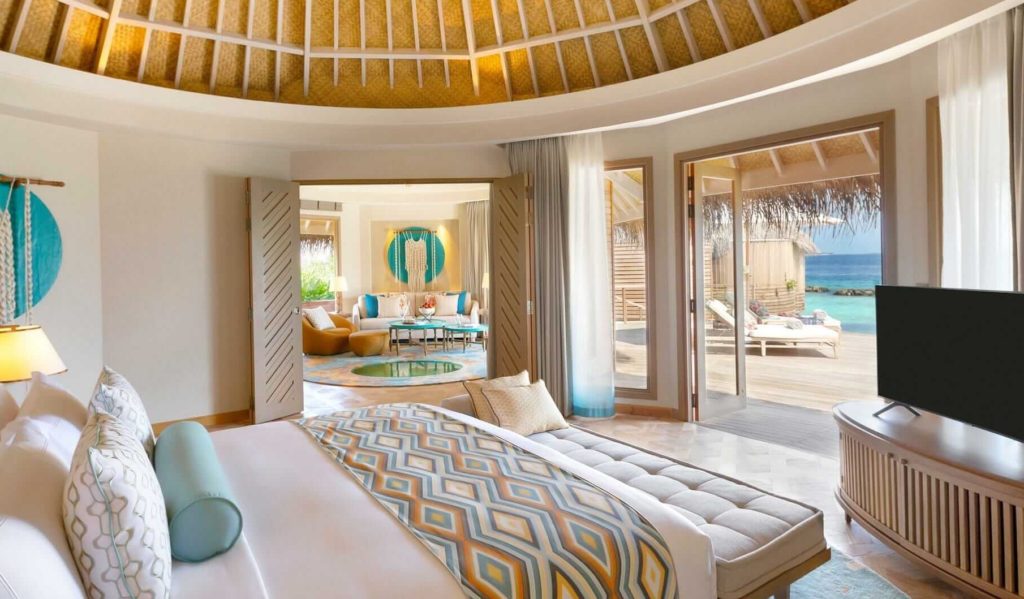 The bedroom itself is breathtaking, oval shaped with a dome-style ceiling meant to dazzle the eye along with light cream walls that go really with a the distinctly patterned and textured wooden flooring. There's an alluring little ornaments and decorations throughout the suite that adds a very charming character to the bedroom. There's a separate living room that's decorated with a stylish design, a tropical color scheme and a glass floor panel to gaze at the marine life. The glass-walled bathroom is almost as big as the living room and a free-standing bathtub where you can enjoy the scenery from the glass door. Revel in the intimate seclusion of a lavish overwater suite where you exist free of time, with only the sunset and sunrise to mark the passing of time.
Beach Houses with Private Pool
There are nine Beach Houses with Private Pool that line the silver-sanded beach that have a design that defines elegance and grace. Each spacious and stylish house is right on the beach, just steps from the ocean and house reef to make the best of what the Maldives has to offer. These suites take the traditional village hut on the beach approach which is a quintessential Maldivian experience, but the execution of the architecture and interior design is legendary. Inspired by the Nautilus shell, these suites have alluring curved lines and spiraled elements implemented to make them a very distinct and sophisticated escape from the chaos of day-to-day life.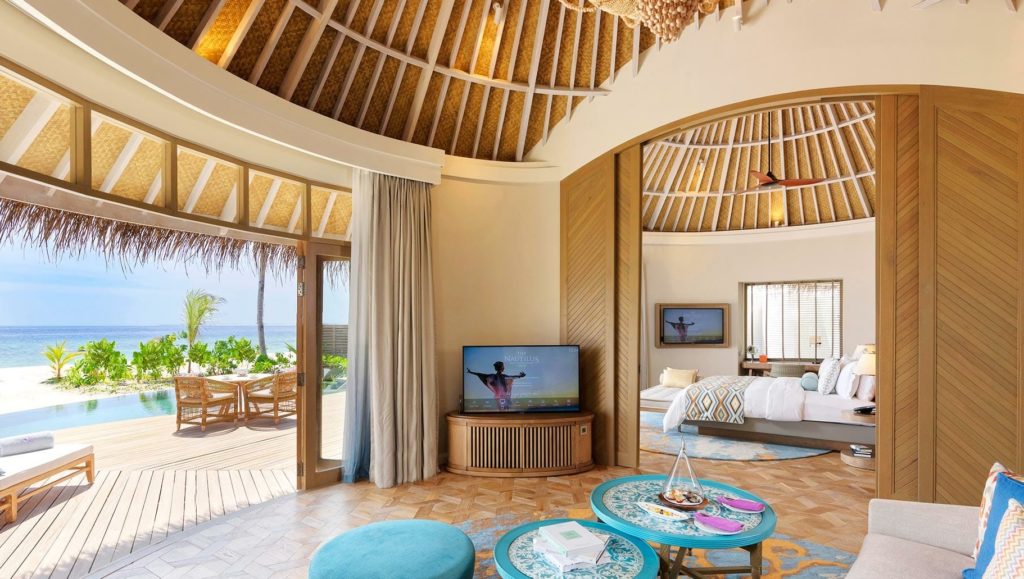 Each house consists of interconnected huts with domed thatch roofs and wooden screens and walls decorating the exterior, a huge wooden sundeck as well as two huge courtyard gardens and one has an outdoor shower that's connected to the bathroom. They all cover a ridiculously large area of at least 3300 square feet and the sundeck itself probably covers almost half of that. There's also a private infinity pool connected to the pool and both are curved in a very striking manner. The lounge has a dining gazebo, sunbeds and even a traditional Maldivian swing bed called an "Undholi".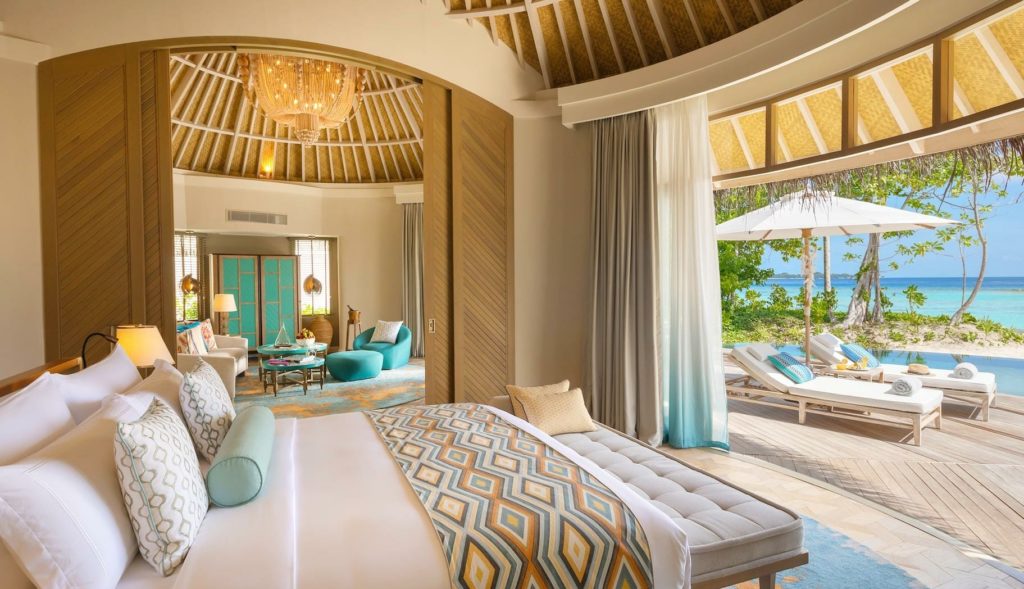 The interior of the suite is all circles, ovals and curved lines creating a very sophisticated and distinguished ambience. The bathroom, living room and even the bathroom are all oval-spaced and have lovely domed ceilings. The colorful carpets with a tropical color scheme complement the lovely patterned wooden floor. The walls are a light cream color and the furnishing and décor are all light wood and creamy colors to soothe the eye. Both the living room and bedroom have large glass doors leading to the deck and providing enthralling views of the beach. There's also a courtyard garden at the entrance of the suite leading into the living room. A glass-walled, light-filled, air-conditioned en-suite bathroom provides garden courtyard views, with a deep ceramic free-standing tub, an indoor walk-in rain shower and matching granite vanities. An outdoor garden shower lets you bathe under tropical skies.
The Nautilus Maldives
Located in the middle of the UNESCO World Biosphere Reserve is the island of Thiladhoo in Baa Atoll that features the bohemian luxury hideaway, The Nautilus Maldives. It is one of the more recent resorts that opened in February 2019, the Nautilus is a highly personalized, immensely private resort of 26 beach and ocean houses.
This luxury private island resort features serenity, timelessness, individuality and personalization where there's nothing that bounds you. Tailor every experience to suite you, with no schedules, no opening times for restaurants or any facility. The Nautilus gives you space – to share, to meet, to explore and to shape your own personal journey. And, most of all, to celebrate the people you're with, in any way you choose.
Immersed in the raw beauty of Baa Atoll on Thiladhoo Island, The Nautilus though secluded and remote, is not that hard to access. You will be greeted by a Nautilus representative at the airport and then whisked to a VIP lounge. You can reach the island either from a 30-minute seaplane journey that you book or take a 20-minute domestic flight to Dharavandhoo and then another 20-minute speedboat ride to the island. On the island, you will be greeted by the house master who'll give a quick tour and escort you to your house.
Houses, Residences and a Mansion
Experience the most premium privacy and seclusion at its finest. There are a total of 26 astonishingly sequestered, ultra-private beach and ocean houses. Each of them a sanctuary by their own right, with spacious bedrooms, large separate living spaces, extensive sundecks and curved private infinity pools. Steps from azure seas, these bohemian, suite-style retreats each come with private butler service. Whole-island bookings offer the ultimate in exclusivity. There are eight, stilted Ocean Houses with Private Pool and nine elegant Beach Houses with Private Pool that line the shores. As for residences, there are two huge Ocean Residences with Private Pool, three graceful Beach Residences with Private Pools, and two Beach Residences that have two bedrooms. The accommodation options for the high rollers would be The Nautilus Retreat with Private Pool and The Nautilus Mansion with Private Pool.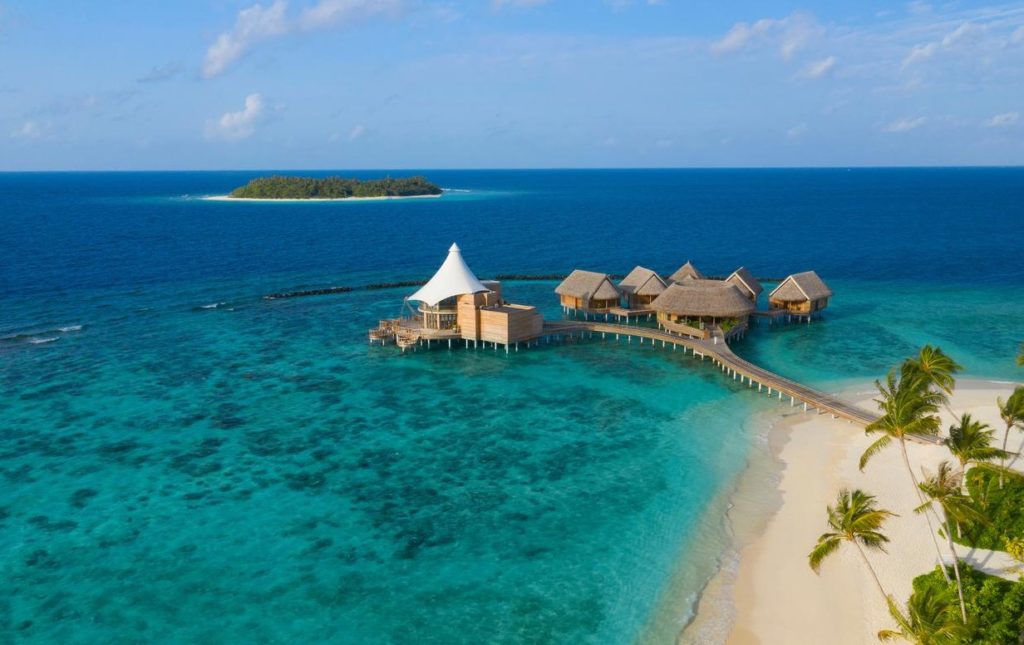 Ocean Residences with Private Pool
These residences are pure bohemian bliss poised are over the lagoon, both custom-furnished and richly decorated. The Ocean Residences feature a spacious living room with glass-floor panel and a separate bedroom. Each of these beach residences feature curved walls and living spaces that recall the organic form of the nautilus shell, with hand-picked décor infusing each space with a charming atmosphere. These refined villas feature a spacious living room and separate bedroom, all custom-furnished and richly decorated. It has an additional dining room with adjoining powder room and wet bar, and doors that open up to an expansive sundeck with a private infinity pool and steps descending into the ocean.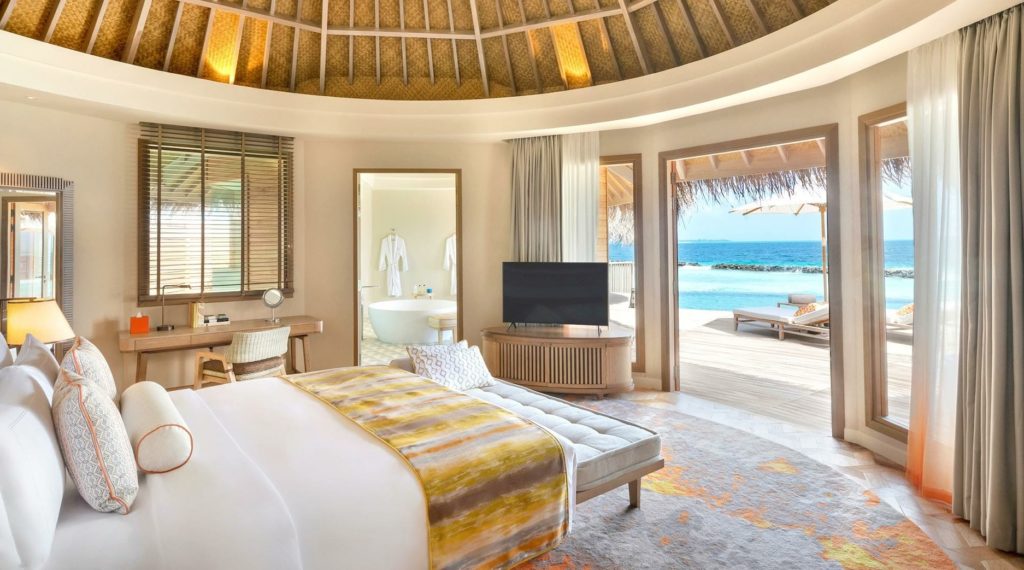 Beach Residences with Private Pool
These elegant mansions that are lined up the silvery beachfront are each a sanctuary of effortless chic. Spacious would be a vast understatement would be to describe this large sprawling residence that cover an area of almost 4500 square feet. There's a dining room which is adjoined by a powder room and wet bar, along with doors that open up to an expansive sundeck with a private infinity pool and stairs into the beach that's right across. Upstairs, there's a sun-drenched king bedroom presides over glorious beach and ocean views. There's also a terrace with a spiral staircase leads to the deck downstairs.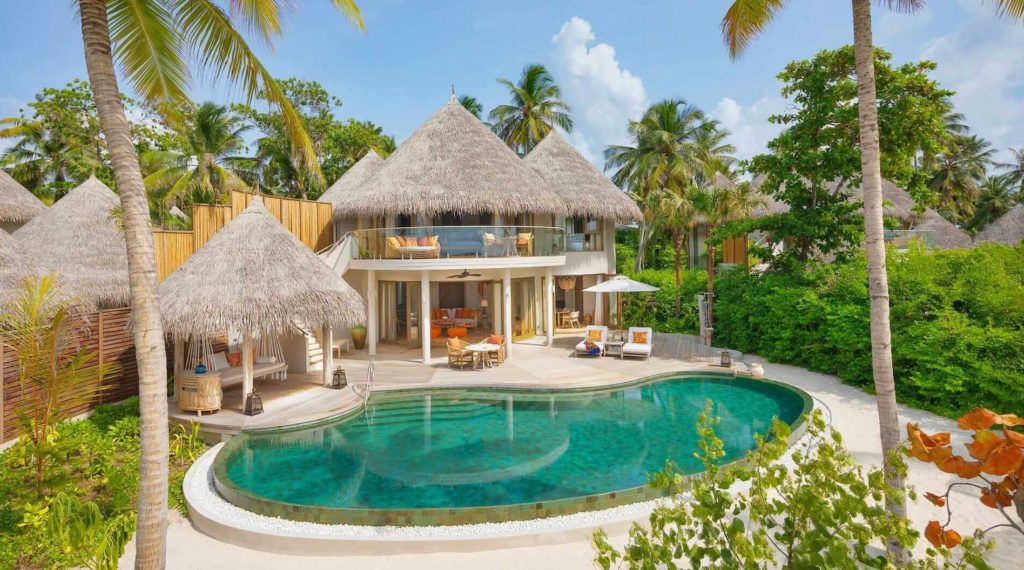 Two-bedroom Beach Residence with Private Pool
Both of these exquisite residences are the perfect beach home for family or friends. There's a bedroom downstairs as well as the living room, dining room and the powder room. Upstairs, there's an even more spacious master bedroom to ensure indulgent privacy and escape. The furnishing is striking and combines with the charming ornaments and décor to create a chic and cozy ambience where you can appreciate the panoramic rooms from any room. Moreover, A private sundeck and azure pool sprawl from each of two residences across white, powder-fine sands.
The Nautilus Retreat with Private Pool
This retreat has been designed exactly for groups of families or friends who're willing to spoil themselves and indulge in opulent delight. This two-bedroom residence executes the quintessential Maldivian dream in an exemplary and legendary fashion and boasts a wide, curved sundeck and a sleek infinity pool. There are two bedrooms that radiate out from the central living and dining rooms, each with their own brilliant view of the sea and en-suite bathroom. It's truly a sanctuary and perfect for family reconnection, where unforgettable memories are made. Don't forget that this mansion almost covers a staggering 6000 square feet.
The Nautilus Mansion with Private Pool
The easiest way to describe this resort's signature house would be to call it "a bohemian castle on the sand". This three-bedroom Nautilus Mansion was designed as the ultimate beach home at a Maldivian private villa. So, book it if you're looking for a once-in-a-lifetime stay as this three-bedroom castle-on-the-sand occupies a spectacular spot on the beach, with custom furnishings created from hand-selected materials. The residence's ornaments, paintings and décor embody the island's pure bohemian spirit. Its sunlit, breeze-cooled spaces promise serenity and privacy – absolute freedom. This castle truly is the ultimate form of accommodation in the resort, and one would day say in the whole country. After all, what could rival this particular mansion?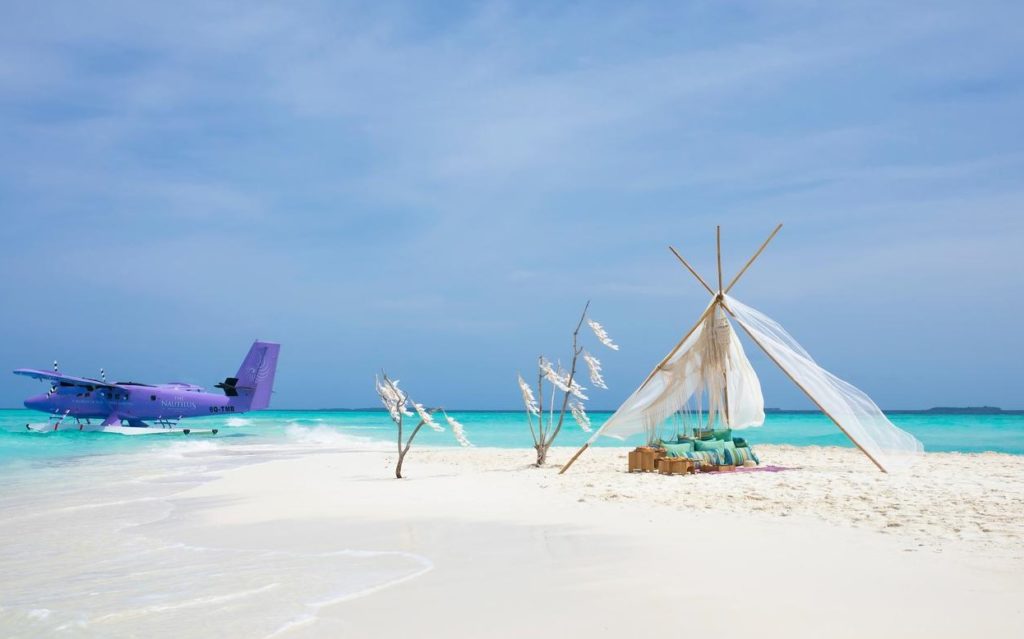 Liberate Your Palate
The dining experience at The Nautilus is unrivaled within the Maldives both in its authenticity and its execution. Eat when you're hungry, have breakfast for dinner, drink Champagne in bed. The Nautilus delights in veering off script, crafting bespoke culinary journeys designed just for you. These bars and restaurants revel in the spontaneous, crafting bespoke culinary journeys tailored to each taste. . Although the resort features only three restaurants and two bars, the distinct concept of unscripted dining gives you an unbelievable experience.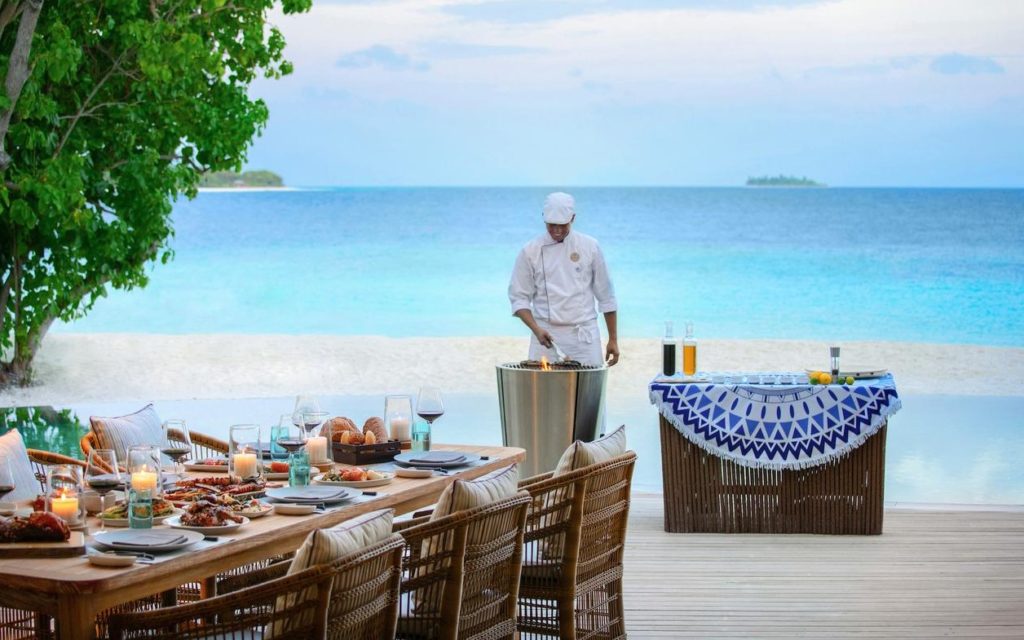 Explore Mediterranean and Arabic cuisine at Zeytoun restaurant and relish Latin-American and Japanese delights grilled to perfection at Ocaso. Enjoy the international choices at Thyme and have some unforgettable free-flow canapés from Naiboli poolside bar. Private in-residence or around-the-island dining by request. Flexible opening hours, no constraints. Just a passion for extraordinary gastronomy.
Wellness
Immerse yourself in the energy of a Maldives spa at the island Solasta Spa, a natural haven of wellness surrounded by serene and sparkling seas. The overwater Solasta Spa has three glass-floored treatment pavilions where tailored wellness programs are supported by the natural and organic product lines of Maison Caulières and Omorovicza.
Facilities
Since staying fit and healthy is important regardless of wherever you are, there's a fitness center. Moreover, there's also the Young Wanderers Kid's Club that makes The Nautilus Maldives family friendly as it offers lots of activities for kids aged from three two twelve.
Diversions
Explore Baa Atoll with all the time in the world. The onsite AquaNautica PADI dive center offers access to more than 30 world-class sites within close reach – the renowned Hanifaru Bay just a short speedboat ride away. Additionally, a house reef sits meters from shore, cruises, fishing expeditions, sunset sailing, complimentary non-motorized water sports are perfect for free-spirited forays into the blue.