Water Suites and Water villas at COMO Maalifushi
Live the paradigmatic Maldivian experience by unwinding and relaxing in an archetypal overwater residence, the Water Suite or the Water Villa at COMO Maalifushi. For those who aren't high rollers, but still want to have a perfect, dreamlike vacation in a tropical haven, these overwater suites are just perfect.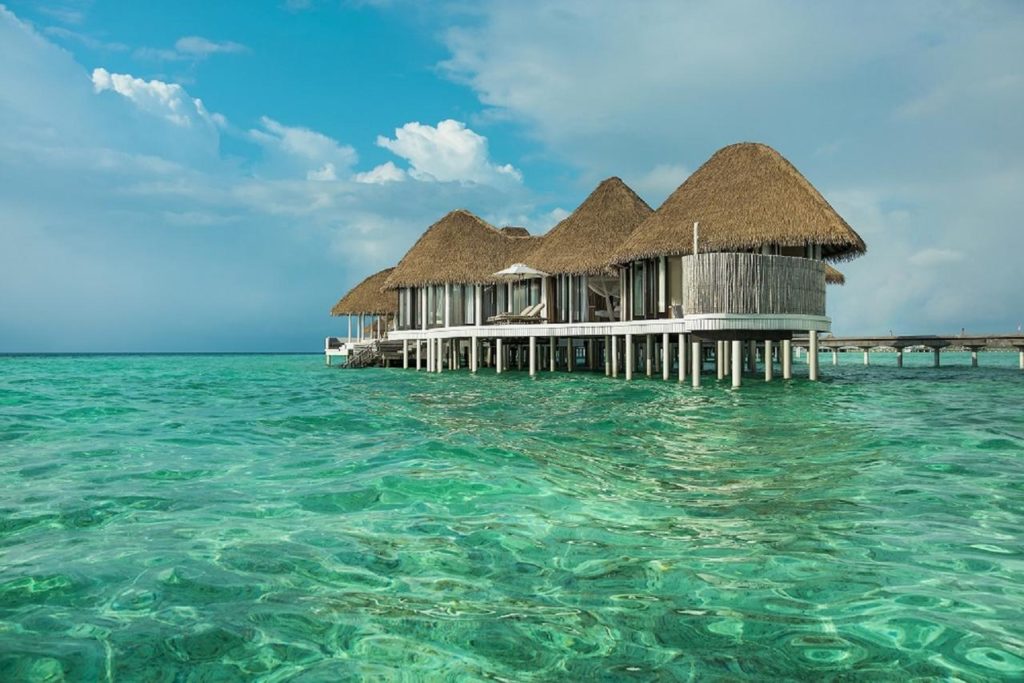 There are seventeen Water Suites and thirteen Water Villas that are situated above the water, overlooking the lagoon and into the ocean, ensuring to take advantage of the picturesque scenery of the lagoon with its sparkling light blue and the vast Indian Ocean. These suites combine all the comforts of the modern world, unique and charming architecture and interior designs along with the enthralling environment and setting of the remote and untouched Thaa Atoll of Maldives.
Water Suites
These cozy residences overlooking the ocean with its alluring views and delicate look are lined up on a jetty that extends from the island into the lagoon. They are quite spacious, covering 1100 square feet although they aren't the largest suites you can find in Maldives. However, the charming interior and the architecture, along with the blue lagoon setting makes a lovely, calming ambience that would put even the most fidgety traveler at rest. If that wasn't enough, all of these suites face the sunrise, making for spectacular views of your favorite amber hues and golden sunlight.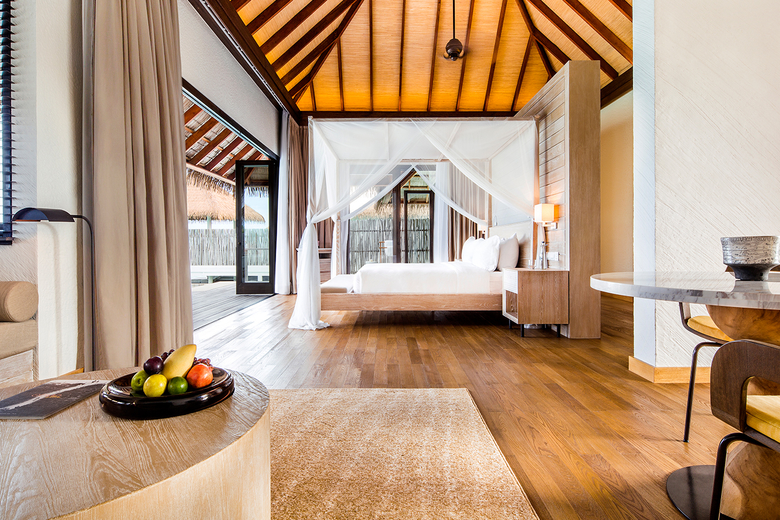 The exterior is quite simple and minimalist, with lightly colored walls and Kajan thatched roof giving it the look of a rustic hut but with contemporary touches. There are wooden screens on the sides of the suite to give the finest of privacy and seclusion. Step out into the wooden terrace to enjoy the scenery or lounge around in the sunlight and bask in the majestic beauty on the sunbed, or the cabana with a plush sofa bed. There's also a large plunge pool that combine with the lovely hues of the ocean to give a very striking effect. Lastly, there's also direct access into the turquoise lagoon.
Although it looks a simple hut on the outside, the interior design and architecture is quite delicate and sophisticated. The Water Suites feature a large, spacious bedroom as well as a living area and lots of wide glass doors to make the most of the tropical, cerulean views. Moreover, the ceilings are quite high and nicely decorated that has a very calming, soothing effect. The lightly cream-colored walls have a striking texture and combined with the charming wooden teak flooring and furnishing throughout the residence create an idyllic atmosphere. There are grainy, wooden themed décor and ornaments adding to the effect. The bathroom features a sunken bath and outdoor shower and have a sandy, grainy design and heavy in marble.
Water Villas
There are thirteen of these spacious residences that overlook the pristine lagoon which are even more spacious than the Water Suites and a few more luxe touches. These villas provide the quintessential Maldivian experience, with its delicate and elegant design, both the outside and interior, the unbelievable backdrop of a lagoon in tropic heaven, a homely ambience and the ample choice of lounging and lazing around. With the home-away-home approach that never fails, they let the guests enjoy their dreamy vacation in comfort all the while basking in the beauty of their surroundings.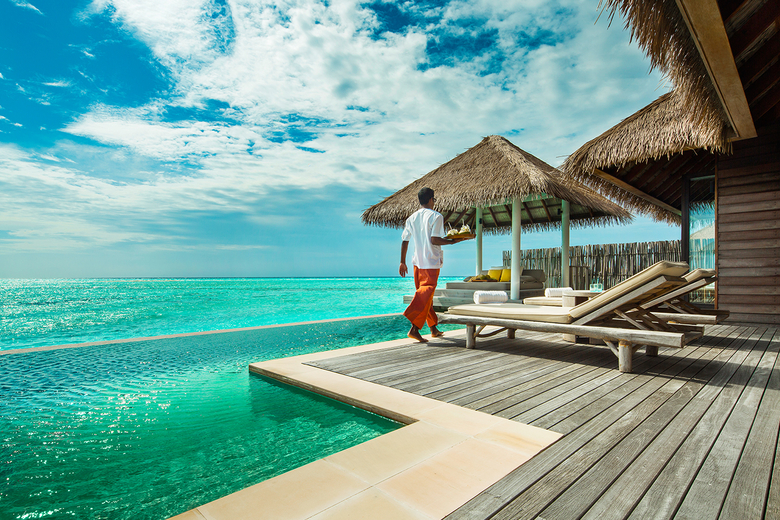 They have alluring, very simplistic exteriors with the classic Kajan thatch roofs combined with a lot of wood and the terrace giving the villas a very unique, rustic chic look. A very extensive wooden sundeck protrudes from the villa into the lagoon that provides its guests many choices on where to lounge and take in the beauty of the natural surroundings in comfort. Worrying about privacy won't even cross your mind as these villas are built with seclusion given utmost importance. You can bask in the large plunge pool and enjoy the lagoon, lounge in your sunbed or laze around in the sofa sheltered by your own cabana.
These villas have an interior that's almost eye-catching as the setting that it's in. With a very uncomplicated, succinct design that embellish the nature around and enhance the cultural authenticity of the traditional Maldivian village. This is reflected by the cream-colored walls and teak floorings along with wood-themed furnishing and décor. The spacious bedroom has a large door to let in the scenery as well as a lovely curtain for added flair. There's also a separate dressing area the airy, generously spaced living area can double as a bedroom for kids. The bathroom has a very sleek design rich in marble and a sandy color theme and feature a sunken bath and an outdoor shower.
COMO Malifushi
The very first resort to open on the mostly untouched, virgin Thaa Atoll that's on the more southern side of the Maldivian archipelago. It's known for its diving points and surf breaks that are very sought after and internationally famous. This private island resort celebrates the individual spirit and strives to deliver experiences that are unique to you and the tropical paradise you know as Maldives. Providing the classic Maldivian experience with overwater villas, garden rooms and beach suites, COMO Maalifushi is therefore the ultimate away-from-it-all destination for families, couples, surfers and divers.
Currently, COMO Maalfisuhi is the only resort that inhabits the undisturbed, tranquil Thaa Atoll. You can reach it via a 60-seaplane flight that's quite spectacular. The long, lone island is almost completely surrounded by corals, featuring a wonderful house reef. There's pulsing vibrant flowerpot, branching and mushroom corals with striking color that are home to many eye-catching marine life. There's also a gorgeous strip of beach for lolling, some excellent dive sites in the area, including a whale shark hangout as well a string of uninhabited islands nearby.
Moreover, COMO Maalifushi also has a great eco-friendly record as the fruits and vegetables are either locally sourced or produced in the gardens, recycled bottled water, high efficiency power generators and low carbon emission transport such as bicycles and electric golf carts.
Maalifushi Water Villa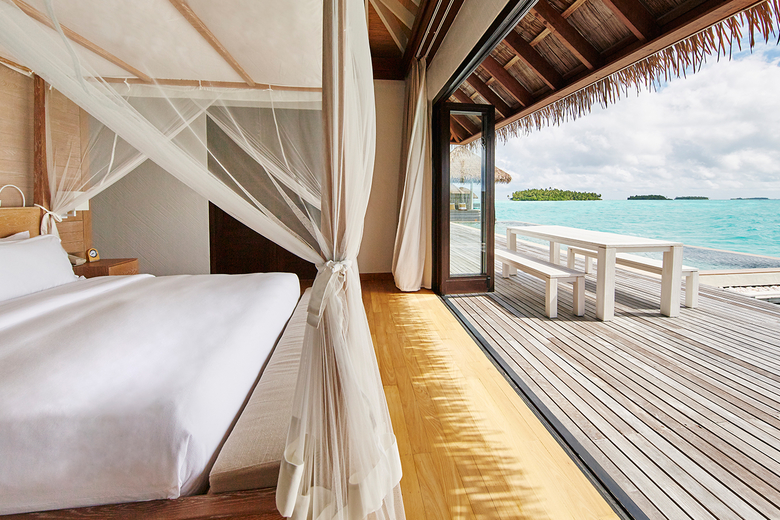 Completely secluded and accessed only by its separate jetty to give a whole new level of exclusive privacy and located on the other end of the resort, it is one of the most premium villas that overlook the lagoon that COMO Maldives offers. This oversized bungalow that covers almost 2300 square feet features two bedrooms, a ridiculously large living room with doors and windows throughout to allow light to fill it up. There's a huge sundeck as well as a private pool.
COMO Villas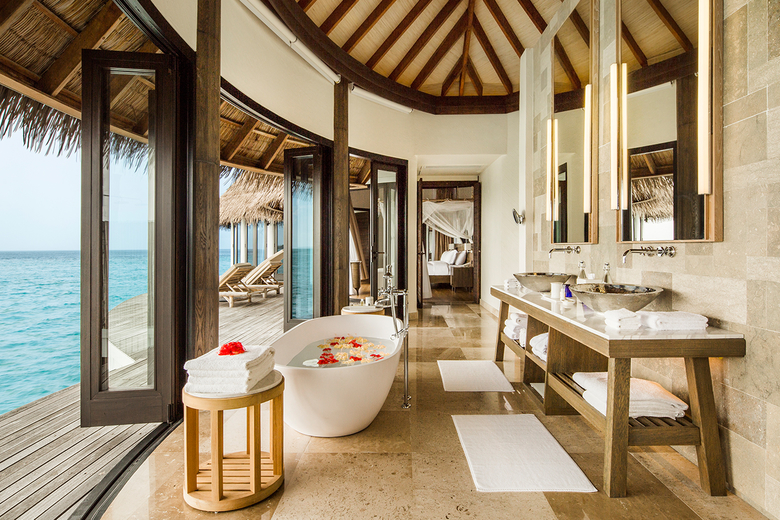 There are two villas that are basically a small villages due to sheer size. The COMO Villas sit above the lagoon are basically the resorts ultimate luxury experience available. Built for high rolling families, groups and sharing couples these mansions pretending to be huts feature a large pool, and rooms huge enough to be suites all on their own. Don't forget these villas cover Villa a whopping 4300 square feet.
Land Accommodation
Garden Rooms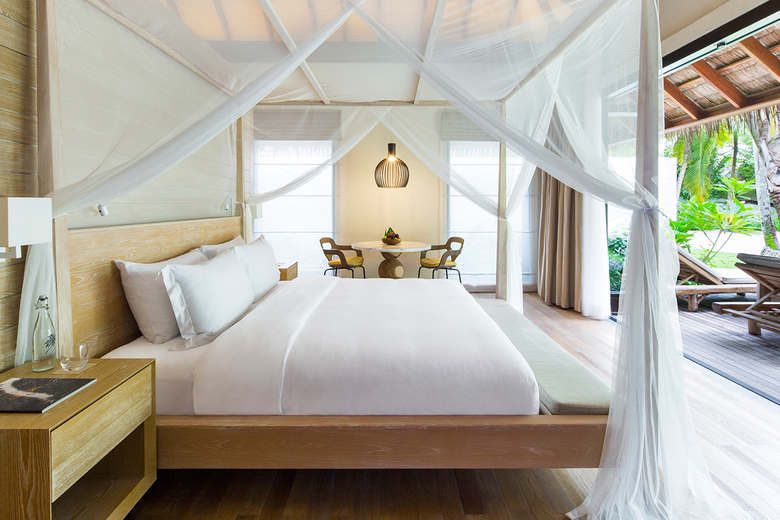 Located in the center of the island and shaded by the lush tropical greenery of Maalifushi, are six Garden Rooms. They're just short walk to all the resort's amenities such as the COMO Shambhala Retreat, restaurants and bars. These rooms are designed to give a very open and breathable ambience and come with an outdoor deck. Garden Rooms that are connected to each other are also available on request.
Beach Suites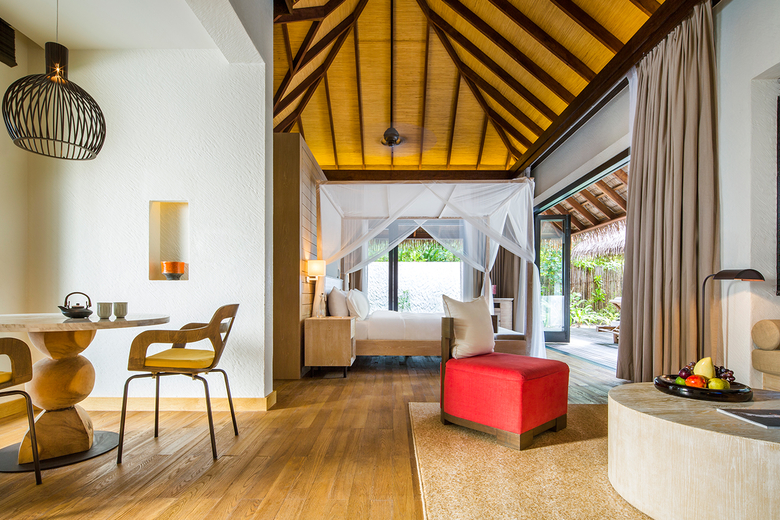 Nestled in the shade of COMO Maalifushi's lush gardens, there are thirteen Beach Suites and they have direct access to the beach and are extremely spacious and private, making them ideal for couples or families with small children. They feature floor-to-ceiling French doors that open up on to their own private terrace with a pool, and the bedroom has a living area and an outdoor bathroom.
Two-Bedroom Beach Suite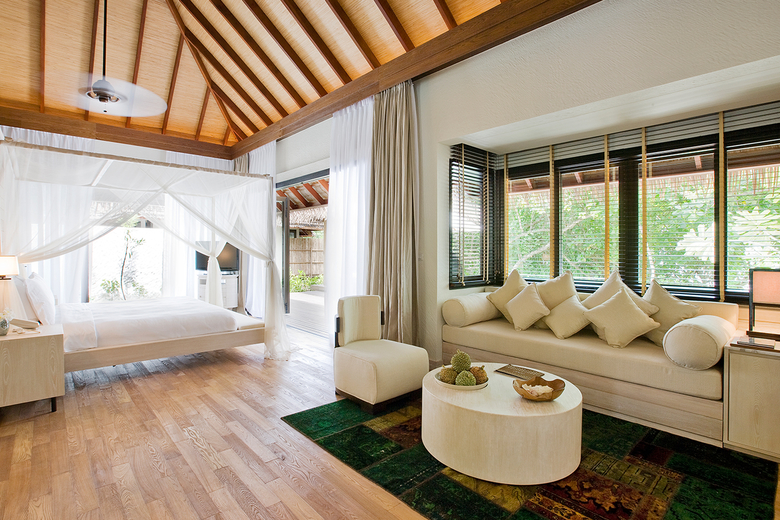 There is one special beach suite that's almost identical to the beach suite except that it has a second bedroom and a smaller, separate bathroom attached to it. These bedrooms offer twin beds and this suite offers the same facilities as the Beach Suites as well. These suites were built to cater to traveling families looking to enjoy a lovely vacation in Maldives.
Beach Villas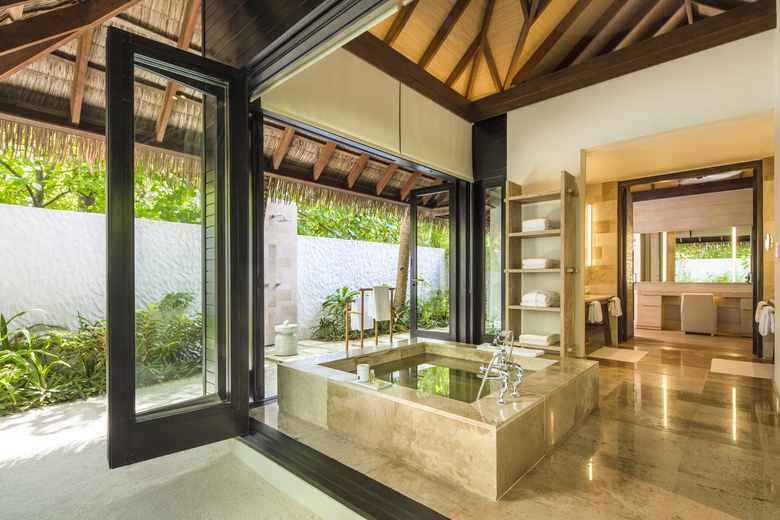 These villas literally have the beach where the silver sand melds with the turquoise lagoon as a neighbour. There are seven of these one-bedroom villas and they come with their own private pool. The interiors are minimalist as well as elegant and lit up with large windows to make the most of the natural beauty. There are French doors that give guests access to the terrace from the bedroom.
Two-Bedroom Beach Villas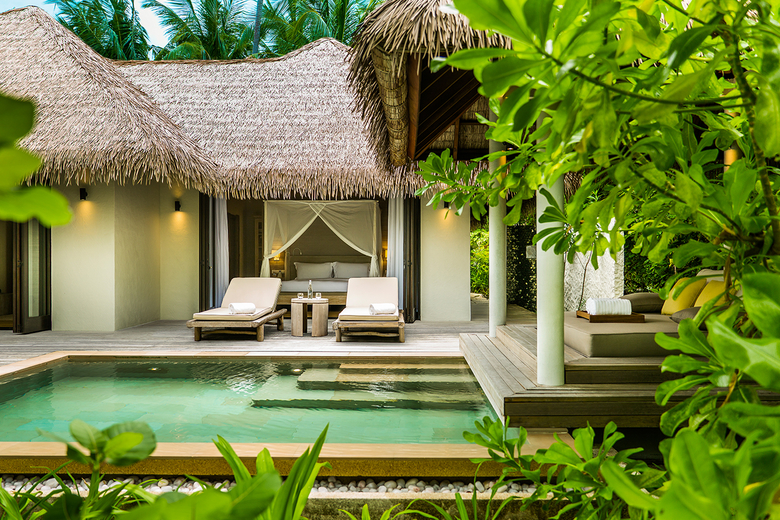 There are two villas almost the same as Beach Villas that are perfect for small families, as they have an extra bedroom with twin beds with a smaller attached bathroom as well. Moreover, they have the same look, gorgeous backdrop and facilities as the Beach Villas.
Two-Bedroom Beach House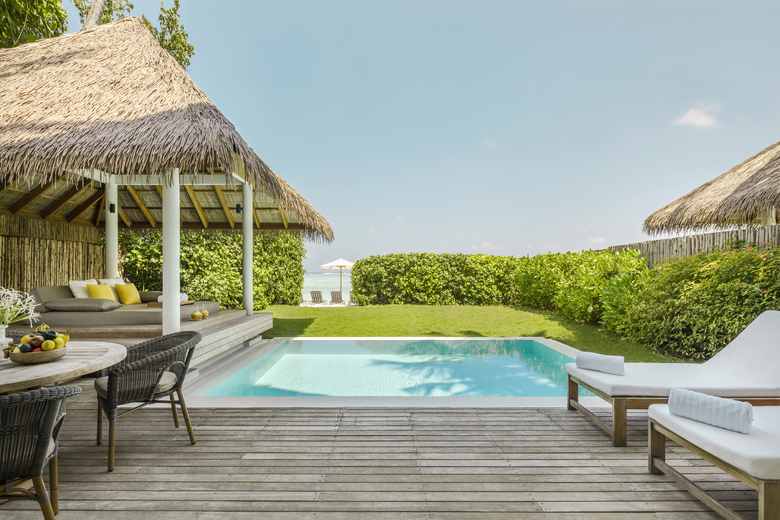 Not to be mistaken with the Two-Bedroom Beach Villas, this two bedroom duplex-style beach is one oversized residence for just four people, covering almost 2000 square feet. It even comes with its own private lawn! Moreover, surrounding a large private pool is a secluded sundeck complete with sun loungers and furniture, allowing you to eat, drink and watch the sun rise and set from the comfort of your own space.
Maalifushi Beach Villa
Spacious in size and sleek in design the two-bedroom Maalifushi Beach Villa offers picturesque views of the beach and the sunrise. This beach villa has got it all! A private lawn, swimming pool, alfresco dining and a team of butlers and more, so if you're a family or a group that wants to swim in opulence, the Maalifushi Beach Villa was made just for you!
COMO Residence
Just like it's overwater cousin, the COMO Residence is more or less a mansion since it covers around 3800 square feet. The Two-story four-bedroom COMO Residence offers all the comfort that one would expect from a luxury COMO resort, combining endless sea views with a contemporary living area, spacious media room and full kitchen. The sundeck is completed with loungers and furniture – suitable for private dining, with butler service included.
Dining
The resort offers three dining options. There's one main restaurant, a Japanese restaurant and a bar. Comparatively that's actually a very small range of choices but the restaurants make up for it with its tailored experiences.
Madi
The main restaurant of the resort is Madi. The menus are light and flavorful, with a range of local, Mediterranean, Indonesian and Thai-accented dishes served all day, from breakfast to late evening. Madi also holds themed nights each week, including a local seafood barbeque and a 'thali' evening focusing on South Indian specialties.
Tai
This is the resort's Japanese restaurant, that offers sushi and sashimi in an over-water setting along with a cocktail bar offering stunning views of the Maldivian sunset. Additionally, it gets nightly visits from the magnificent marble stingrays.
Thila Bar
Laid-back music, a pool table and an open-air pool bar with ocean views make Thila the relaxed and vibrant heart of island life on COMO Maalifushi.
COMO Shambhala Retreat
This wellness facility offers holistic, Asian-inspired treatments with views of the Indian Ocean. It goes hand-in-hand with the private island resort experience. Eight double treatment pavilions are set over the water, with doors that open wide so you can relax on a massage bed or in our oversized bathtubs listening to the sound of the waves and the ocean breeze. It is the embodiment of a philosophy for healthy living that COMO Shambhala has successfully refined at its award-winning Retreats all over the world.
Family friendly?
The resort is perfectly suited for children and they are very welcome. There's a full children's menu, a kids club that has daily activities like crab racing, nature walks and sand-castle building.