Is fish feeding good or bad? My opinion and photos
You may have seen many Maldives resorts do fish feeding to entertain guests. It is an amazing experience to see so many fish. Some resorts feed string rays, others feed all types of fish. Recently developed trend in Maldives is shark feeding. Stingray feeding the most popular of all, may be because it is the longest practiced by of fish feeding in the Maldives.
String Ray Feeding in the Maldives
Popular resorts for stingray feeding include:
Jumeirah Vittaveli
Banyan Tree Vabbinfaru
Vivanta By Taj Coral Reef Resort
Kuramathi Island Resort
At Kuramathi the pontoon goes into the sea with food and feed there. It is amazing to see large stingrays swim around and approach the pontoon to grab a piece of food. Their fins splash the water all over while almost attacking the pontoon. The pontoon puts his arm to block the string rays getting over his head and feeds a peace. As soon as the string ray gets a piece it leaves the pontoon and goes away to come back for around. Sting rays attempt the pontoon one by one and it is like a queue. Sometimes the pontoon keeps the sting ray above water while it tries to grad a bite, you can see the creature's mouth trying to bite. The pontoon does not hold it for too long, gives the food and let go to give chance to other stingrays.
At Jumeirah Vittaveli, Vivanta and Banyan Tree Maldives the feeding takes place at the shore. The pontoon stays on the beach and throws the food or feeds by hand. Some sting rays surf the wave to get on the beach. When the wave pulls back you could see stingray off the water. They are so smart and intelligent, they know the wave will come back and they swim back to the sea.
Fish feeding at Jumeirah Vittaveli is very entertaining and always there is a good size of crowd watching the feeding session. You can't help but notice large jackfish just a metre or two away from the beach, among the sting rays they too come to get food. When pontoon throws the food they could see it in the air and rush to grab it before it even touches down on the water. Some days you could see as many as 10 jackfish. These are big guys and they could eat a big chunk of food in one bite. Because there are many jackfish the competition is very high, every jackfish wants to grab the food before others, so they  use all their energy to sprint and win.
Shark Feeding
Sun Island is among the most popular shark feeding resorts in Maldives. Liveaboards or safari vessels do shark feeding during the diving. Kaani Beach Hotel recently released photos of shark feeding, probably during a trip to another location, not at Maafushi.  In Sun Island Maldives the sharks are fed every night. They are mostly nurse sharks.
Medhufushi Island Resort also do fish feeding and large sharks are regulars. Baby sharks only get their chance once large sharks as well fed. Stingrays do not care much they keep swimming around and having their dinner without thinking of sharks which do not prey on stingrays. A couple of extra-large jackfish also comes to feeding spot for to take their dinner. Fish feeding at Medhufushi takes place on the jetty near the overwater bar. So, you can conveniently stand there and watch them just a few metres from you. The feeding time is 9:00 pm, right after dinner. You can grab a drink from the bar and sip it while enjoy watching these amazing creatures of the sea. The starting time is the most exciting. It is like you going for dinner little early and waiting for the buffet to be opened.
There are powerful lights under the jetty which they turn on for feeding time. When you are on the jetty you can see the fish very clearly. It is very enjoyable experience to many guests. Some guests come there every night. Kids love this too. How many times have you seen a large shark just couple of metres from you? Probably not so many. Some guests may see them so close for the first time. If you sea a shark during snorkeling you know they don't come close to you even if you wanted to.
Is feeding good or bad?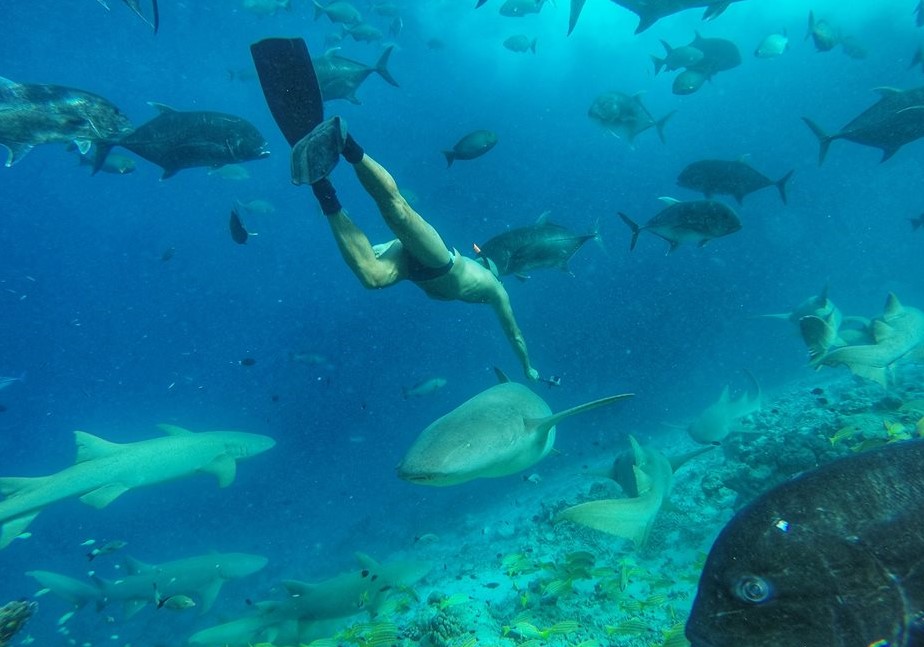 Now you know it is an amazing experience. But, the question is, it is good or bad for the fish themselves? I am not a scientist, being born and bred in the Maldives, I have my views to share with you. Some people say feeding fish is not good because they loose their hunting skills. It may be true for a bit, but I have not seen unusual deaths of fish. May be they they don't loose their hunting skills. Also, resorts feed fish only once a day. Other times they may be feeding on their own. Fish feeding a great tourist attraction, in the Maldives we do not have many natural resources such as oil or diamonds to generate income. All we have are islands, beaches, fish and reefs. So, we do have to preserve these resources and at the same time earn a living. In my personal view, fish feeding is not bad if done in a small scale. Also it is good that resorts do not allow guests to feed fish, some resorts even impose fines for guests doing that.
Standing on coral is a big problem that is currently happened in Maldives. Coral take years to grow and when you stand it breaks. Every year there is over a million tourists visiting Maldives. Imagine if every tourist breaks a part of coral? For how many more years will coral reefs last? Apart from that there are locals and fisherman throwing their anchors. Every time the anchor hits it leaves a big damage. Government needs to take some action on this. May be they could fix some buoys in common anchoring locations .