Be mesmerized by the sunsets or sunrises at the water Villas on the secluded at JA Manafaru
Enjoy your very own secluded tropical island haven in the Sunrise Water Villas and Sunset Water Villas at the resort JA Manafaru located in the remote, northernmost atoll in the Maldives. Forget about the dreamy, idyllic and stunning setting and environment, these gorgeous water villas have luxe touches that let you swim in opulent delight!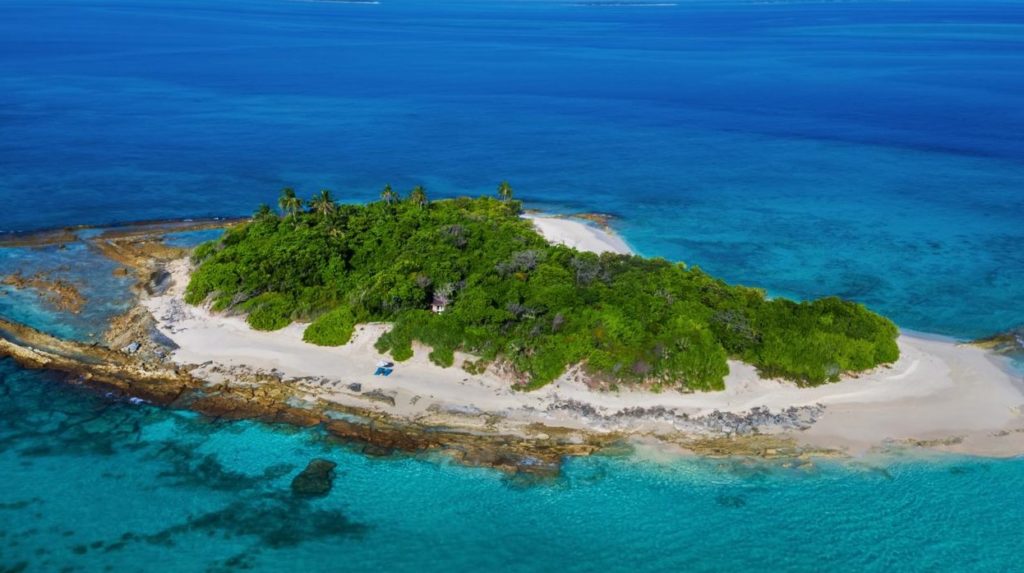 There are twenty-three Sunset Water Villas with Infinity Pool and twenty-four Sunrise Water Villas with Infinity Pool that are just waiting to give its guests the complete Maldivian experience. Not only are these water villas luxurious accommodation dressed up as a traditional hut overlooking the water, but they're placed to make the best of the enthralling views of the sunsets and sunrises to embellish the amber hues and colors. Straight out a tropical holidaymakers or honeymooners pipe dream!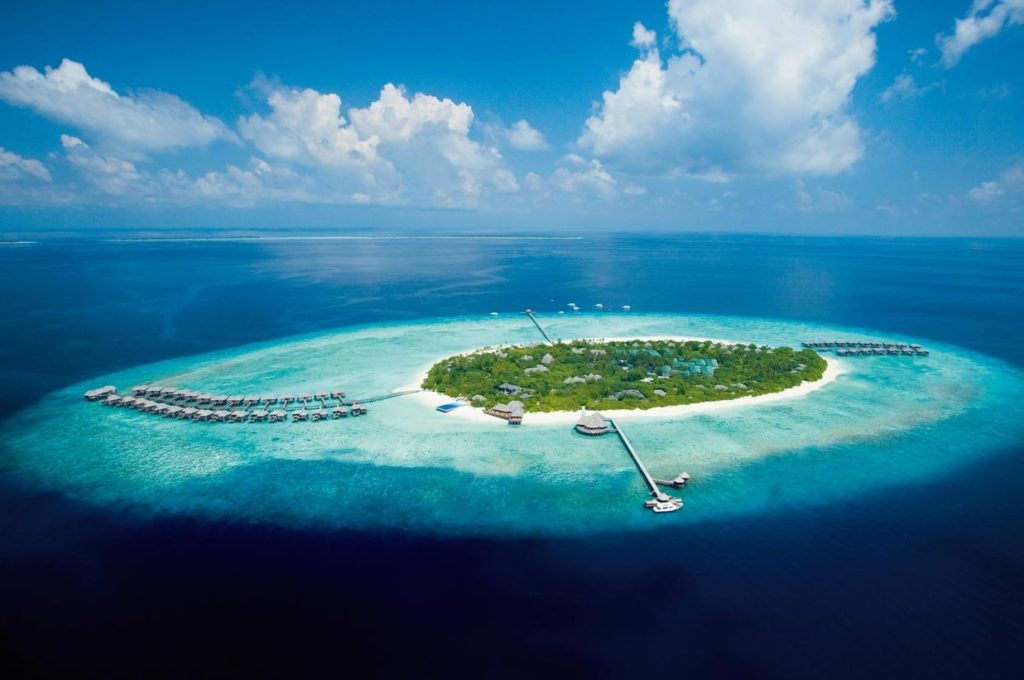 A jetty extends from the island, nearby the large stretch of beach that protrudes into the lagoon and there are water villas on each side, and each villa is either facing the east for a stunning sunrise, or the west for mesmerizing sunsets. With each villa covering a generous 1000 square feet, there's plenty of space to unwind while appreciating the views from the king sized, the separate living space, the outer deck, the infinity pool and even the bathroom. There are large ceiling-to -floor windows to make the best of the idyllic setting to make an almost otherworldly ambience. Moreover, there's even a glass panel on the floor.
Exterior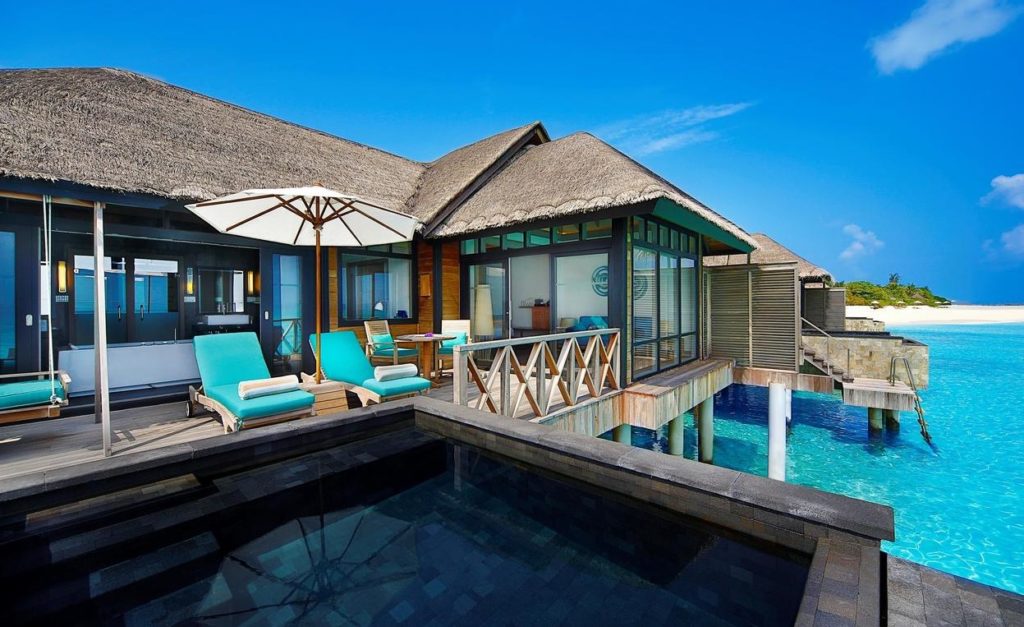 These villas have the classic traditional Maldivian village style and the alluring rustic charm with its thatch roof and woody look. However, don't let that fool you. They are lovely, lavish and stylish villas pretending to be huts. Additionally, there's lots of privacy with wooden privacy screens to give complete seclusion. There's a large outer deck that can accessed from the living space that's connected to the bedroom, or the bathroom with daybeds, a large sun umbrella and porch swing to laze around. The perfect setting with a sparkling, clear blue waters and the opportunity to appreciate a sunset or sunrise added to that of course only makes the villa just more worth it.
Interior
The inside of the villa creates quite the charming atmosphere by combining chic rustic touches with a lovely color scheme based on blue as well as and elegant furnishing and décor. The wooden floor, outlining of the numerous full sized windows as well as the touches of a light brown hue throughout the villa contrast with cream colored walls along with the blue paintings, decoration and ornaments.
In front the bedroom is the separate living space which features a glass panel on the floor, where you can admire the marine life and the cyan blue color of the lagoon. The bathroom is very eye-catching as well, clad in striking dark grey marble and granite walls and flooring and a large bathtub, the best part being that there's a large glass door right in front. Meaning you can appreciate the scenery from everywhere in this villa.
JA Manafaru Maldives
The resort of JA Manafaru Maldives is an alluring, charming and secluded resort located on the private island of Manafaru which is one of the few resorts situated this far north in the northernmost atoll of Maldives, the Haa Alif Atoll. It is a multi-award-winning private island resort that offers overwater villas, beach bungalows, private pools, white sand beaches, excellent restaurants and spectacular seaplane transfers from Male. It manages to cater to both honeymooners and families. Those unfamiliar with budgeting have the option of the Royal Island Suite.
The resort is approximately 199 miles north of Male and is accessible via a 75-minute seaplane journey from the dock that is about a five-minute bus ride from Male International Airport. The seaplane journey is very picturesque and a real treat as you get to see the atoll rings, islands and sand banks en-route to the resort. After deplaning onto the dock, a personal concierge who'll be looking after you for the rest of the trip will greet you. Then, you'll be given escorted to your room in a golf cart and then be given a whole tour of the island.
Other Villas and Residences
Due to the numerous celebrities and couples that love frequenting at the resort, each suite is designed with utmost importance given to privacy and seclusion. Each residence is perfectly hidden, with the classic infinity pool and a large outdoor space complete with loungers, plants and even a cabana. A soothing and simple style with cream walls and a dark wood and modern artwork.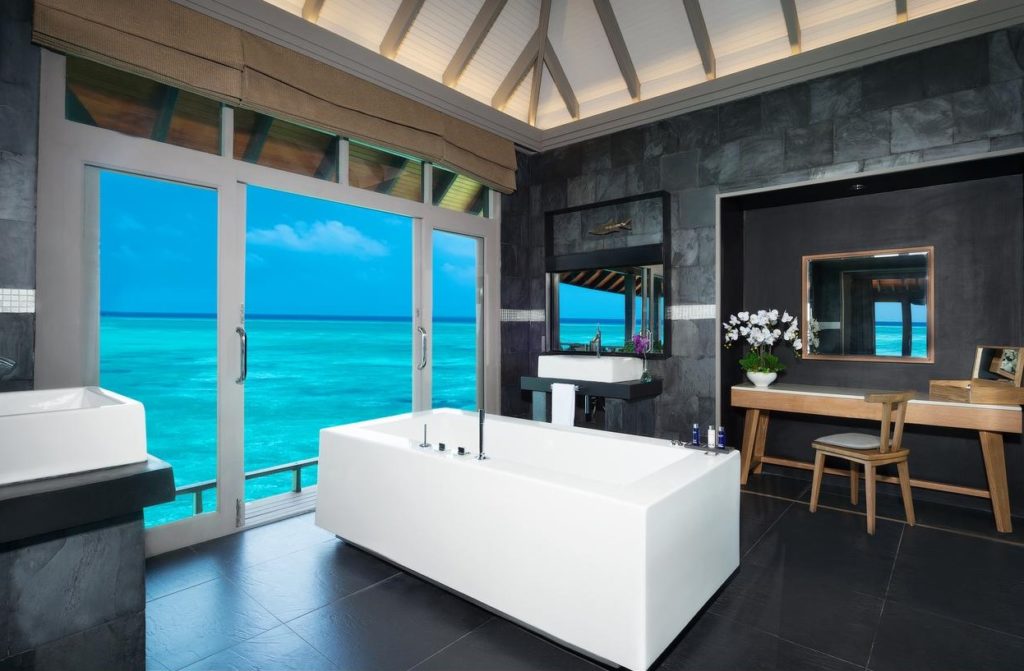 Whether you dream of a romantic break in your own water villa, or you love the idea of direct access to the sand from your beach bungalow, JA Manafaru is a resort that has plenty of choices for your island stay and all of them invite you to your very own private plunge pool.
Beach Villa with Pool
There are twenty-two spacious villas that are situated such that they are only just a few steps away from the pristine beach and can accommodate up to two adults and two children. If you're looking to have the shoreline where the striking sand of the pristine beach melds into the turquoise lagoon as a neighbour then look no further. These villas offer spacious living, seating and sleeping areas where you can appreciate and connect with the majestic tropical greenery. Additionally, there's an open-air bathroom leading to an inviting sundeck, pool, daybed and sun loungers as well as your own private cabana.
Deluxe Beach Villa with Pool
These twelve villas were designed for families or couples who want a more spacious residence with the very beach right across in mind and meant to house two adults and two children. Almost twice as large the ordinary Beach Villa with Pool, they have a larger bedroom, a way more generously spaced living space and to top it off, the bathroom is a lovely white marble with an iSpa Bathtub. It's a tropical hideaway with an abundance of private space just steps away from the atoll's pristine beach. Sink into your private pool and enjoy the tropical surrounds with harmonious blend of natural hues and elements where you can de-stress, catch some sun or stargaze in the evening.
Two Bedroom Ocean Residence with Family Infinity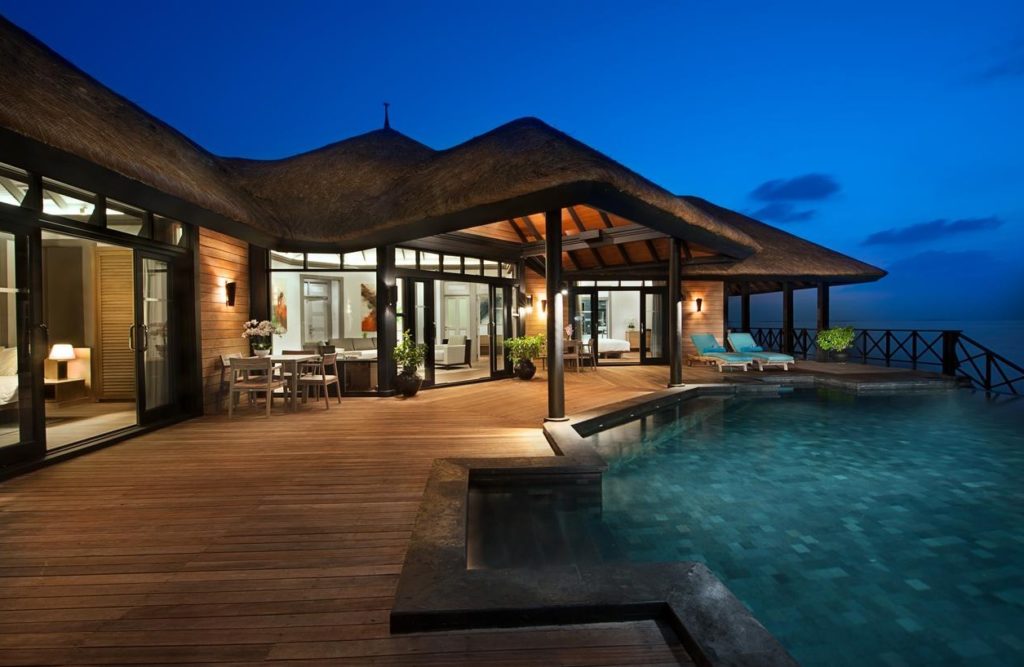 At the tip of the jetty that has the sunset and sunrise villas, is a luxurious, spacious and opulent villa residence that's meant for larger groups of families and friends. Built to accommodate four adults and two children and covering a staggering 3700 square feet, this residence is for the high rolling families and groups. Perfectly perched right at the tip of the water villa with a direct lagoon access, marvel at the expansive views of the Indian Ocean's turquoise waters and two uninhabited islands. Floor-to-ceiling wooden doors within the lavish living area open to reveal an inviting infinity pool and an outdoor sundeck. There are two spacious bedrooms that are identical and incomparable complete with separately attached bathrooms.
Two Bedroom Beach Residence with Family Pool and Private Pool
For the large families and groups to whom budgeting is an unfamiliar and strange concept, this duplex style residence is perfect. There are two unbelievably opulent bedrooms each with a lovely semi-open sky bathroom with an iSpa bathtub to swim in luxury, a large enough living space fit for a king. Perfect for a large group of family or friends, settle into lavish island living in this two-story beach residence with its own spa and treatment room facilities. Through the private courtyard, the airy living and dining area opens to reveal a spectacular private pool bordered by an enlarged sundeck.
Three Bedroom Island Residence with Family Pool and Private Pool
A guest who's stayed in this ridiculously opulent residence has described it as "another world of decadence". This residence is more or less a small village with enough luxe touches that you could drown in luxury. Truly the ultimate accommodation option that the resort has to offer, enjoy your own little piece of captured tropical heaven. This luxurious duplex style suite offers 3 bedrooms, two spectacular pools, a barbecue area with its own spa and treatment room facilities where you can relax in complete privacy. Perfect for a large group of family or friends and just few steps through the lush greenery on a private beach area.
The Dining and Wining at JA Manafaru
There are seven restaurants in total, along with in-villa dining as well as destination dining. According to reviews the guests just absolutely love the staff, waiters and chefs. This is because the waiters move between the restaurants and soon get to know you and your preferences that gives a very welcoming and personal touch. In fact, the head chefs are known to stop by, introduce themselves and even prepare a dish personally just for you! This truly is a luxurious touch and one of the reasons this resort gleams such great reviews from guests.
White Orchid
Gaze at the picturesque Indian Ocean while enjoying Japanese, Chinese, Indian and Thai specialties with a Teppanyaki table for an authentic Asian cuisine experience.
Ocean Grill
A beachfront setting offering a selection of seafood and steaks, freshly prepared from our live grill.
Horizon Lounge
Horizon Lounge with stunning panoramic views is the ideal scene to enjoy an exclusive range of snacks, afternoon tea and premium beverages.
Kakuni
Nestled within a vibrant green setting, Kakuni offers enticing delicious dining experiences with an array of both local and international cuisines. Wake up to an energizing breakfast buffet.
Infinity Bar and Pool
Adjacent to the infinity pool, this atmospheric restaurant offers refreshing beverages.
Andiamo Bistro and Pool
All day dining Mediterranean inspired restaurant, set within a lush oasis around the resort's main swimming pool which serves as our family pool.
The Cellar
The wine 'cave' is the perfect venue for you to discover new and wonderful taste, with our extensive vintage selection. Located two and a half meters below sea level, you can choose between the a-la-carte or set menus for a unique dining experience.
Calm Spa
A haven of pure relaxation and indulgence. Step into a tropical wellness haven and explore authentic Maldivian traditions infused with the therapeutic wonders of Ayurveda and Aromatherapy, complemented with a selection of facials. Treatment range between 50 minutes to 80 minutes.
Amenities and Activities
There's a fitness center fully equipped and prepared for those fitness enthusiasts who want to keep their body in shape while in paradise. The resort also offers a variety of 'special experiences' such as Maldivian cooking classes, fishing trips, romantic beach dinners, and sunset boat cruises. So don't believe the myth that there's nothing to do in the Maldives. It all depends on how much or how little the holiday makers want to do.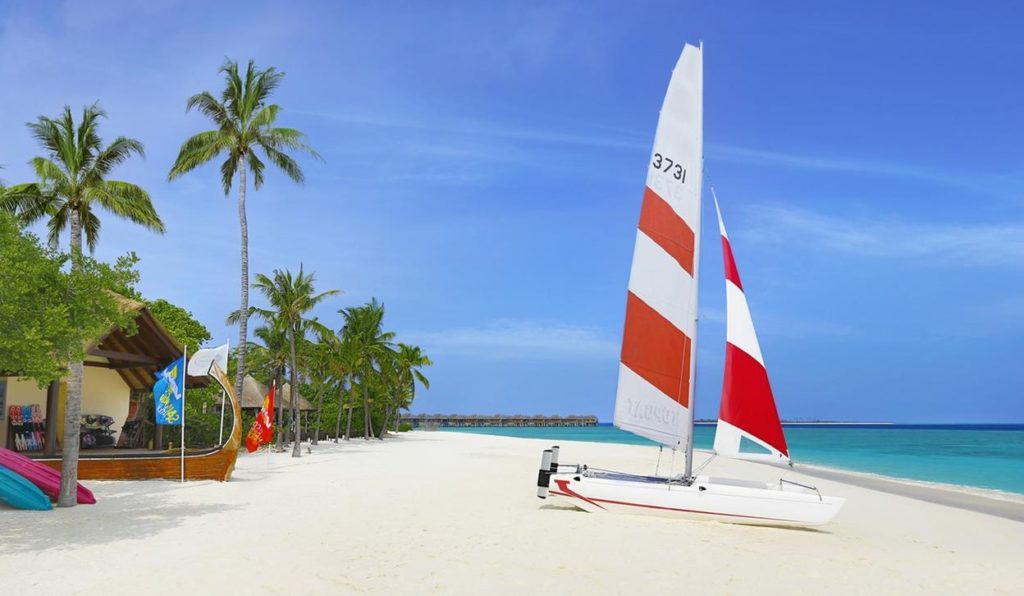 If you are feeling energetic then there are a variety of other sports on offer including tennis courts, table tennis, beach volleyball, and a pool table. There is a PADI dive center offering plenty of water sports including water skiing, windsurfing, canoeing, kayaking, stand-up paddling, catamaran sailing, speedboat excursions, wakeboarding, jet-skiing, mono-skiing, knee-boarding and fun tubing.
If that's not exactly what you're looking for, don't worry. There are excursions on offer for sun worshippers, culture vultures and water enthusiasts alike. Embark on a journey of romantic cruise of love dhoni, lucky dolphin cruise, deep sea fishing, local island experiences and Maldivian cooking classes.
Family friendly?
The resort is actually very family friendly albeit looking like a honeymooners getaway. There's a crèche, cinema and "Cool Zone" which is for kids from 3-12 and another for teens. Babysitting is also available at the resort as well as a dedicated activity for the little ones. Moreover, the CoolZone features table tennis, fussball, pool table, and even a fully-stocked games room with a flight simulator and Playstation with bucket seat for motor racing nuts.