Malahini Kuda Bandos for a quick and easy escape
The world is slowly opening up again, cautiously easing the travel restrictions with an eye towards resuming tourism activities after months of lockdowns. Maldives, a heavenly abode of God's most beautiful creation, is also opening its doors to international tourists with open arms, ready to welcome its guests to the "sunny side of life". However, as a traveller, you might be cautious about your safety, budget and travel time. It's the time where all the travellers looking away to cut down their travel time and experience luxury on an affordable budget. Then Malahini Kuda Bandos Resort is the right spot that you are looking for.
Save travel time, it's a big YES! As the island is conveniently located on the North of Male' Atoll, you can reach the island within 15 to 20 minutes by a speed boat ride from Velana International Airport. Transport to Malahini Kuda Bandos from airport and back to Airport is available at night and day time (24 hours). Make sure to inform your flight details 72 hours in advance to the resort for a smoother operation of transfer arrangement.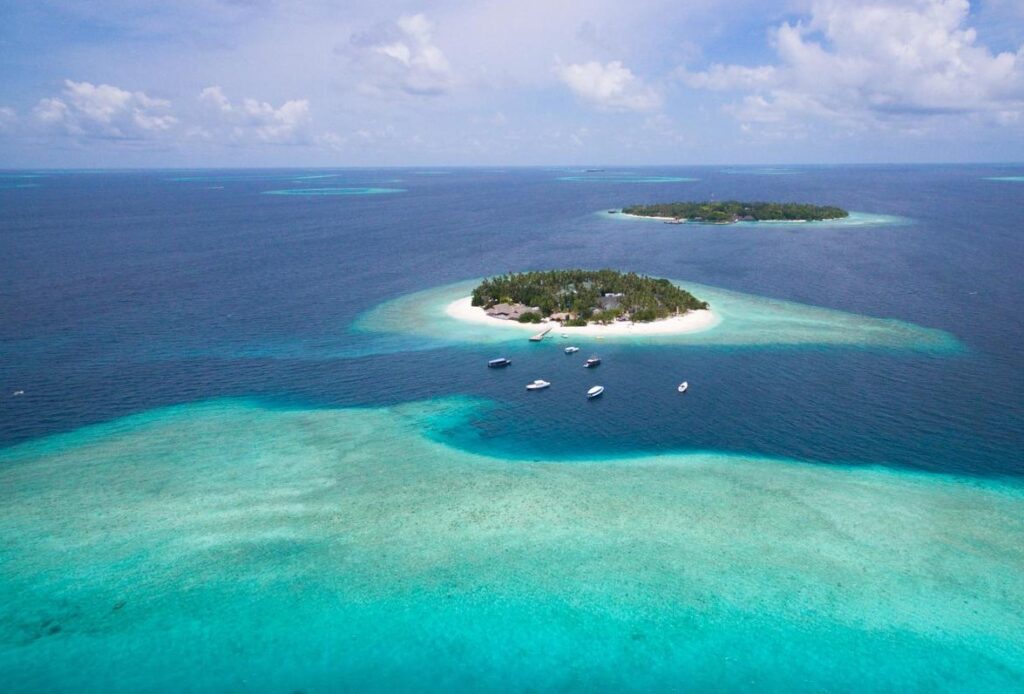 Just across the harbour from the high rise of the local metropolis, this fantastic budget friendly close by resort provides a casual environment where guests can kick back and relax. Malahini Kuda Bandos once was a 'picnic island' extremely popular among the Maldivians and tourist who stayed at hotels in North Malé Atoll, recently transformed into a fully-fledged resort combining Maldivian luxury with a low-key and friendly vibe, where you can experience the best in Maldivian hospitality at your fingertips. Malahini is a small island, and that's part of its charm where you can guarantee that every step will be a memory and every activity is worth it.
From the quaint jetty area there is a wooden path which leads to the very modern yet rustic reception, where you will brief about the island, important locations, activities and other details about the resort before check-in to your resort accommodation. The lobby area is well lit with a huge seating capacity and cushions. The floor, there is no floor, all sand which will take you instantly to the wild holiday mode throwing off your shoes. You will be served with refreshing iced beverage as a welcome drink, it helps to cool your body after the 20-minute speed boat ride.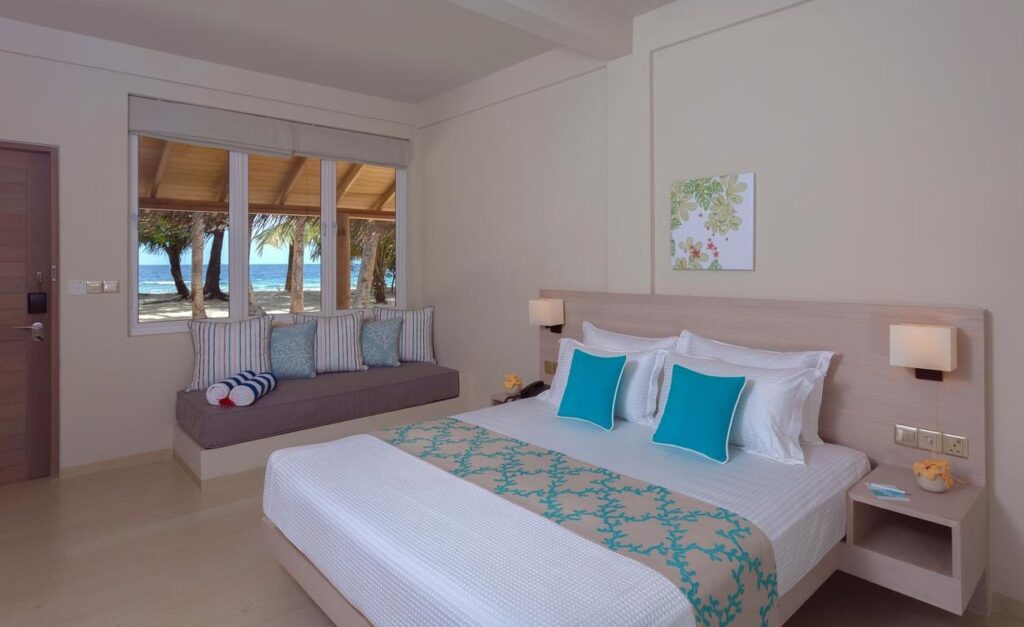 This perfect tiny island does not carry water villas, but there are accommodation options vary from Garden rooms, Beach villas, Superior rooms, Deluxe rooms, and Classic rooms to choose from. For family and budget travellers, we highly recommend Beach Villas which are facing the sunrise. The Beach villas are super pretty and cute. The room is truly modern minimalistic-ally done, creatively designed with subtle colours but far from boring. The entire villa is really spacious and if you are travelling with a kind, then the staff at the resort will arrange an extra single bed for your own comfort. This contemporary beach front living with direct beach access spread over the island's North side. The sunrise Beach villas offer a spectacular view of the sunrise, offering its guests an opportunity to experience Maldives through a unique lens blending all the natural elements that Maldives is known for. The unspoiled beach view from the full-length windows will create a peaceful environment throughout your vacation. The signature style exotic partially open-air bathroom is as huge as the room itself. Once you enter the bathroom, you will notice a fascinating small banana plantation in the shower area, a bathtub and a huge washing basin. You can actually use this area to chat-up and have some fun… for real! The bathroom also consists with hairdryer, complimentary towels and toiletries.
The air-conditioned room is provided with flat screen TV with sat channels, minibar, tea & coffee making facilities, king-size bed with white spread, beach towels, WIFI facility; you can also find bathrobes and plenty of cushions which are neatly stacked in the wardrobe. The private terrace with outdoor seating provides the perfect setting for relaxation where you can harmonise with the sound of the sea and waving coconut trees which create perfect orchestra for your holiday mode. The adjoining room ended a level behind which ensure privacy in the backyard on the beach, plus Beach villa's veranda has a wooden hanger to dry your towels.
When you step out from your room, you will be greeted by towering coconut trees which are line along the beach front swaying to the wind. You can witness hundreds of small hermit crabs throughout the white sandy beach, the minute your foot taps on the ground they simply run away. Walk along the shore with your partner on a full moon night will weave magic. The mornings at this exotic island will surprise you by its unhindered view, azure blue sea embracing the white sand with foliage on the side, a kind of morning you always wish for but seldom get!
The all-inclusive package ensures guests can get the very best out of eating and drinking at the resort. Maaga is the island's main buffet restaurant which serves a variety of international dished infused with local flavours. This dining area is humongous for an island this tiny. The setting is rustic cum modern with wooden floor and thatched roof. You can catch glimpse of Male' city at the horizon and few resorts at the distance, a quite stunning view. Therefore, dining on the open-air deck area, overlooking the ocean and surrounding lagoon is highly recommended.
Indulge in a lighter meal on the beachfront or savour exotic local cocktails at The Bluu, or visit Bar 75, the quirky daytime beach bar with great entertainment and fun swing seating. The Bluu, open late into the night serves light meals overlooking the beach. Bar 75 is the chic beachside bar which offers from classic to customised cocktails. You can even add more variety to your experience because Malahini has her sister resort Bandos Maldives just a few minutes away so if it's satisfaction you seek, Malahini has you covered.
The resort located close to some fantastic dive sites, where you can go spend a day with incredible sharks and gracious mantas. If you rather feel spending your time above water, then there's wide range of water sports such as wind surfing, jet skiing, banana boat or fun tubes. Take the advantage of clear water, head out on a catamaran or a glass bottom canoe and admire the blue horizon it can be done at Malahini at the drop of a hat. Excellent spa and gym facility will relax and melt your tension away.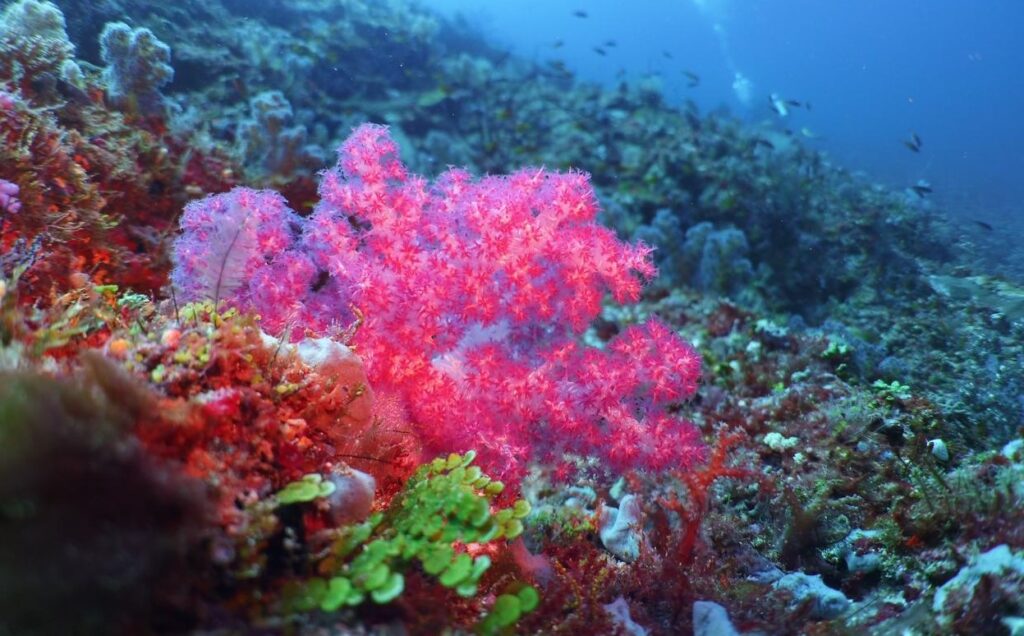 Malahini Kuda Bandos resort is Bandos Maldives' sister property. Formerly the uninhabited sister island to the Bandos Maldives resort, Malahini Kuda Bandos is now being transformed into a stunning private resort island giving you the opportunity to experience modern luxury resort adventure. Compared to its sister resort and neighbour, Malahini Kuda Bandos looks younger and more modern, with its calm colour scheme.
This is one of the best affordable resorts in the whole region, with a soft, sandy lagoon, natural house reef, vivid fish life, coral formations and green shade, this is really a beach to savour. Malahini Kuda Bandos is totally a blissful experience to share on your social media to make your neighbours envious about your trip to Maldives. Quiet, pretty, affordable paradise close to the main airport, with great food, various beach and other activities, explore the lush scenery, bask on the sandy beaches and amazing relaxing vacation with the crisp sea breeze to disturb you, what else you need. The choice is yours!
Click here to read more on Maldives reopening after coronavirus pandemic.