Should I stay near airport or travel afar on my Maldives holiday
Many tourists ask me if they should choose a resort close to airport or travel afar on their Maldives holidays. I give them a simple reply. If you want to save on airport transfer you can stay at a resort or local island near airport. If you want to get a better experience, enjoy more and explore the most beautiful places you should choose an island that is not in the crowded tourist zone near Male' or Ibrahim Nasir International Airport.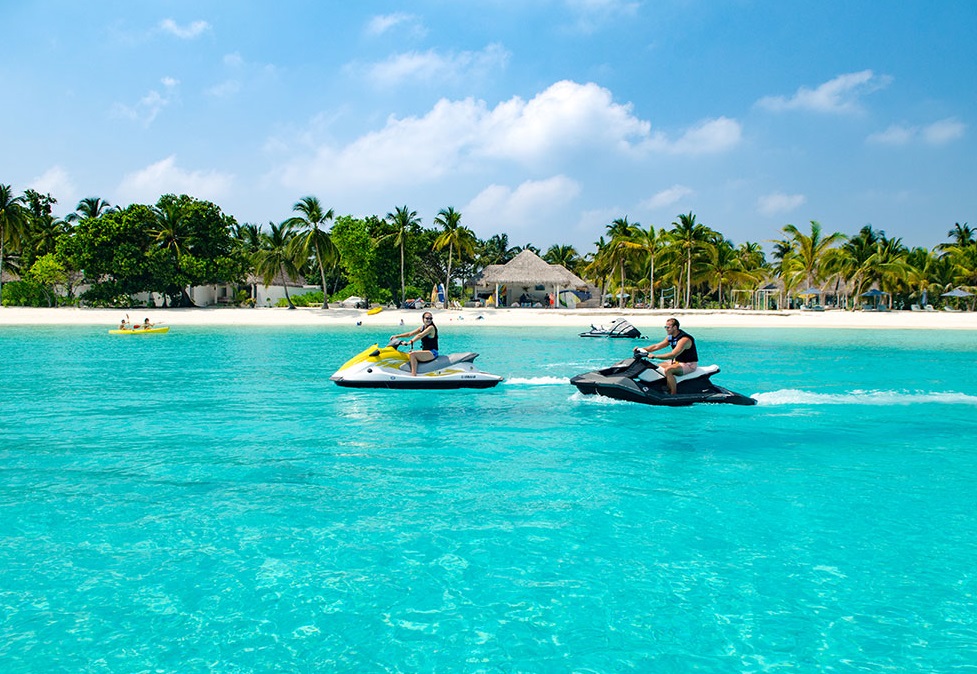 Photo: 1 OAK Finolhu, Baa Atoll, Maldives
In Male Atoll (also known as Kaafu Atoll) there is no desert island. There are few sandbanks, lagoons are being reclaimed to develop resorts. The next atolls are North Ari Atoll and South Ari Atoll, also known as Alif Alif Atoll and Alif Dhaalu Atoll. In these atolls there are still few virgin islands, but not many. There are few sandbanks too. On the southern side of Male' is Vaavu Atoll and this is very a very small atoll with few uninhabited islands and banks. Vaavu is still better than Ari Atoll (collectively called for south and north Ari Atoll) as there are more desert islands in close distance from resorts and popular guesthouse destinations.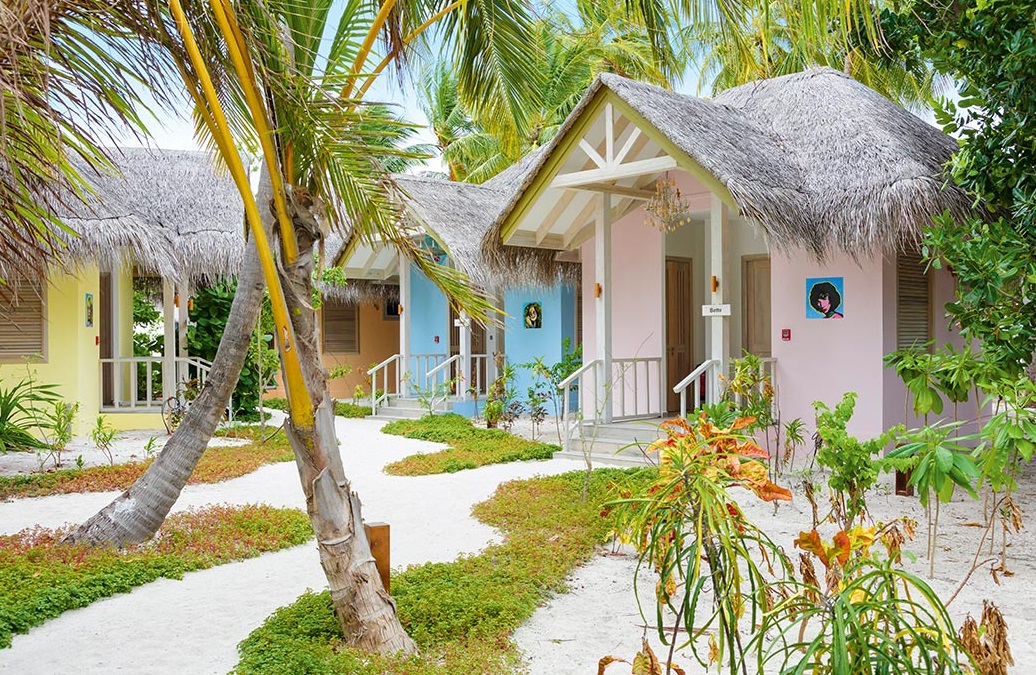 Photo: Finolhu, Baa Atoll
Tourism is booming rapidly in Baa Atoll, many are already developed to resorts but still there are reasonable numbers of desert islands for guests to travel on private escapes. Desert islands that are left alone without any building or structure often comes with unmatched natural beauty. Developing resorts means building structures such as jetty or water villas in the lagoon obstructions flow of current and waves. This disrupts the ecosystem that circulates sand and water around the island making it clean and white.
Resorts often erect barriers to protect beach. Erosion is part of the natural mechanism that maintains beautiful environment of the Maldives.
If you want to experience the best of Maldives consider travel further away from congested tourism zones such as Kaafu or Ari Atoll. You can start from Baa Atoll and move on to Raa and Noonu Atoll in the north. On the southern side of Maldives Gaafu Alifu and Gaafu Dhaalu are the most beautiful atolls in the Maldives. Raa Atoll and Noonu are relatively new tourism zones. In Noonu Atoll there are 4 resorts, about the same number in Raa Atoll too.
Maldives has some of the best beaches in the world. Another beautiful feature of Maldives is amazing coral reefs. Busy tourism areas means these reefs have been visited by tourists for years and years. While resorts do take precautions to protect reefs no amount of measures eliminate accidental breakage of coral. So, exploitation of underwater bio-diversity by mass tourism is not a good thing.
When travel afar you are getting away from crowded resort regions. There are many virgin islands, lagoons and reefs. You do not see tourists from other resorts when you go to a dive point. When you visit a desert island on a private escape there is nobody else on the island. This kind of locations are best for your Maldives holiday.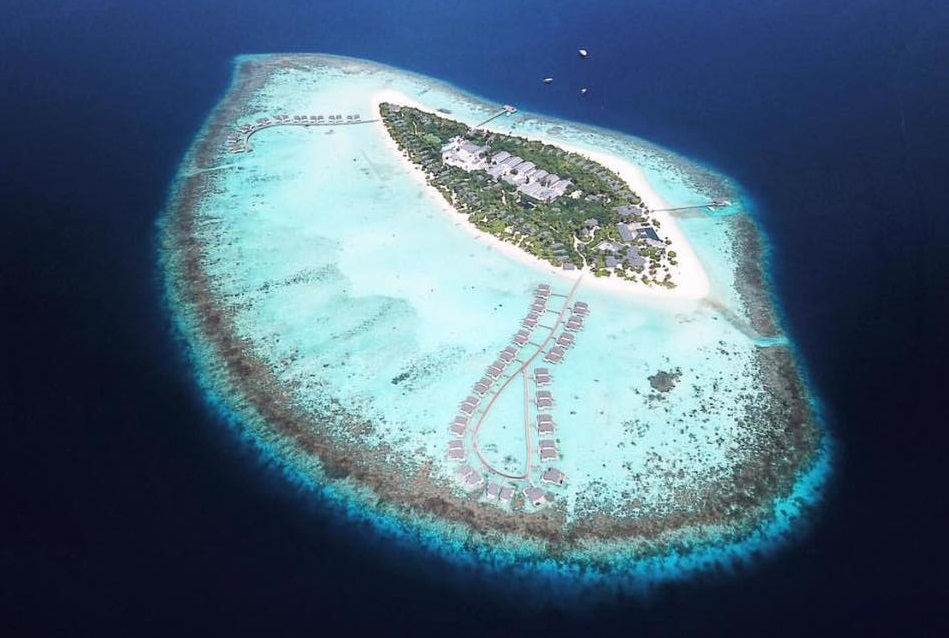 Photo: Amari Havoddaa Maldives
Visiting remote areas of Maldives costs high on airport transfers. Resorts close to Male' offer airport transfer by speedboat, others by seaplane or domestic flight combined with a speedboat ride. Seaplane transfers are the most convenient mode as it takes less time to arrive the island and the flight is a scenic trip which you enjoy, unlike sitting in a speedboat waiting to arrive its destination. If you are on a domestic flight you may be lucky to get a window seat but it does not fly as low as seaplanes, therefore it is not very scenic. Chances of getting a window is not as high as seaplanes but the local airlines uses small flights which has many window seats. If you did not get a windows seat it is still not too bad as it is much faster than speedboat. From Male' to Haa Alif Atoll (which is the southernmost location) takes approximately 1.5 hours. On the north you can visit Gaafu Alifu or Gaafu Dhaalu roughly around the same duration. Further than that is Fuahmulah and Addu Atoll.
Fuahmulah is a single island atoll, isolated from rest of the atolls or islands. Topography of Fuvahmulah is different from rest of the Maldives islands. Fuvahmulah does not have a large lagoon, in most seasons there are big waves very close to the shore. There is a Dive Centre on the island and that is popular for seeing tiger sharks. The waters off the reef are very deep at this island. There is a large vet land area and vegetation of the island is unique. Tourists do visit Fuvahmulah and stay in guesthouses.
Moving further south, Addu Atoll is home to a large population and several islands are inter-connected. Link Road of Addu is one of the longest you can find anywhere in the country. Shangri-la Maldives Vilingili is the only 5 star luxury resort. Canareef is a long 4 star resort next island of Hulhudhoo. There are on-going resort developments and fully operational guesthouses serving to budget tourism sector. Addu is a great fishing spot well known for its tuna fishery.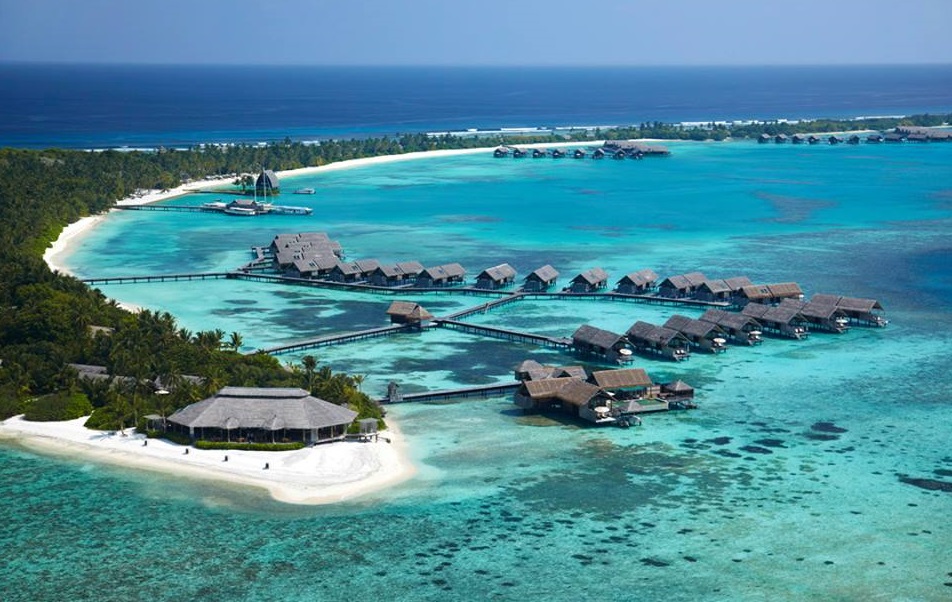 Photo: Shangrila Maldives Vilingili, Addu Atoll, Maldives
Addu has an international airport and there are direct lights to Colombo. Many international airlines offer cheap budget flights to Colombo of Srilanka. So, if you want a low cost budget holiday you can visit Addu via Colombo.
Wealthy business tycoons arrive Addu International Airport in private jets, park it there and off they go. Shangri-la resort offers amazing hospitality to these guests with several room categories including water villas and treetop villas with pool.