Arranging Dinner On Maldives Sandbank Is Not Easy
Recently I was asked by some guests to arrange a trip to a sandbank and organize a wedding proposal. Initially the guests wanted to go sandbank in the afternoon, have the proposal done, watch sunset and have a lobster dinner before coming back. Guests booked a resort for their stay and this event was planned for 3rd day of their stay. There are many factors to be considered while arranging a wedding ceremony or proposal trip to the virgin nature of the Maldives.
Since guests were staying in a resort the organizer should check with resort if the allow third parties to go there and pick their guests. Usually this is very restricted in the Maldives, but in the recent years there has been changes to the strict policies and many resorts now allow it. Some resorts do put a charge on the guest. Technically it should not be a problem as tourists could leave the resort at any time they wish. Preventing guests to leave could technically mean they are kept hostage, that is absolutely illegal. In my case the resort charged US$100 to get boat access to the resort.
Having a dinner on the sandbank is possible but costly. Sandbanks are very natural and their house reefs are undisturbed by the people. This means there may not be easy access for the boats. At most sandbanks there are small openings in the reef and boat has to maneuver through a narrow pathway, a small careless mistake could end up the boat on coral which may damage both the coral and boat. Do not forget that sea is not always calm and peaceful. There could be waves while you pass the channel, at slow speed waves could interrupt the course. But, local boat captains are very much experienced to these conditions and they do understand the consequences of not being utmost careful.
In our sandbank trip the channel was not so narrow and there was an indicator post. After passing it the boat came slowly and stopped right off the beach. Guests jumped off from the front. Weather was not the best, there were waves hitting the boat from back. In a few seconds waves pushed the boat on the beach while two crew struggled to get it off. I was attending guests on the sandbank. In few minutes guests took their stuff and went to do their private wedding proposal. I immediately came to help the crew and managed to pull the boat back in water.
The captain was not so experienced in my opinion. They proceeded to sandbank from the rough side. At any island or sandbank there is a rough side and calmer area. Wind and the waves come from one side which is usually the rough side. Sandbar or the island gives a protection to the other side. In my case, I told this to the captain and later he brought the boat to the calmer side where it stayed anchored peacefully. Depth of the lagoon is also an important factor on such trips, in our case the calm side was deeper and you could alongside the boat easily. High tide time and low tide hours are also important to be checked prior to starting trips to this kind of places. In our case it was low tide, I checked it way on advance and told the boat guys to be prepared for low tide.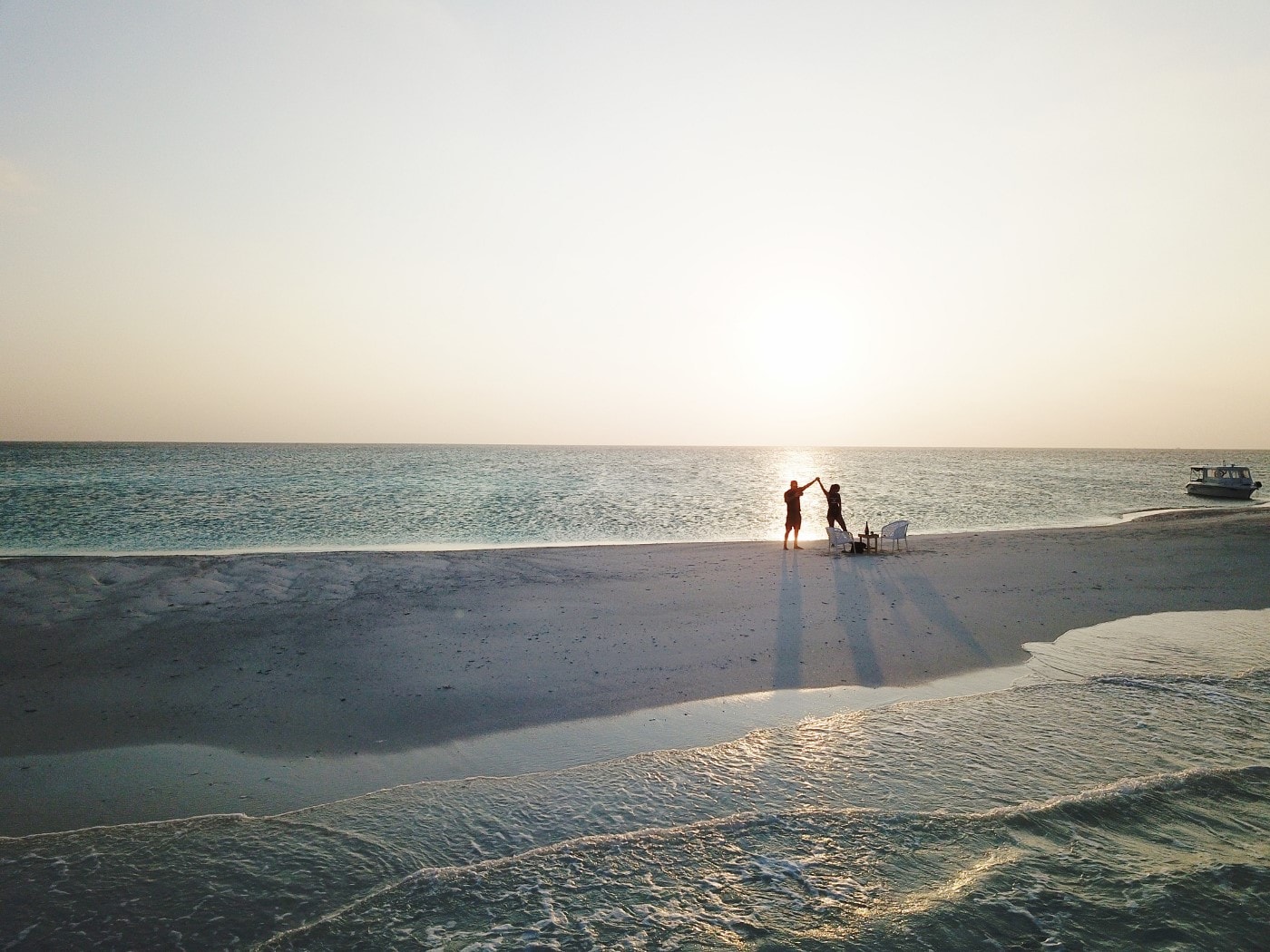 Arranging dinner on the sandbank is no easy operation. Firstly, lets mention of the transfer out of sandbank after finishing the trip. In the dark it is extremely difficult to maneuver the boat through the channel, it is often not a straight cross, you need you make lot of turns. In day light you can see deep coral and shallow parts of the reef. In the night if you have some lights it could be helpful, but it cannot light up the entire area, it shows only the spot you point. Passing through a channel means you the captain has to constantly inspect many angles and makes quick and tight turns. For these reasons many boat owners do not even allow night transfers to sandbanks. Resorts or local islands do not have this problem as they have jetty or harbour with channel indicates by lights, corals in the channel are always removed and space is made for boats to easily move in and out.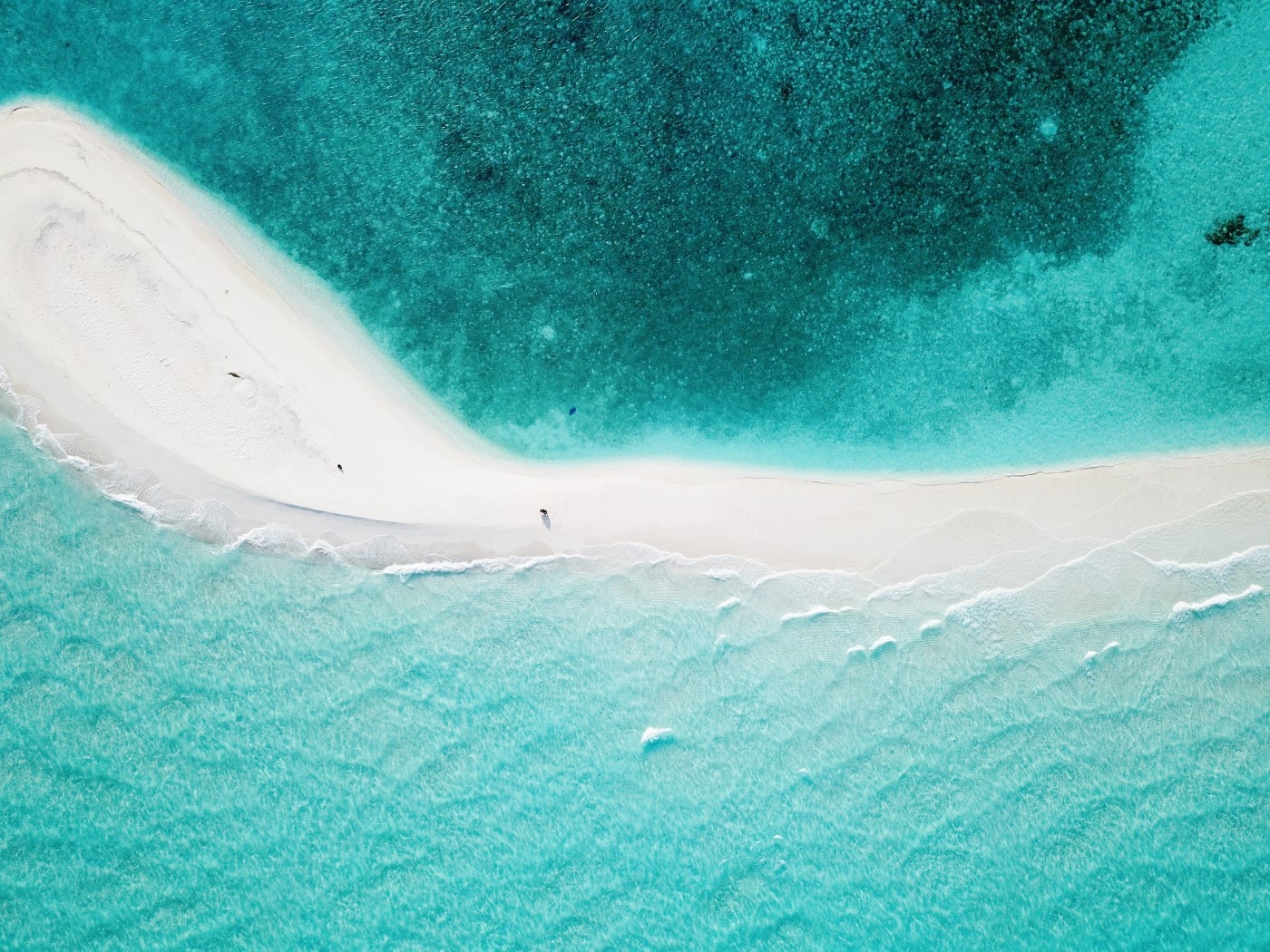 In terms of costs arranging dinner on the sandbank costs very high compared to what you pay in a restaurant or a beach dinner in a resort. For the sandbank you will need another boat to transport tables and chairs along with food items. Otherwise the same boat that brought guests would have to leave and do another trip for items setup. Best way is to combine the guests and items into one boat, but it has to be big enough. Either way costs go very high. Usually a couple going to sandbank means it will be a small boat with a capacity of up to 8 people. Loading a table and two chairs for the couple makes it too tight an enjoyable ride. If you want to have a trip to sandbank with your fiancé you would not want it to look like a cargo ship.
Finally, after analyzing all the aspects I planned for two boats, estimated the costs. Guests found it too high, I knew it and I suggested to skip the dinner part or have it arranged in the resort so when they come back they have a nice romantic dinner waiting. Guests accepted my suggestion.
The trip to sandbank was a success, guests were very happy and the girl accepted the wedding proposal. After sunset we set off and before dark we were in the open ocean. When the boat reached resort it was about 19.30 hours, it took more time to come back because we traveled against the waves and wind, sea was rough too. Anyway, guests were happy in the end and we were happy to save accomplished the mission.
Note: This article was contributed by the admin of Maldives Finest.