Go Barefoot at Summer Island Resort Maldives
Maldives, the jewel of the Indian Ocean is like a one giant jigsaw puzzle with its sandbars, lagoons, and an impressive number of marine species who have made their homes in the surrounding reefs. As a result, Maldives is a place where people come to experience island life at its most relaxed on the beautiful beaches and for good reason. The sugar white sand and striking blue water make for the perfect beach vacation backdrop.
Located in the Indian Ocean, Maldives offers a beach vacation experience unrivalled anywhere in the world. The contrast of the white sand and gorgeous blue water is remarkable and invites guests to completely disconnect and be pampered in this island country resorts. You will not experience a bad holiday in Maldives, if you pick the perfect location for your island vacation experience.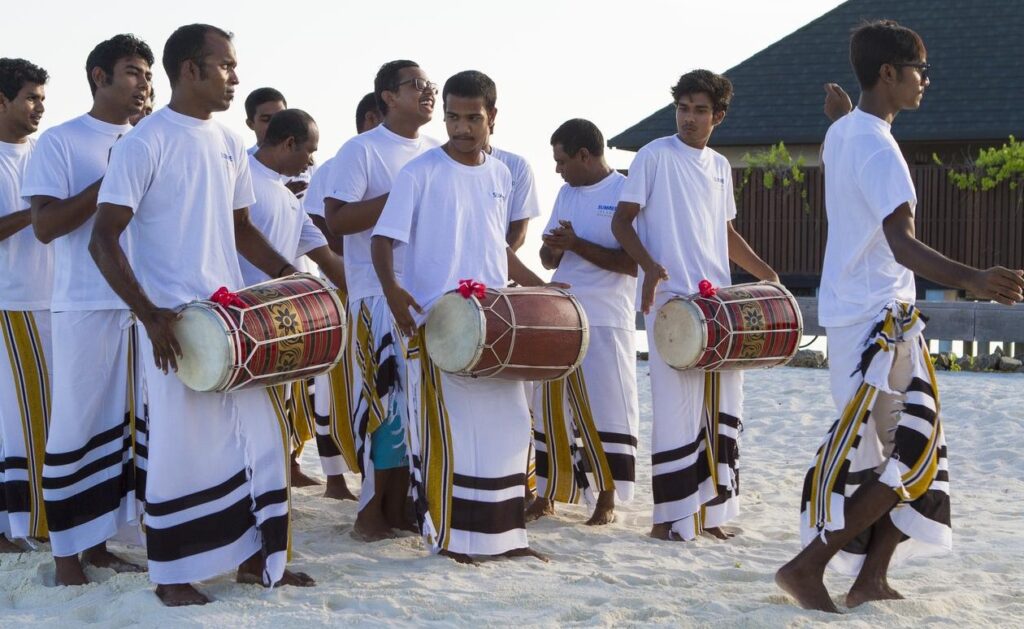 Summer Island Maldives will provide you a voyage of adventure and tranquil getaway on sun kissed beaches, criss-crossing coral reefs just offshore, savour of international cuisine, indulge in a rejuvenating spa treatment and doze off in a private bungalow, the chances that you will feel of returning home disappointed are slim to none. Re-open up in 2015, Summer Island Maldives is a bang-for-your-buck spot with a fresh, modern look where it is best to hide your shoes and run barefoot. This four-star resort occupies a private island in North Male' Atoll with 45-minute speed boat ride from Male' International Airport. The resort built in a Maldivian village style with 156 spacious, comfortable rooms, oceanside infinity pool, expanded main bar and overwater spa.
Summer Island Maldives is previously known as Summer Island Village which was originally open in 1993 underwent a massive renovation and reopen in 2015 with stylish makeover, added features without losing any of its charm and with a brand-new name – 'Summer Island Maldives'. Unlike other international hotel conglomerates, resort owned by a Maldivian.
This tropical paradise is pleasantly vegetated, with hammocks strung up between palm trees and chickens running around, gives you a down to earth homey feeling. Summer Island Maldives is wonderfully landscaped with lush tropical garden like settings blending into the beach. There are plenty of secluded spots to find isolation as well as some scintillating gathering places at which you can eat, drink, be merry and enjoy some relaxing live music in the evening. The resort also installed the world's largest 3D printed coral reef, which you definitely should check.
In an effort to protect coral reefs in the face of rising ocean temperatures caused by climate change, on 11th August 2018 Summer Island Maldives installed the world's largest 3D printed reef in seven meters of water in the 'Blue Lagoon' part of reef, located at the end of the arrival jetty. First in Maldives, the artificial reef is made from hundreds of ceramic and concrete modules; fragments of coral were also taken from the nursery and transplanted onto the 3D printed reef in hope that in a year or two these corals will colonise the 3D printed reef.
As soon when you step in to the main jetty of the island, the crystal-clear water of the lagoon will reveal a host of reef creatures waiting to greet you. Curious batfish, wary stingrays and a giant moray eel all make their homes in the blue lagoon of the island alongside scores of brilliantly coloured reef fish. The resort's jetty will lead you in to a garden island with an informal environment carefully designed to help you relax by forgetting the outside world. Summer Island Maldives' gardens have attracted native species of small parrots, as well as fruit bats and the island's resident heron.
Apart from gardens to relax and 3D printed reef which is lying underneath the crystal-clear blue lagoon, the modern style rooms and villas, a series of slightly dim Garden Rooms, which are value for money will place the definition of luxury to another level. Summer Island Maldives offers 156 rooms and villas in six categories, plus one suite. All rooms are open air in design, ensuring a bright, light openness, a fresh tropical vibrancy featuring lighter furniture on which to relax and lounge.
Water Villa
Water Villas at Summer Island Maldives is everything that you imagine for your vacation at Maldives. Summer Island's Water Villas offer you a holiday experience with unique designs, luxury amenities, sense of privacy, and the added feature of doors opening to a sea view to-die-for. You will be able to enjoy private sun terraces and direct water access where you could literally step out into the ocean right form your villa. It will give you a feeling that you have your own private resort.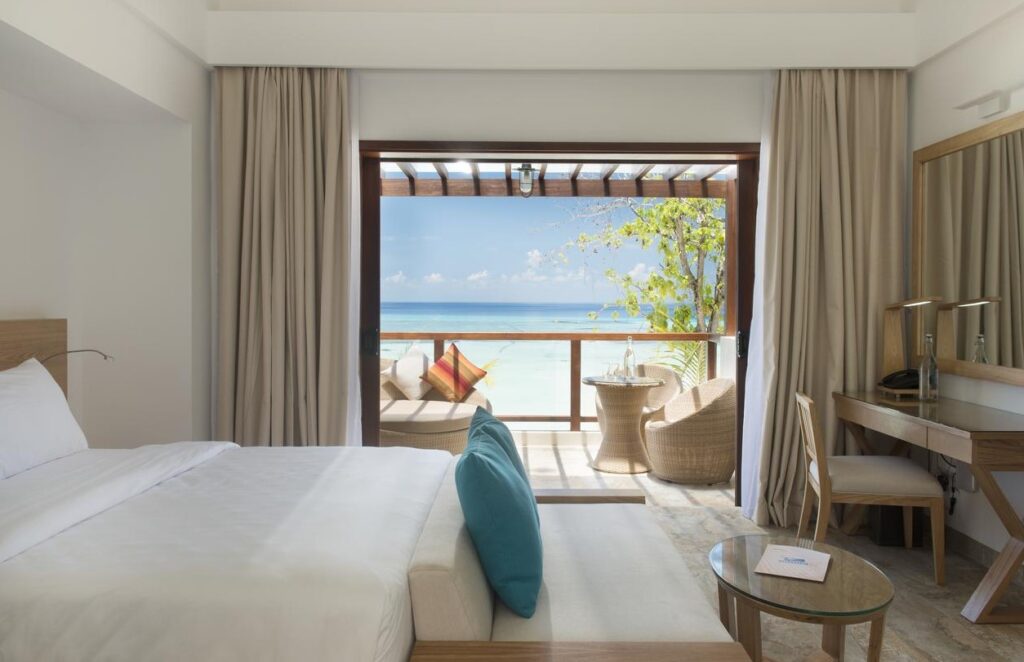 This budget friendly water villas do provide class and a comfortable stay at Summer Island Maldives resort, especially for longer stays, with a range of personalised services that you can enjoy in the conveniences of your own compound. These popular water villas represent accommodation options suited for romantic couples and honeymooners (children are not allowed to stay in any of the water-based rooms, so families with kids will not be able to reserve these water villas) as the Water Villas are located above the beautiful lagoon. This adds to the privacy and quietness of these rooms, which helps to make them more suitable for honeymooning and romantic couples. The villas are either facing east or west, giving guests uninterrupted views of the sunset or sunrise gazing over the horizon, making the villas even more romantic. Indeed, it is difficult to resist the desire to get accommodation in the prestigious rooms of a water villa over turquoise waters, where swimming and snorkelling is literally on your doorstep. Located just off the main island via a boardwalk jetty, Water Villas at Summer Island Maldives feature a contemporary style, stocked minibars, hot & cold water, tea & coffee making facility, telephone, hairdryer, flat-screen TV, safe and a ladder with direct water access off the terrace. Each villa there is a glass peekaboo cut-out in the sitting room, a "fish window" so you can steal a glimpse of the underwater world right from your couch, where you will be able to spy on needle nose fish and sting rays that float by. Bathroom has walk-in rain shower, separate soaking tub, and window overlooking the blue lagoon.
Premium Beach Villa
If you are searching for a romantic escape or some quality time with your nearest and dearest, then it is always better to reserve Premium Beach Villa at Summer Island Maldives as it is absolutely the best way to enjoy your vacation. With an elegant style, Premium Beach Villa has a charming patio where you can spend your free time by curling up with a good book, or just to gaze across the beach towards the clear blue, serenity of the ocean while sipping on something cold. You will be blown away by the magnificent ocean view which made to offer you the greatest of comfort. These stunning beach houses are away from the monotony of the city life, and its large veranda that leads out right to the beach offer a breath-taking view throughout the day. Premium Beach Villas are perfect for anyone who adores the beach and its many natural bounties where you will be able to walk barefoot throughout the villa, through the patio to the lagoon that invites you to swim in its crystalline water. These luxury residences are truly a paradise for group of friends or families where crystalline turquoise waters lap against sugar-white sands steps away from your bed, and each day feels like paradise.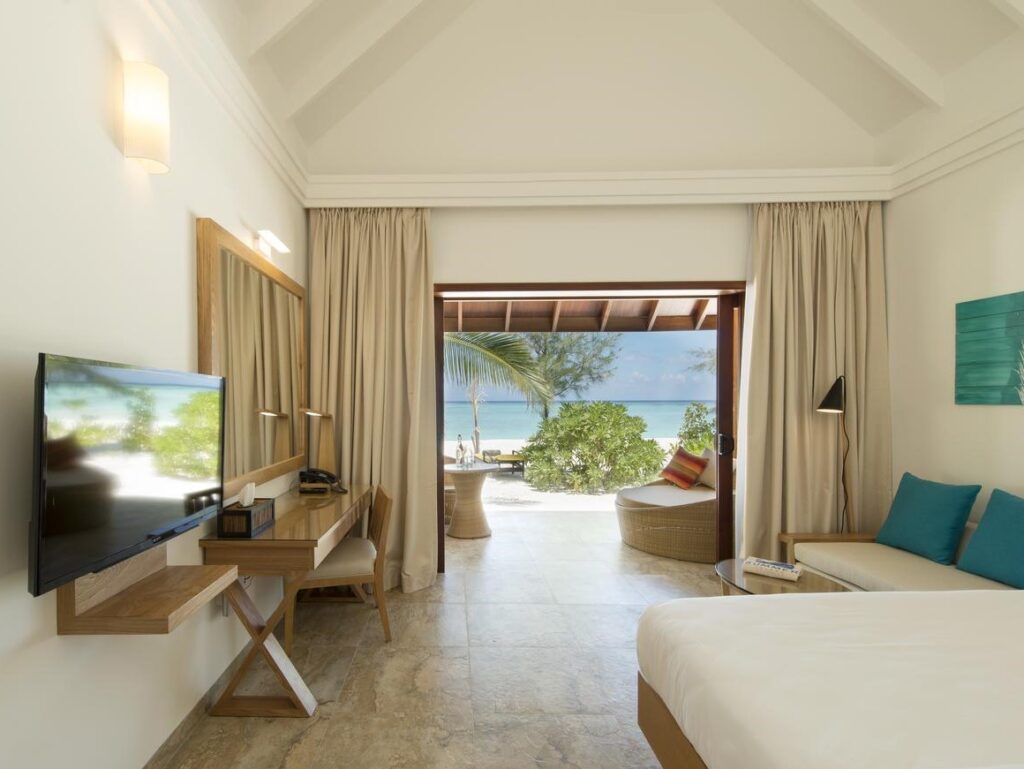 Premium Beach Villas at Summer Island Maldives are a combination of tropical and traditional Maldivian elements in décor and architecture, they are elegant and fitted with modern amenities for comfort and convenience. Each of these stylish villas feature stunning interior décor and furnishings. The bedroom for three or two adults with a child plus a baby, designed to make the most of the tropical light, also come with sofa and coffee table, as well as its own desk and LED TV with satellite channels and DVD player. Each room has its own Nespresso machine and mini-bar. The large en-suite has its own jacuzzi bathtub, the large bathroom consists with rain shower, toiletries and bathroom amenities. Premium Beach Villas are within easy reach of the fine beach, so you can enjoy Maldives magnificent sunsets, return to your own homely villa compound with a hot bubbly bathtub. The clear blue sky, sparkling azure waters, fine sand, and a luxurious retreat will make a perfect backdrop for your travel story, if you stay at Premium Beach Villa.
Superior Vista
The Superior Vista rooms created in blocks of four, with these rooms on the first floor and the Superior Beach rooms right below. SuperiorVista accommodation is designed to give you a direct experience with nature. The Superior Vista has a great view of the beach and the ocean only a few meters away from the shore of the beach to relax and walk with your partner, with a seating terrace ideal for spending your vacation by gazing into the infinite distance with your beloved or just by yourself. The upper-floor counterparts to the superior vistas open out to terraced balconies with a characteristic view on level with the palm trees fringing the island. Stretch out and lounge to a unique bird's eye view of the beach and ocean.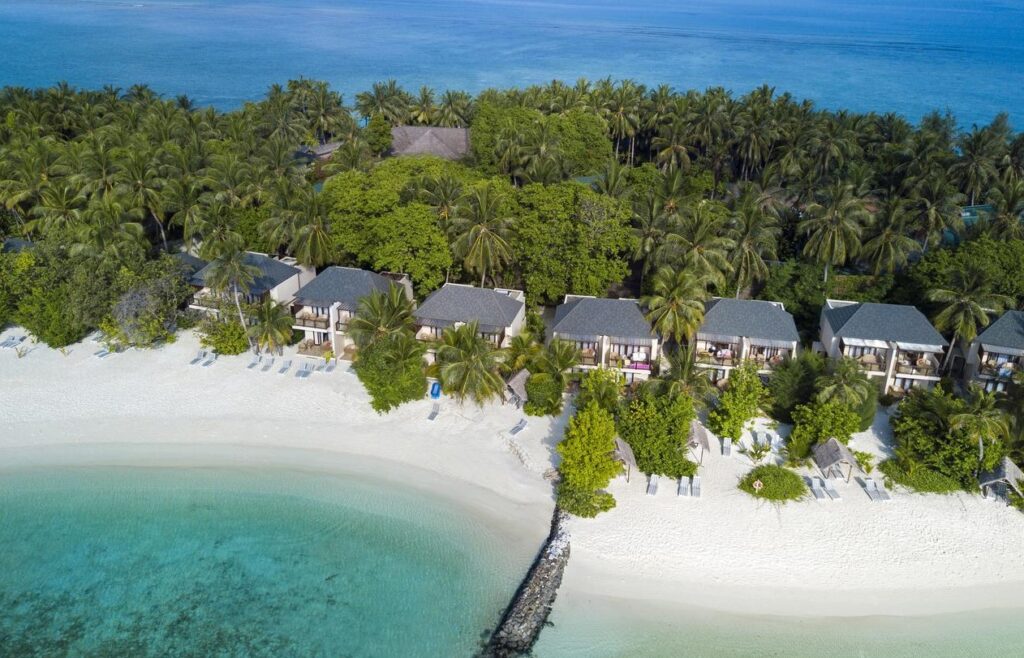 These rooms have more privacy than the ground floor Superior Beach rooms. Superior Vistas consist with attached bathroom with a rain shower, making the most of the sunlight and equipped with toiletries and bathroom amenities. The large en-suite has partially open-air Large Terrace with daybed and seating. The bedroom is drenched in light and have King size bed and sofa and other amenities are coffee table, writing desk, coffee & tea making facility, mini-bar, LED TV with satellite channels, IDD telephone and dressing table.
Superior Vista will give you a perfect holiday experience where you can lie on the sand or in the extendable chairs to enjoy the breeze, the sun, the food as well as a good cocktail.
Superior Beach Villa
Superior Beach Villas are built right below Superior Vista rooms, as they are nestled amongst shady green trees, just a stone's throw from the turquoise waters and white, sandy shoreline. Step straight out of your room and sink your feet into the long, inviting white sandy beach dotted with palm trees, and hidden shells waiting for your toes to dislodge them. The Superior Beach villas are designed with bright, tropical interiors, to renew and refresh spirits.

The rooms are spacious with double bed, sofa and coffee table, as well as its own mini-bar and wardrobe. It also has coffee & tea making facilities, LED TV with satellite channels, IDD telephone and dressing table. The large en-suite at the Superior Beach has a partially open-air garden which makes the most of the sunlight. It comes equipped with a rain shower, toiletries and bathroom amenities. With an elegant style, Premium Beach Villa has a charming patio with daybed and seating, where you can spend your free time, and with its location facing the ocean it is made to offer you the greatest of comfort. Each BeachVilla has a jacuzzi. Superior Beach Villa is perfect for families – three adults or two adults with a child plus a baby.
Superior Bungalow  
Surrounded by green vegetation, Superior Bungalow provides a service of privacy and enjoyment of pure nature. These bungalows are divided into blocks of two, and have paths to the beach along with what is also considered be the best: each room has access to a patio where you can have a delicious cup of coffee and relax.
Superior Bungalows are designed for three adults or two adults with a child plus a baby. It has a bathroom with a bathtub, a rain shower toiletries, hairdryer and bathroom amenities, king size bed and sofa in the room, coffee & tea making facility, minifridge, LED TV with satellite channels, IDD telephone and dressing table. Also, the beautiful beach of Summer Island is just a short walk from this villa. The late sun is starting its slow decent on the distant horizon and shafts of orange light hit your eyes as you step from your Superior Bungalow onto the sunlit partially open-air large veranda with daybed and seating shared only with darting, dazzling butterflies that flutter by, busy but aimless in pursuit of who knows what. A burst of welcoming freshness greets you upon your return to the cool comfort of your room.
Garden Room
Garden Rooms are nestled in the natural island gardens where you can enjoy relaxation and comfort between fun-filled island adventures in this tropical accommodation. Lose yourself in midsummer slumber in a Garden Room as it gives you easy access to the island's facilities, main restaurant and bar. The Garden Rooms have all the amenities you need during your Maldivian vacation and they even possess their very own private patio surrounded by greenery. Ideal for a walk in the morning or at sunset under the cooling off golden sunrays feeling the soft sand under your feet.
Garden Room can be occupied by three adults or two adults with a child plus a baby. It has a full equipped partially open-air bathroom with rain shower, toiletries, hairdryer and bathroom amenities and a bedroom with all the comforts; double bed, sofa, dressing table, mini-bar and dressing table. The room also contain coffee & tea making facility, LED TV with satellite channels, IDD telephone and wardrobe. The Garden Rooms come in a block of seven, each with their own private veranda which is facing the garden with daybed and seating, perfect for watching the world go by – slowly.
Verdict
Over all, accommodation facilities at Summer Island Maldives have cable TV with USB port, individually controlled Air Conditioning units, writing table with drawer and chair, sofa and coffee table, complimentary tea-coffee, mini-fridge, luggage rack, in-room safe with power supply to safely charge electronic devices, IDD Telephones, free Wi-Fi, and open wardrobe with drawers. All rooms except the Water Villa, have partially open-air bathrooms. The rooms and villas open out to a spacious veranda, deck or terrace depending on the type of room. This area is finished with out-door dining for two and, depending on the category, a large daybed or two sun lounges or daybed. All bathrooms have hairdryers and hot & cold water. The resort's soap, shampoo, hair conditioner, body lotion and shower gel are exclusively produced for Summer Island by Spa Ceylon and available in all accommodation categories. Beach towels are provided free of charge for all rooms. Both Villa categories have a DVD/ Blu Ray player, Espresso machine with complimentary pods and a stocked minibar. Their en suite bathrooms also feature a Jacuzzi bath tub and rain showers.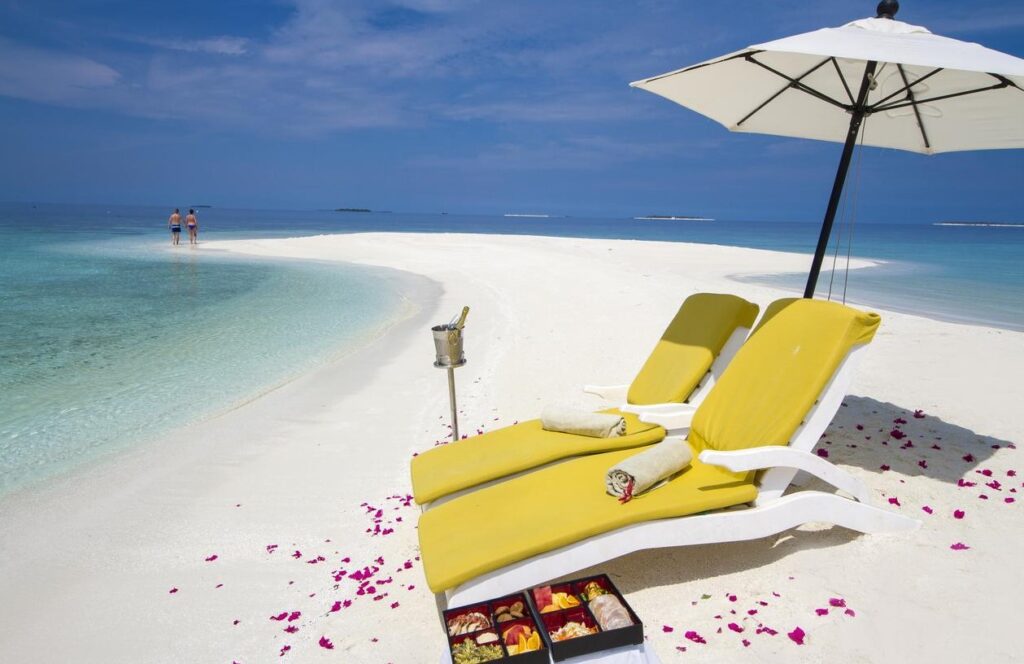 At Summer Island Maldives, all the guests (except for Water Villa and Premium Beach Villa guests) can have their breakfast, lunch and dinner at the large open-air buffet, named Samuga restaurant. 'Samuga' is a Dhivehi word (local language) for the decisive compass that guides chefs across the globe to bring you the best of international flavour. This casual beach and poolside dining place have a large central buffet with international delicacies including plenty of curries and Chinese dishes, live cooking stations and a large vibrantly colourful dessert table. There are many fresh, open seats for tables with two or more eaters.
Guests who are staying at Water Villas and Premium Beach Villas have a much smaller and closer place to dine. As an ideal place for a more relaxed meal with friends and family, HIYA is a waterfront snack restaurant located next to the cocktail lounge AVI, and which has one wall open to the ocean. The choice of buffet here is smaller and differs almost the same dishes as the Samuga restaurant, but if non-Water Villa and non-Premium Beach Villa guests want to eat here can have their meal for an additional fee.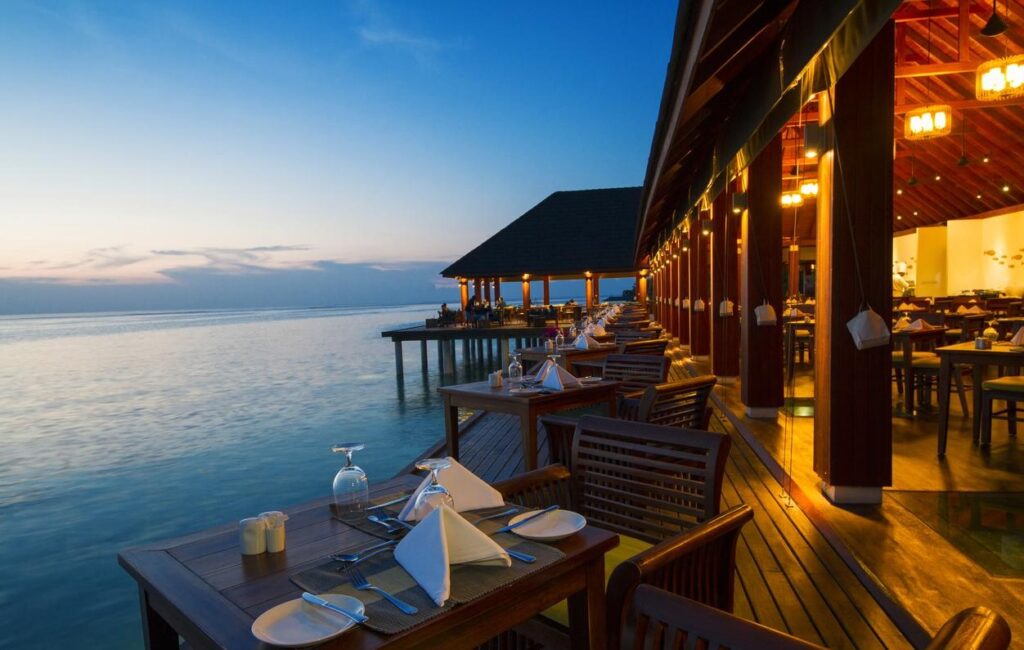 Summer Island Maldives has two bars with completely different vibes, a snazzy overwater cocktail lounge and a relaxed beachside Nevi bar with table games and live entertainment. AVI cocktail bar, located near Water Villas is an upscale overwater lounge for cocktails with a relaxed atmosphere. The bar is designed with wooden teak floors and furniture topped with bright aquamarine pillows, premium liqueurs (for an extra charge) and almost 360-degree sea view. There are also glass cut-outs on the floor to peep the action of the ocean below. In high season, this place becomes the resort's only a la carte restaurant. If you are a beach or pool bum and prefer a burger with a cocktail in your hand, head to the extended Nevi pool bar over by the pool or to Samuga restaurant. This place is massive, with indoor sandy floor, a self-service ice cream cooler, board games, outdoor deck seating lining along the beachfront and nightly entertainment activities such as magic shows and live music. The live music in the evening is a great treat to end the day in style. New cushions at the bar, new uniforms for the staff and in the evening the candles on the tables give a very cosy impression.
Room service is also available at Summer Island to suit your convenience. From 10 am to 10 pm, you need not let your dining be dictated by pre-set times, instead you can plan your dining according to your own tropical timetable – as early or as late best suits you.
Open air wining and dining venues are designed with the weather by letting the sea breeze waft in, with wooden furniture and comfortable seating, where you can absorb natures gifts while relishing your food and refreshments.
Many agents sell full-board included in your room rate and includes your basic breakfast, lunch, and dinner at your designated restaurant, as well as soft drinks, mineral water, and the coffee and tea in your room. If you select all-inclusive package, you will get your drinks plus some extras. This includes all well liquors, beers, house wine by the glass, the cocktail of the day, afternoon tea snacks, and a daily snorkelling excursion. Top shelf booze and wine by the bottle are extra no matter which plan you are on.

Holidays are to get yourself pampered and relaxed as possible. In Sumer Island, you can do exactly nothing and have the time of your life. However, the sight of the infinity pool will pamper your mind and soul by taking your holiday experience to the next level. Summer Island Maldives consist with a slightly small but beautiful two-sided infinity pool hanging over the edge of the sea. This narrow pool is surrounded on both sides by the beach and the ocean views and on the other two sides, a wooden deck with loungers and several colourful bean bag beds running down the long edge. If you visit the infinity pool during less-crowded hours, then you can even share the space with the seagulls who visit the island occasionally. Guests can pick up fresh folded pool towels at the entrance where they will also find a freshwater shower to use before entering the pool. From the pool side it is an easy walk past the Nevi bar and Samuga restaurant to the convenience shops, selling everything from disposable underwater cameras and medicines to beachwear and souvenirs; the air-conditioned library room, with cushy seats and tons of books; and the state-of-the-art gym complete with a separate yoga room. The 24-hour Roanu Fitness Centre, though small, is filled with towels, water, and modern cardio machines, and has glass walls for all curious to witness how you train. Just behind the gym, you will find a shaded volleyball court.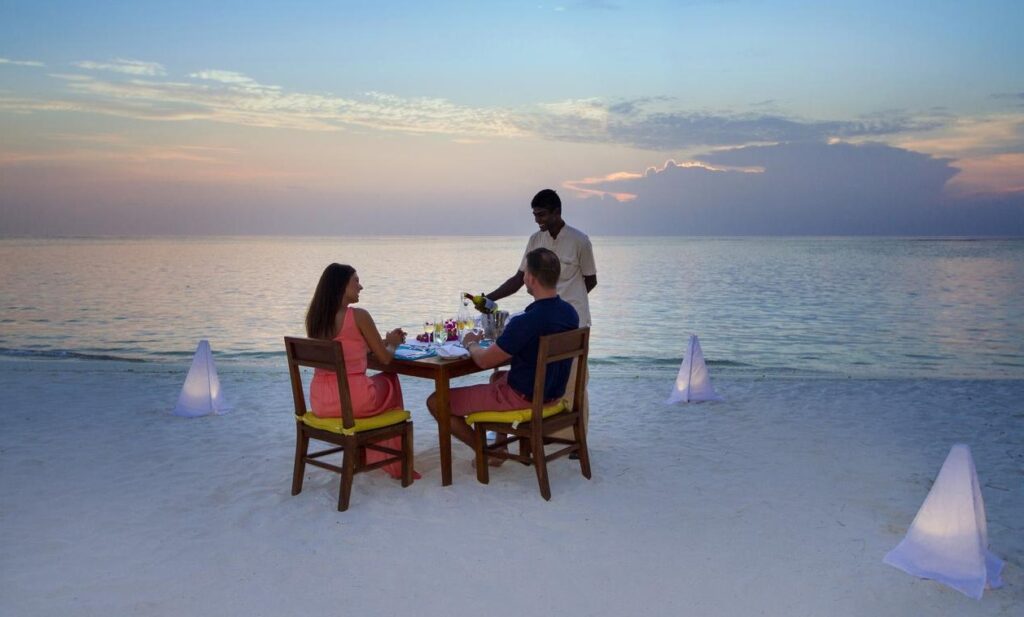 It is vacation is not about simply Maldives getaway. You can create your own dreamy vacation by mixing the vibes to create your perfect paradise. The resort is found close to the outside reef on the north-western edge of North Male' Atoll, which is an ideal location for scuba divers that offer different types of diving experience. If you an experienced diver, then you can dive where currents are upwelling and witness large sharks. Naturalists can enjoy the dives inside atoll where corals are fast recolonising the reef and attracting diversify colourful smaller fish.  For divers who prefer a more relaxed pace, the Outside Reef has minimal current, superb visibility and lots to see at all depths. Dive and encounter smaller white tip reef shark, countless blue triggerfish gather to feed, a school of batfish, giant manta rays, grey reef sharks, eagle rays and Napoleon wrasse. The cracks and crevices of the top reef attract lobster, moray eel, and the splendidly decorated lionfish.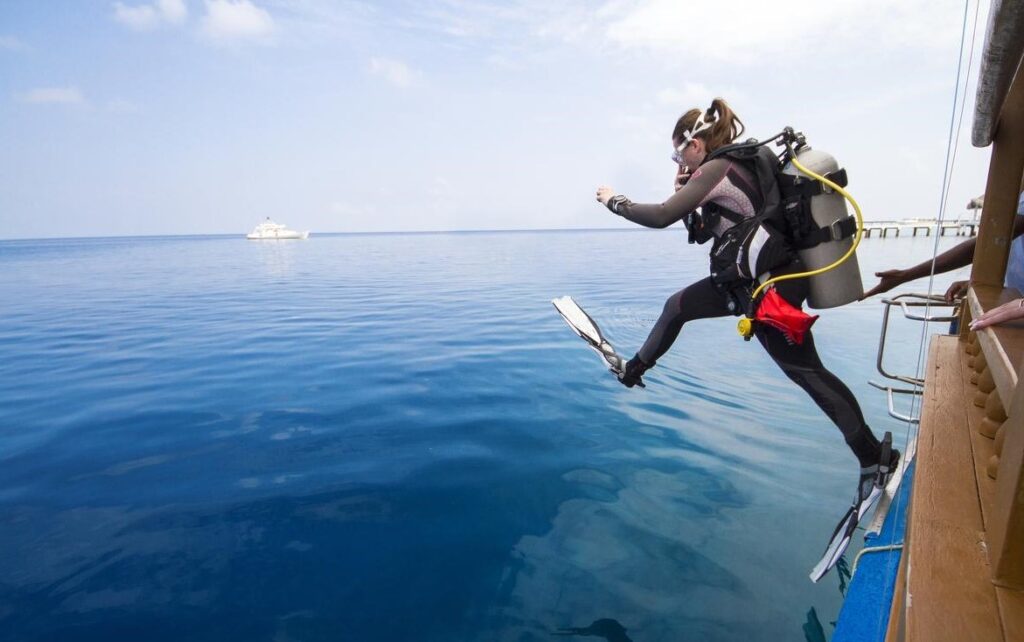 Located in the lobby, a certified Diverland PADI diving school with colourful hand-painted is hard to miss. In this dive shop you will find night dives, snorkelling with manta rays, diving courses and their professional team. This outfit has night dives, snorkelling, manta ray watching, diving classes, and a dedicated team behind it. If you're looking to stay above the water, across the path is the water sports area stocked with canoes, banana boats, windsurfing boards, and a catamaran.
When you are at Summer Island Maldives, you can pre request details and choose from variety of excursions and island-hopping trips on which you could see more of the real Maldives. You can join Snorkelling trip, Sandbank Picnic, Night Fishing, Island Hopping or even explore the capital city of Maldives on Male' Tour.
When you visit Summer Island Maldives you must try the spa. It occupies its own little wing along the beachfront. When it hits the right frequency, a good massage can leave you tranquil for hours. Firuma Spa, part of Serena Spa family is a large spacious spa area with bright individual treatment rooms with hardwood floors, a jacuzzi, ocean view and high ceilings. Relaxation is guaranteed to be felt on the palm-fringed beach listening to the rhythm of the waves, while a visit to the spa is the perfect way to revive your mind, body and soul. There is also an open-air area that sets directly over the water, where you are looking down at the fish window. The over water spa rooms have all glass doors that open up to the ocean. This was the perfect setting for a perfect massage in Maldives. Make sure to ask about their specials, as you might end up getting special discount on your first day. No better way to beat jet lag than a relaxing couples massage.
The beach is covered in powder soft white sand and surrounded by a turquoise lagoon, is also home to vibrant green beach plants. In some areas, this drastically reduces the amount of sand along the beach, leaving sun lounges to rest on top of these patches of plants instead of sand. There's an abundance of tree swings and ocean hammock for you to take an afternoon nap. Also, unlike many Maldivian islands, Summer Island does not have a natural house reef. Instead, there is a manmade reef around the island that seems to work rather well bringing in fish. If you'd rather snorkel in a natural reef, the resort runs four daily trips to nearby reefs.
Summer Island Maldives is an environmental friendly resort, just like setting up 3D printed coral reef in the lagoon, the resort also introduced glass bottles to phase out single use plastic water bottles. Guests are now offered bottled water in reusable glass bottles, and the water is produced at the island's own drinking water facility. Summer Island uses solar power to produce hot water and will continue to use renewable energy for the island.
The resort attracts more return guests and staff know each other. This gives the island a very welcoming and warm vibe that is only compounded by the fact that everyone seems to be in high spirits. In this sense, the island and its guests are usually very sociable, so if you like making new friends, this place is ideal.
Summer Island offers up a flawless luxury experience at a price that is pretty competitive when compared to other places in Maldives. Their proximity to the main Island of Male is a special advantage – allowing you to take the occasional trip into the city for a change of scene. A holiday at Summer is really a journey of discovery more than a holiday. Come, fell in love with this gorgeous island, with the sight of its fairy-tale lagoon, walk barefoot on fine white sand, explore the pristine coral reef, swim with dolphins and turtles, savour international cuisines and indulge in a rejuvenating spa treatment. Your will experience never ending summer vacation, if you choose Summer Island Maldives.